Most smartphones nowadays have flashlights with a beam distance of about three feet and can shine the same space around you and help with minor tasks like finding a lost coin in the bedroom, etc. But for better illumination, powerful performance, reliability, and ultimate stability, you can go for the Wuben X2 Compact and Handy Easy Carry Light Bundle. Its parent company, Wuben, is renowned as one of the top flashlight manufacturers around the world, offering diverse lighting solutions.
With a maximum output of 2500 lumens and an operation time of over 80 hours on a single charge, the flashlight is pretty good at doing what it's meant to do. Whether you're a plumber or an installer who needs to work around dark corners most of the time, or you need a flashlight for emergency services or security operations, the Wuben X2 is the perfect flashlight for you.
Turns your Night into Day
Unlike most other flashlights, the Wuben X2 put out a whopping 2500 lumens. It's the brightest easy, carry light, with a weight of at least 115 grams and measurements of 85 mm by 39mm by 20 mm. You can easily carry it as you control the lighting settings. And with the Wuben X2 in your hand, you can never be caught in the dark, even on the most silent nights. Also, an incredible 146 meters beam distance allows you to see the furthest point of your way at night. The Wuben X2 brings illumination to a new level, whether hunting, camping, hiking, or exploring.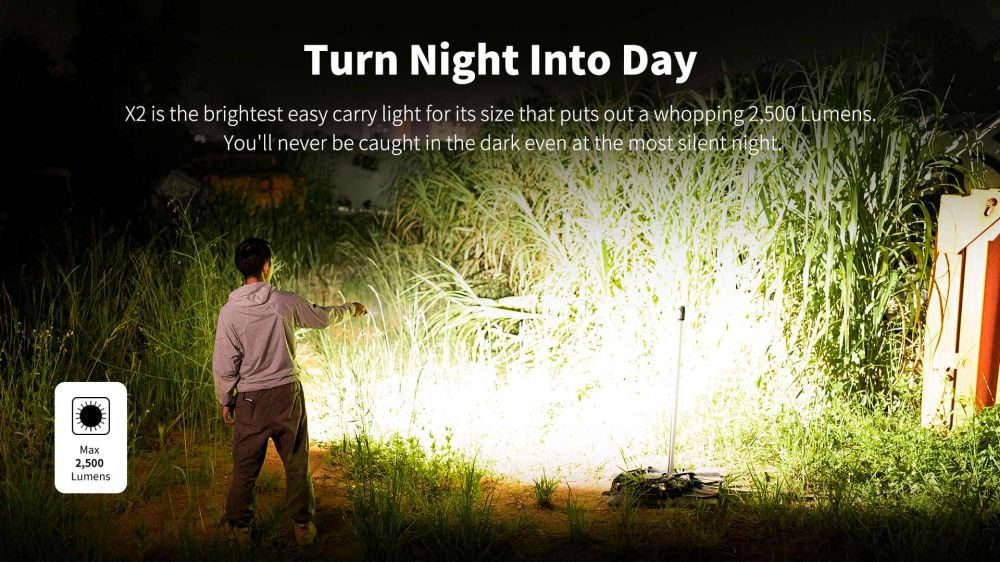 Improved Reliable Clip and a 3-in-1 Button
The Wuben X2 also ensures that you're never worried about the safety of your flashlight or just a place for it inside your backpack. If there isn't enough space to accommodate it inside the backpack, you can clip it on the sides. If that's still not an option, you can clip it on your trouser, jacket, or sweater. With the Wuben X2, you never run out of options, and this allows for fast access whenever you want to use the flashlight.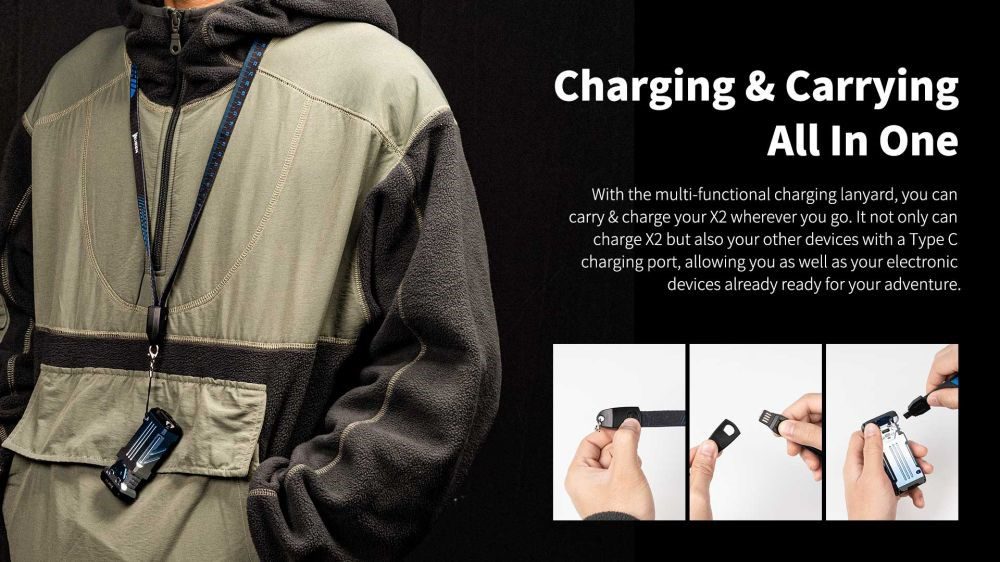 Aside from the clip is an innovative 3-in1- button, which, apart from offering stress relief, acts as a switch. Remember, the flashlight also comes with a built-in type C charging port. So the button also provides optimal water and dust protection for the charging port.
Multiple Lighting Modes for Various Scenarios
The flashlight features six lighting settings. Four standard lighting modes, which include Low, High, Turbo, Med, and two flashing modes, Strobe mode and SOS. In the Turbo mode, the flashlight delivers a maximum output of 2500 lumens and has a beam distance of 146 meters. In the High mode, it can provide a whopping 400 lumens and a beam distance of 55 meters. It has a maximum output of 100 lumens in the Med mode, and the beams can travel to a distance of 25 meters. Low mode delivers 5 lumens, 1000 in the strobe mode, and 200 in the SOS mode.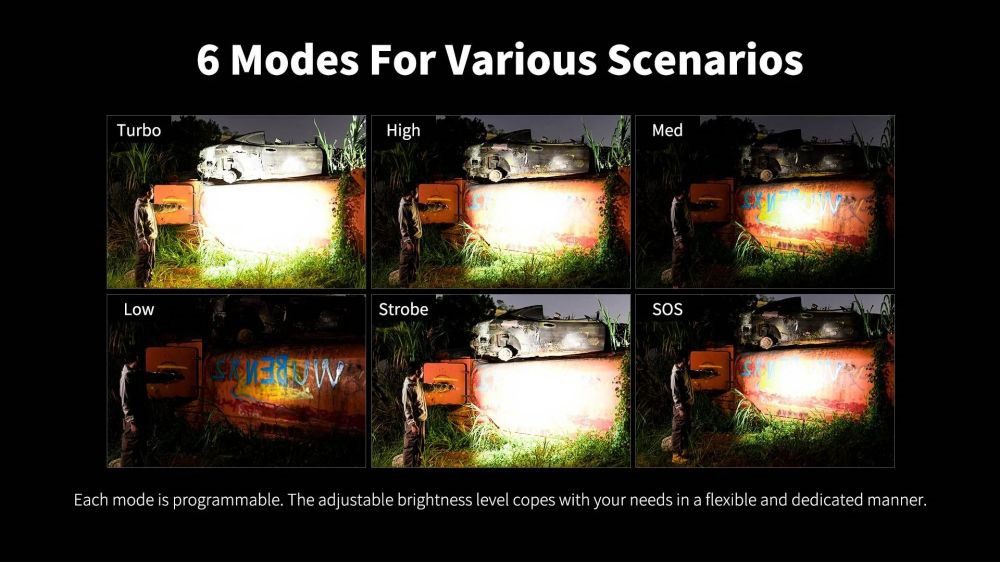 Long Battery Life & Fast Charging
The Wuben X2 is powered by 14500 2000mah batteries which are already installed. On a single charge, the X2 can operate for up to 8 hours continuously when in low mode. It needs at least 3 hours to charge fully. Besides, the multifunctional charging lanyard allows you to carry and charge the flashlight wherever you go. The lanyard is multifunctional and can charge not only your X2 but even other devices with a type C charging port.
Compact and Lightweight
The Wuben X2 is not your ordinary flashlight with lots of weight and a pole size length yet no performance. This flashlight weighs only 115 grams with the battery included, yet it delivers an output of 2500 lumens and can operate non-stop for 80 hours while on the Low setting. It also measures only 85 mm in length, making it suitable and comfortable for carrying inside your pocket.
IP68 Waterproof
The ability to survive in watery environments is a common aspect of most flashlights, but the X2 takes this feature to a new level. The coating allows it to survive even in extreme conditions like wind, rain, or snow. It can stay underwater for two hours and still function. It's not advisable that you keep the flashlight near water, but in case of an accident, the X2 knows how to survive.
Built to Last for Long
Constructed with aircraft-grade aluminum, the flashlight is capable of balancing weight, durability, and strength and can survive under whatever circumstances. Besides, it can resist any pressure or forces originating from a distance of 1 meter or less. Meaning, even if it falls on a hard surface from a distance of one meter, you'll not see even a single crack. A Micro-Arc Oxidation Ceramic coating enhances corrosion resistance, surface hardness, oxidation resistance, and abrasion resistance.