From Meditation to Letting Go of Negative Emotions, Smart Meditation Offers an All-Inclusive Boutique Experience, Anywhere, Anytime 
Smart Meditation, a cutting-edge brain-sensing ecosystem, is proud to announce its global launch, following four years of development by a team of 80 professionals. This world-first digital mental health boutique combines an interactive app with state-of-the-art brain sensing gadgets, including meditation mask 1.0., EEG Brainwaves headband, VR meditation app, and meditation mask 2.0. for dynamic meditation. With patent-pending technology,  Smart Meditation aims to normalise mental self-care as a daily practice, making it easier to achieve a state of full relaxation, combat stress, avoid burnout and meditate – all while providing a science-backed way to track the results.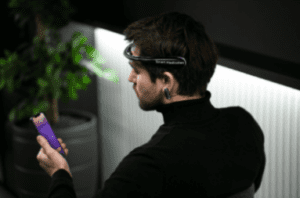 According to the Mental Health Foundation,  74% of adults  in the UK feel so stressed they have been overwhelmed or unable to cope. And  one in fourteen UK adults confessed to feeling stressed every single day.
Daily mental health practices such as meditation are known for their stress-relieving qualities, which help people feel calmer and less anxious. However, how can one be sure that their meditation practices are effective?
Meet Smart Meditation, the world's first mental health ecosystem that combines an advanced interactive app with several cutting-edge devices that effectively track brain activity during different states of consciousness and types of meditation, from concentration and activity to sleep and deep relaxation. Smart Meditation provides the perfect solution for those looking to reduce anxiety and promote calmness.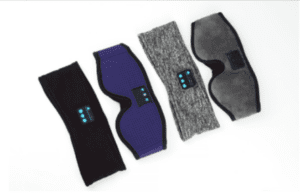 Meditation Mask 1.0
Smart Meditation's flagship product, Meditation Mask 1.0. was designed in close collaboration with healthcare professionals, from general practitioners to psychologists, to create an ergonomic, powerful device that can immerse a user in a state of relaxation, no matter their surroundings. Made from soft, luxurious material, this blackout mask covers both eyes and ears and features a built-in audio system. It can also be used as a sleep mask (and infinitely upgrade your savasana!).  In a busy office or on board a plane, the Meditation Mask 1.0., paired with the Smart Meditation app, can instantly help to relieve fatigue and anxiety.
EEG Brainwaves Headband
The EEG Brainwaves Headband is the ultimate brain activity tracker, based on the principles of electroencephalography, and is compatible with all Smart Meditation products. Synching the EEG Brainwaves Headband with the Smart Meditation apps and masks provides the most accurate feedback on the effectiveness of each particular meditation technique.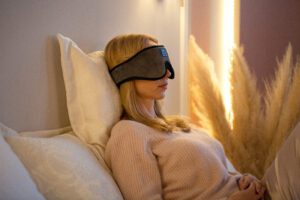 VR meditation app
The Smart Meditation VR meditation app, compatible with Oculus VR, was developed to offer a user an unparalleled immersive experience by transporting them to different locations. The team traveled around the world, scouting the most beautiful and serene spots, from the Maldives to the Italian Alps, to record the stunning views and sounds from each place. The R&D team for Smart Meditation made a conscious choice to forgo graphics simulation in contrast to other similar apps on the market to achieve a complete immersion that is as close to reality as possible.
Meditation Mask 2.0
From yoga and jogging to creative practices like drawing or painting, various regular activities can turn into forms of meditation. The team behind Smart Meditation has designed specific meditation apps for these kinds of activities as well as a lighter, more portable meditation mask that can be used even while working out. 
Smart Meditation app
The Smart Meditation app, which unifies all accessories under one ecosystem, is a user-friendly, intuitive tool that provides guidance and feedback on mental health practices. The Smart Meditation team collaborated closely with healthcare experts to create nine different types of meditation utilizing a variety of methods, such as voice-guided meditation and real-life sounds recorded in nature in various locations all over the world. The visual component makes it easy to understand the brain sensing reports from the EEG Brainwave headband and see progress.