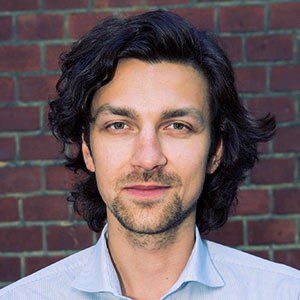 Jakob Drzazga is the CEO of Brickblock, a smart contract platform for investing in real estate with cryptocurrency. Brickblock ICO is live now and has recently raised 5 million euros in funding from Finch Capital. In this interview, the CEO will be talking to us about the project and BBT Token Sale.
1) Please tell us your name and briefly about yourself?
My name is Jakob Drzazga and I'm the co-founder and CEO of Brickblock. During my time as a real estate developer, I realized there is too much friction (complexity, high costs, financial and geographical exclusivity) in traditional financial institutions. The solution was born out of a conversation with fellow co-founder Martin Mischke, who had already co-founded some of Europe's top blockchain companies. We began to explore how blockchain technology can contribute to more fluid investment structures.  
2) What is BrickBlock?
Brickblock is a smart contract platform that allows you to invest cryptocurrency in tokenized real-world assets like real estate and investment funds. Each asset issues its own unique token – called a Proof-of-Asset (PoA) token – that legally entitles the owner to the profits of the underlying asset.
3) What are the Major Features and Services provided by BrickBlock?
Brickblock offers an attractive financing solution for developers and managers looking to fund their project – access to a global market, a frictionless investment process, and quicker settlements.
For financiers, Brickblock's smart contract platform grants access to high-quality projects with better transparency, no investment minimums, and lower transaction fees.
4) What makes BrickBlock ICO different from the others?
Brickblock is not just an idea or a whitepaper. It is one of the only blockchain projects with a working product. We went through almost every iteration of how to do this, including many of the models adopted by some of our competitors. What they will find is that these other models just don't work in the long run. You have to be regulatory compliant, and you have to hire the best talent. We structured a three-stage ICO model that allowed us to invest in a highly specialized team at an early stage.
5) How much do you intend to raise in the BBT Token Sale and how do we invest?
We have a hard cap of $50 million USD. The reason is because real estate is capital-intensive. Brickblock wants to establish a fund to pre-purchase projects to offer them on the platform. This reduces middlemen even further and creates a better product for our clients. A larger raise allows us to buy the properties and reduce the risk for investors while creating a stable pipeline for Brickblock.
6) Why would BBT tokens increase in Equity and Value and how can Token holders Profit if they invest now?
Brickblock tokens (BBK) are necessary to generate the Access tokens (ACT) used to pay for all transaction fees on our smart contract platform. BBK owners who have activated their tokens automatically generate ACT, which they can sell for Ether. The larger our portfolio of tokenized assets, and in turn transactions, the more ACT is generated by BBK owners, which they can exchange for Ether.
7) Where do you see BrickBlock after ICO and in the next 5 years?
We have a very ambitious roadmap. In the coming weeks, we will tokenize the first real estate asset. After that, our primary focus will be to expand our portfolio of tokenized assets, for which we've already signed almost a dozen letters of intent. Towards the end of 2018, we will offer our first tokenized ETFs (exchange-traded funds). We are also developing an exchange built on the 0x protocol that will hopefully become the standard for trading asset-backed tokens.
Other highlights include opening our smart contract platform to U.S. investors, expanding into key Asian markets, and providing a gateway for investing FIAT currency in tokenized assets. Our mission remains the same as the day Brickblock was founded: We want to revolutionize the world of finance.
8) Could you tell us about your team and customer support?
We have a full-time staff of 25 employees from 17 different nationalities, including six developers. Our leadership team is comprised of:
Jakob Drzazga, co-founder – real estate developer with more than 10 years experience and a staff of 20
Martin Mischke, co-founder – co-founder of some of Europe's top blockchain companies, including Bitwala, Bits & Coins, and Transistor Coworking
Jeff Woodward, Director – 25+ years in real estate, during which he has secured investments totalling more than $900 million USD.
Colin Nimsz, Head of Organization and Finance – U.S. attorney, founder of UVEST, Counsel at Lionsgate
Philip Paetz, Chief Technology Officer – previously Digital Expert and External Advisor at McKinsey
Manuel Gonzalez Alzuru, Chief Marketing Officer – formerly Head of Mobile Marketing for Jumia (Orange, Rocket Internet, Goldman Sachs' African unicorn) and CMO at Medlanes (Axa and Microsoft)
With regards to customer support, everyone on the team helps out wherever their expertise could be of benefit to the community.
9) How Safe is BrickBlock, would you like to talk about your compliance and security measures?
Your Brickblock tokens (BBT) are located in our BrickblockToken contract, which has been audited by two different parties where no serious vulnerabilities were found. One of the auditors was ConsenSys Diligence, a leader in the blockchain industry. We made fixes to the small issues that were found before deploying. Furthermore, the contract is based on the ERC20 token contract from OpenZeppelin, which is regarded as having creating the most secure and well-audited contracts in the industry.
With regards to compliance, we have been in close contact with regulators from the very beginning. We are working with Europe's leading law firms in the blockchain space, DWF and ISOLAS, to ensure we are always in line with regulations. Filing a prospectus has taken more than half a year, and most blockchain projects don't even consider the legal requirements of transacting asset-backed tokens on the blockchain. I believe our focus on regulatory compliance is a significant competitive advantage in being able to publicly launch a product.
10) Do you have more information for our readers?