Zoe Hobson, CEO of Runaway Play, and her female-led team of game developers are launching "Old Friends Dog Game," a new free-to-play mobile experience designed to raise awareness of and funds for senior rescue dogs. The award-winning team is well known for building progressive mobile games inspired by the natural world. Zoe shares more details with us in this exclusive interview with TechBullion.
Please tell us more about yourself?
My name is Zoe Hobson and I am the CEO of Runaway Play, an award-winning games studio known for our mobile games inspired by nature.  I have more than 15 years of experience producing across gaming, film, TV, digital and print media. 
In 2015, I joined Runaway Play as a Senior Producer, and a year later, earned the privilege of stepping into the role of CEO. In just a few years, we have grown from a team of eight with two live games to a team of 30 with six live games and multiple new products in development. We have built a diverse team that breaks norms within the male-dominated gaming industry, and led initiatives like our viral campaign, #GirlsBehindTheGames, to empower and encourage young women in the gaming industry. 
What is Runaway Play, could you give us an overview of the business?
The short answer is that Runaway Play is an award-winning independent game studio. We build progressive mobile games inspired by the natural world. 
Our portfolio includes several successful mobile games on the Apple App Store and Google Play, including our newly introduced "Old Friends Dog Game", as well as popular titles "Furistas Cat Cafe," "Flutter: Butterfly Sanctuary," "Flutter: Starlight" and "Splash: Ocean Sanctuary." With a global fanbase, we boast more than 30 million downloads with an average 4.7+ star App Store rating across our entire portfolio of playful titles.
About your new game "Old Friends Dog Game," what is this game for and what inspired you to develop it? 
Our newest release, "Old Friends Dog Game," is based on the Old Friends Senior Dog Sanctuary (OFSDS) in Mt. Juliet, Tenn. that cares for hundreds of dogs each year.  Several team members are long-time fans of the OFSDS Facebook page that has a huge social media following around the globe, and pitched the idea of turning it into a game that could benefit the actual sanctuary.  Once we read their motto "Where Loves Never Grows Old," the whole team was on board.
The free-to-play mobile game features real dogs from the sanctuary to emphasize that senior rescues can make wonderful companions. Players can build their very own virtual sanctuary and experience the rewards of caring for their own pack of loveable senior dogs. The game is designed with a 'pick-a-path' narration style based on the real backstories of the dog residents at the Sanctuary.
The focus of the game is on the regular interactions with the dog residents to offer a more holistic experience. It is full of maintenance tasks to ensure the upkeep of your sanctuary and the happiness of the dog residents, and players can put in as much or as little time as they wish and still enjoy a meaningful experience.
Who can play the "Old Friends" Game, what makes this game unique, what are the key Game Features?
"Old Friends" is a fun, interactive game for everyone, but our main demographic is primarily 18-45 year-old women in the U.S.
Through gameplay, we show the rescue stories, everyday antics and personality quirks of the real-life furry residents of OFSDS. The game is designed to create real-emotional connections with the residents, learn more about senior dogs and empathize with them. Players design their own sanctuary, build bonds with each dog in their pack and take on tasks to ensure their happiness. Other Key features include: 
Unleash the Love

–

Rescue and take care of your very own senior squad. Spend your days playing and caring for your furry friends to make each your most loyal companion. 
Unlock Heartwarming Adventures

– Your choices uncover new story chapters to advance your adventures with your pals. Earning your doggos' loyalty earns new narrative episodes and unlocks additional residents for your sanctuary as you progress through the levels. 
Decorate Digs Fit for a King (Charles)

– Visit your backyard workshop to design and decorate your indoor and outdoor paradise with furniture and plants that your dog residents will love.
Bake Drool-Worthy Snacks

– Show your dog some extra love by baking them homemade tasty treats, like donuts, pupcakes and biscuits. Happy dogs mean new story chapters.
Play Dress Up

– Outfit your dogs in stylish, fun accessories; Each dog has their own unique fashion designed to make every hound feel "dasching."
Create Your Own Profile (and Memories)

– Personalize your sanctuary's profile, complete with a custom avatar and cute snaps of your best dog friends.
Livestream the Fun

– Produce livestream performances with your senior pals to receive in-game sanctuary donations, rare crafting and baking items and the opportunity to jump to the next level.
Tell us more about the business sides of the "Old Friends" game, why did you choose the free-to-play model?
Our goal is to be the leading global brand in nature games with titles designed to have a positive impact on our players' lives, and accessibility plays a vital role in our mission. By removing the pay-to-play barrier, we can reach more players and new audiences.  
We do have in-game purchases and advertising opportunities built into the game to help generate revenue and resources to give back to causes that we are passionate about, like OFSDS. 
As a leading games brand, please tell us more about your most successful games?
Currently, we have six live, free-to-play games that are all inspired by nature,  including popular titles like "Furistas Cat Cafe," "Flutter: Butterfly Sanctuary," "Flutter: Starlight" and "Splash: Ocean Sanctuary." These games are enjoyed by more than half a million people each month from the U.S., across Europe, to China and Japan. 
It seems most of your games are focused on environment, diversity and women empowerment, why and what does it feel like to run a Female-led gaming company?
It's empowering to lead a motivated and diverse team that cares about enacting positive change in both the industry and our players' lives. Beyond building a portfolio of games that help develop emotional connections with nature, our team started the #GirlsBehindTheGames campaign to help increase awareness of women in the industry and highlight the incredible work they do. 
When you are inspired by work, it really improves all elements in your life. Work is a huge part of our lives, so I believe it's important to do something that you care about or makes you happy.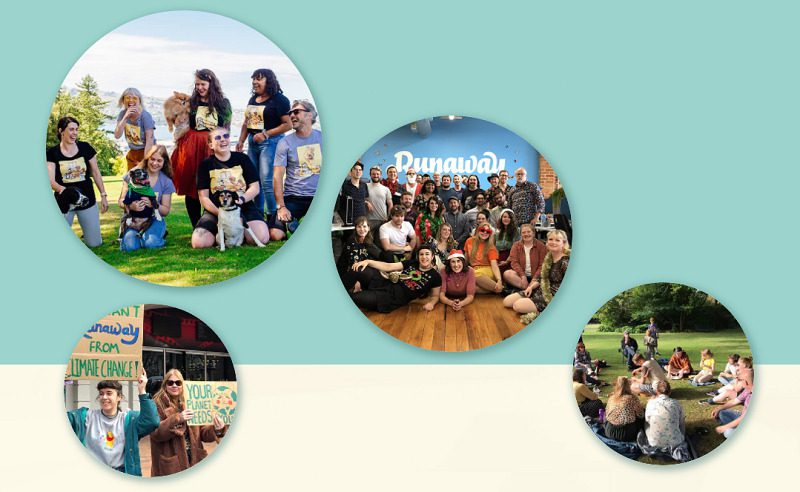 The Old Friends Senior Dog Sanctuary and Runaway Play teams will host a Facebook Live charity event, tell us more about this event and what you have next on your roadmap?
On Thursday, Aug. 12, we will be joining OFSDS to host a charitable livestream event on OFSDS' Facebook Page from 2:00 p.m. to 4:00 p.m. CDT. With every donation goal reached, an OFSDS resident dog will make an appearance on-screen to say thank you. For each game download milestone achieved during the livestream, Runaway Play will make an additional donation to OFSDS. 
Viewers can get involved by purchasing limited edition t-shirts for both humans and dogs, or make a direct donation via Facebook, with all proceeds going toward the sanctuary. 
Every month, Runaway Play will sponsor a different resident for a full year at the real sanctuary with any profits from in-game purchases to help cover their cost of care. 
We also have fun updates for the game planned after the launch, including regular events like our September Bake-Off event and holiday themes. Not to mention, more dogs from the sanctuary will join the canine cast, as well as exciting new items to win and collect. 
Do you have more information to share with our readers today?
We are very excited to share that "Old Friends Dog Game" is available now for iOS and Android devices as a free download. Please check it out. 
For more information, visit the website: Runawayplay.com