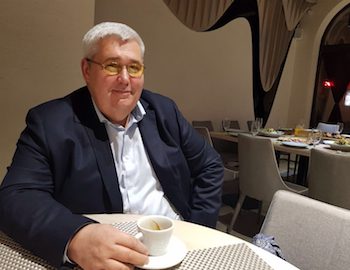 In this interview, Vasilii Rybakov will be talking to us about a new project disrupting the insurance industry; i-Chain, a new advanced blockchain insurance platform.
1) Please tell us your name and about yourself?
My name is Vasilii Rybakov. I am the Head of Glass Cube Ltd., the company which is currently driving ICO of "I-chain insurance".
2) What is i-chain?
I-chain.net is a global online insurance platform based on blockchain technology which will radically change the insurance industry.
3) What problems are you solving with i-chain?
The Platform will resolve many issues.
First of all, scalability issues will be resolved by the fact that blockchain layer will be used by portion of data when it is only needed, parts of data needed for insurance companies will be located on our platform.
Secondly, Platform will shorten time-to-market, insurers will not need to build their solutions from the scratch, platform will provide them framework and will not require deep expertise in blockchain to start sell "ic insurance" products.
Moreover, common platform will also help to resolve common regulatory issues, as it will lobby interest of all industry players and their customers.
I-CHAIN Platform will make it possible for individual insurers to compete for customers, offering a range of custom products they will set up with products constructor.
Platform will also allow the industry as a whole to streamline its processing and offer a better user experience for customers who have to make a claim.
In addition, storing claims and customer information on a blockchain would cut down fraudulent activity – it would certainly make it much harder for criminals to mask their identities or attempt to claim more than once.
4) What are the Major Features and Services provided by i-chain?
Insurers (partners) can publish their products on the Platform, customers can buy and use these products. Platform will cover common insurance processes (i.e. sales, claim processing) and channels of communication (website, mobile application). Also it will be possible to design additional products with extended processes and channels and place these products on marketplace for Insurers to acquire and use them for their business expansion. Risk pools will be created to cover insurance risks and there will be possibility to invest into Risk pools.
5) What is the technology behind i-chain?
As mentioned before i-chain is based on blockchain technology. Thus, all information about customers, insurance contracts and transactions will be stored in blockchain. This will guarantee maximum transparency, significantly reduce costs of preventing fraud activities, which are borne by insurance companies nowadays, and simplify report preparation for regulators. Our platform is so-called "Uber of insurance." It will connect insurance companies, related businesses and consumers and radically change the insurance industry.
6) What is the market size of Blockchain for insurance?
Blockchain slowly but steadily gets into various spheres of our life. After full version platform launch, we plan to conduct a global marketing campaign and establish partnerships with companies around the world. The market of Blockchain for insurance has no country borders or limits.
The insurance market size is above 4 trillion USD. Our forecast is that in few years at least 10-15% of this market will be occupied by blockchain-based solutions.
7) Tell us how the ICHN Token works and how to invest?
Since 17.05.2018 Utility Tokens, ICHN, are available for purchase via ICO directly on our site https://i-chain.net. ICHN rate is 0.1 ETH.
In 2019 Glass Cube Ltd. company schedules to issue security tokens, ICHNS. They will be freely listed on the exchange. Their owners will have the right to derive profit when distributing profits from the platform activities.
Security tokens' planned cost after registration of their release will be 0.2 ETH (twice as much as the utility rate of ICO token – 0.1 ETH). Everyone who bought utility tokens before October 31, 2018 will be provided by Glass Cube Ltd. an equal quantity of security tokens as an encouragement for cooperation in the platform crowdfunding. In other words, if you are the owner of 10 utility tokens before the above date, we will give you 10 security tokens immediately after their release registration.
The number of both utility and security tokens is limited.
As utility token enables to organize own insurance business as soon as platform starts to function value of utility token can grow up to 10% of "regular" insurance company start-up costs for license and software (for 1000 customers).
For example: depending on a country in order to organize a company for 100000 customers an average license and software cost can be about $5 mln, at the same time 10 Utility tokens are enough on I-CHAIN.NET. Based on that Utility token value: 10%×$5 mln/10 = $5000. It is current estimated "ceil" of Utility token value.
8) What are the Advantages of participating in the i-chain ICO?
Advantages are tremendous.
For instance, you can benefit from Utility token rise in value while the platform develops and breaks into the insurance market, as only utility tokens will allow you to build own business and sell products on the platform. Its value can grow up to 10% of "regular" insurance company start-up costs for license and software (for 1000 customers). Those who bought utility tokens before 31.10.2018 will receive the same amount of security tokens (10 utility tokens=10 security tokens). What is more, Security token owners will be able to receive dividends. It is a good source of permanent income.
The platform is preparing for its launch. We plan to introduce our first products in September. And there are no risks of closing the platform as we have a strategic investor. Our ICO is one of the least risky, but at the same time the earning capacity is pretty high. Take a look at our Tokens prospect.
9) Could you tell us about your team and customer support?
I-chain is a team of professionals who would like to bring new advanced insurance platform to the world. Although each of us has different experiences and life paths, we have passion in everything we do.
10) How Safe is i-chain, would you like to talk about your legal and security measures?
Blockchain technology itself works at the technology agnostic level.
Platform interacts between suppliers, entities, systems and services. It is transparent and verifiable at any point of time in the data life cycle (even in the past).
What is more, it reduces fraud, resulting in faster settlement times for those involved.
I-chain provides easier and improved data access.
Of course, we invest into platform security and legal compliance.
11) Do you have more information for our readers?
For more information, please, visit our website and join us on Facebook, Twitter or Telegram channel to read the latest news.
For perspective ICO participants the most interesting is to read our Tokens prospect.
We create an ecosystem for tomorrow insurance. Accessible. Transparent. Diverse.
See the platform demo: https://demo.i-chain.net/
Visit the website: https://i-chain.net/