In this age of digital transformation, a good and functional website is very important for your business. Dejan Popovic, the Founder of PopArt Studio shares more insights into the best digital practices and the services they are providing at their full-service digital agency.
Please tell us more about yourself and your journey as an entrepreneur in the world of web design and programming, and more precisely, running a digital agency?
I come from a small but proud country where intelligence and creativity are the biggest trump cards. Nikola Tesla, Mileva Maric Einstein, Mihajlo Pupin come from this area. Perhaps you've heard of Mihajlo and his coils? You probably have of Novak Djokovic. Mihajlo's scientific and experimental work gave birth to important findings in the field of wireless telegraphy and telephony. He knew about SMS in the 1890s. Thanks to the first-mentioned scientist we have electricity, and to the second we probably owe gratitude for mobile telephony. 
Without electricity and mobile phones, there wouldn't be web technologies to do business with, though some colleagues might argue life would be much easier for designers and developers if there hadn't been the need for creating responsive web design.
Sadly, international events have the greatest impact on small countries, which is why every achievement takes on different dimensions.
Already little chances of success were further hindered by a weak starting position, as I had an accident that left me in a wheelchair at 22. 
Shortly after that, I choose the path where everything is possible – where the guiding principle is that the world is a creative playground without limits defying intelligence and free will.
At that time, web technologies – design, programming languages, and digital marketing intrigued me so passionately that I never ceased loving and learning about them, and now, together with the community, I am pushing the boundaries and limits of our field. Around 50 creative colleagues – programmers, designers, and marketers, are selflessly helping me in that and make everything possible.
Today, our company has offices in several locations – a web design agency in Chicago, a digital team in Berlin, digital marketers in Auckland, and two locations in Serbia, headquartered in Novi Sad. A beautiful city at the crossroads of east and west, north and south, rivers, mountains, and plains. It is the epicenter of frequencies coming from PopArt Studio.
What do you do at PopArt Studio, what unique services are you offering and what makes your team special?
PopArt Studio has entered its 12th year of business and has not given up on the idea of ​​providing clients with a complete service in a single place.
The complete service implies multidisciplinarity and high quality in all aspects, which is not easy to achieve. But we pride ourselves on clients such as PepsiCo, Schneider Electric SE, Nike Inc, IBM, Decathlon SA, Opel Automobile GmbH, Henkel Schwarzkopf Professional CEE, Lidl, Daikin Industries, Ltd., Gazprom Neft, Linde plc, Porcelanosa Group, Visa Inc. among some, and they are proof that quality is our axiom.
We sell intelligence and creativity in large quantities and beautifully designed bottles. Like a creative boutique that had to expand its walls to a corporation, while jealously preserving team spirit, intimacy, and a personalized approach to the client.
Clients are accompanied by a complete digital strategy, branding, web presentation, application, and positioning. The popular name is Full-Service Digital Agency, yet we prefer simpler and shorter – "PopArt Studio".
Who are your target customers, and how can you help businesses get through the Covid-19 crisis?
Most of our clients come from the IT sector, blockchain technology, cloud switching, and software development, but also various other industries such as consulting, medicine, education, logistics and transportation, eCommerce, advertising, and others.
The companies we work with range from small businesses to large international corporations and we are most proud of the success of our clients.
The Covid-19 crisis has caused incalculable damage to many companies, but life has to go on, and now, more than ever, the importance of digital presence came to the fore. This is the time when businesses need the most investment in digital marketing, and on the other hand, the optimization of resources is important, which is achieved by choosing the appropriate campaign and company. 
There is no room for mistakes and that is why we approach every client responsibly, realizing that business is a living organism, with all its cycles, mechanisms and most crucially, dreams, visions, people, families, lives behind it.
Many of our clients have positioned themselves at the top of Google search engines, thus gaining direct customers through organic search. Unique web design has provided much-needed credibility in an abundance of ​​identical websites.
Our biggest help is the responsibility, understanding of their business, integrity that they gain by cooperating with our company.
Many similar companies to ours outsource projects to us, especially when it comes to large and important clients, and the feedback we received is that their expectations were positively exceeded.
In this age of digital transformation, enlightens more on why businesses need a good website?
What other option do you have? Advertising on television, radio? Yes, social networks and YouTube have a strong influence, but without a website, be it a presentation, an online store, or a web application, most businesses are practically non-existent.
Someone needs your product or service. The first thing they will do is search on Google where they will see your website or your Google business account. I remember in 2008, which looks like a long time ago, I offered this service to clients and their answer was that they have stable suppliers, a stable number of clients. I don't think they were right. 
The client is not always right and for his good, our company is fighting hard to advise on trends, propose the optimal strategy. Only adaptation to changes and listening to the market can bring us a more confident future because there is no stability in business. Stability is just a trap ready to tuck us in, weaken us, and let short-term pleasure slow us down. Adapting to trends and setting them is the only way to win together.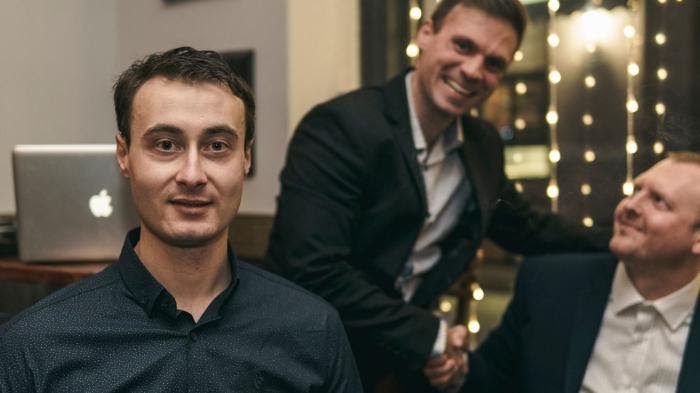 On web design specifically, what should a client expect from your web design services at PopArt Studio?
They can sense the difference and feel they're in good hands. Like a surgeon who smiled at you before the anesthesia started working. When you open your eyes and become aware that the web project is in the Awwwards competition or that it has given you a 400% sales jump, then the satisfaction becomes more real.
Unique design and personalized approach is our ace that later becomes the client's. We listen carefully, provide suggestions, and together with the client or the agency that works for the client, we map out the best and most beneficial strategy.
We start making prototypes and wireframes, and after adopting the same, we send the final design solution to the client for review. Our team is made of some of the most prominent designers in the community, with notable works on the Dribbble and Behance platforms. Our design team consists of UI/UX designers, graphic designers, illustrators, motion designers. Together, they participate in the evaluation, selection, creative suggestions, and workshops to conceive new value.
Sometimes the task is a web design, sometimes branding, like logo design or the complete corporate identity, and sometimes it is a label design for a food or drinks brand.
Tell us how your web development process works and what specific skills do you offer?
We enjoy programming custom web applications written from scratch, using the Laravel PHP framework and React.js for fast loading and interaction. The specialty of the house is Headless CMS, which with the help of API makes it much easier to organize and control everything.
For presentational websites, we create unique custom WordPress themes according to the client's visions, without redundant code, unique, secure, and UX-friendly interactive presentations. We know WordPress at the atomic level.
eCommerce solutions are our favorite customers, and for smaller stores, we use WooCommerce and develop custom Woo WP themes, so irresistible that customers simply have to add the product to the cart.
We do not use ready-made solutions or templates in neither of the options.
If Linux is not your first choice, our team also includes experienced ASP.NET software developers working in the Microsoft environment.
The importance of proper branding cannot be over-emphasized, how do your graphic design services help businesses stand out?
The attention of the visitors reached the brink of extinction. Saturated with the content of different types, you have a blink of an eye to draw attention to yourself, and mediocrity is not an option.
The approach, where each pixel should be in its place, where the composition, physics, the relationship of elements, color scheme, typography are combined into one whole, makes your feedback, emotion, and way of expression to the visitor.
You have their attention for a moment but how do you address them? That is why branding and professionals in that business are the only right choice.
Do your marketing services at PopArt Studio help businesses grow and generate more revenue, please tell us more?
An idea makes a difference and the ability to generate new ideas is something that no one can take away from you. With one creative, disruptive technology, you can change the world. Digital marketing is a rare arena in which the winner is not known and where everyone has equal chances and the right to express themselves in the best way.
We have created successful lead generation campaigns for software companies like IBM, developed a digital strategy and SEO services for the large software company CodeCentric from Germany, run campaigns for Gazprom Neft from Russia, and knowing what their selection criteria are, we can only be humble and grateful for the trust placed in us. We know how much it takes to build a brand and when you gain the trust of such large companies, you have a great responsibility.
Small businesses are especially interesting to us because growth is seen the fastest. After all, it is possible to be even more creative because as the company grows, it becomes more dangerous with its procedures.
The small and medium businesses we worked for had a 300% to 3500% increase in business.
Do you have any available opportunities for talented web design professionals, partners, and investors at PopArt Studio?
As we are a digital agency with a complete service, with multiple locations, we are always looking for partners and investors who will recognize the difference and innovations made by PopArt Study and enable us to participate in their country and their market as partners, and employ talented and smart creatives.
Do you have more information for our readers?
Nothing is impossible. The digital age has shown us this through instant results. Follow your dreams, start a startup, develop and concretize your ideas, because we don't have a lot of opportunities and time, and PopArt Studio is a name you remember because it is the name of your future partner.
For more information, visit the website.