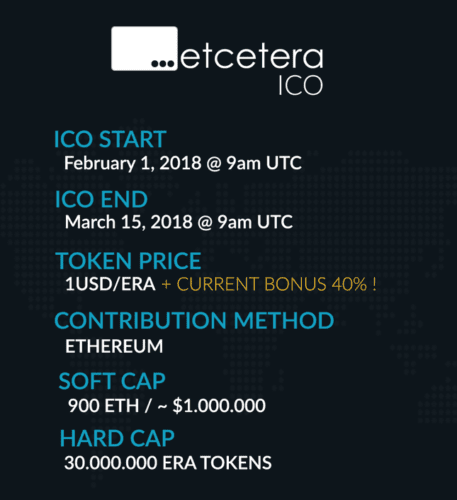 Brasseur Pepijn is the co-founder of Etcetera, an innovative Blockchain technology startup hoping to help us buy and exchange cryptocurrencies easily in local stores worldwide. In this interview, Brasseur will tell us more about this project and the opportunities available for us through the ICO;
1) Could you please tell us your name and about yourself?
Brasseur : My name is Brasseur Pepijn, co-founder of Etcetera, and in charge of all the sales and marketing activities within our company. I studied applied computer sciences at the University of Brussels, and have a background in technology and sales.
2) What is Etcetera and what is the technology behind it?
Brasseur : Etcetera is a company originated from Belgium. We offer physical cryptocurrency wallets in stores across the world. Etcetera itself will act as a broker who exchanges the fiat currency received by the local store to cryptocurrency. The exchange will happen whenever a customer buys one of our Etcetera cards, and pays for the card at the register. The register will then register the sale, and transmit the sale to our online exchange, which will make the deposit to the Etcetera card. It will work and feel exactly the same way as standard gift cards, except that in this case they are buying cryptocurrency, and hold the physical wallet controlling that cryptocurrency
3) Would you like to tell us about your team?
Brasseur : Our team originated from Belgium, mostly existing of people who have experience in software development and sales. I founded this idea and company together with my brother, and  we put together a team which will make it all happen. We are associated with people in different countries around the world, but the core executive team exists of 4 members. You can find more information on those members on our website.
4) What inspired you to launch a Blockchain and Cryptocurrency business with Etcetera?
Brasseur : We all are firm believers in the continued growth and applicability of cryptocurrency and blockchain. But history has shown us that people are not always welcoming drastic changes or new technologies, simply because they do not understand how it works. We wanted to make cryptocurrency more accessible to the mainstream, and lower the entry-level into the crypto economy. We thought about how we could achieved this, and the only logical choice was to take a step back and look at existing models, and see if we could implement them to make cryptocurrency a trusted and known technology. We then came up with the idea to start distributing and selling physical cryptocurrency wallets, disguised as gift cards. These gift cards today are widely available, and almost every know and trusted company offers gift cards either regionally or internationally. Look at Itunes, Google Play, Walmart, Playstation Network, the list can go on and on. The gift card market is also a fast growing market, with global gift card market spending expected to hit US$ 698.2 Billion by the end of 2024. It looked like a logical choice for us, to leverage this infrastructure and the trustworthiness of a known product item in known and trusted stores. Because the infrastructure allows us to sell our cards exactly the same way as normal gift cards, we can use and leverage all the existing channels there are today. Making it easier to launch our product, distribute it worldwide, and market it. Our cards will be placed in the gift card section of every store that sells them and will sell our cards too, placing us directly next to the worldwide known cards like Google Play or Apple Itunes, which will give a high visibility, increased trust, and it will make the entry level into cryptocurrency lower than it ever was before. We believe these things together are a success factor which will give cryptocurrency the necessary boost to global adoption.
5) What makes Etcetera crypto ICO different from the others, tell us more about your value proposition?
Brasseur : The Etcetera ICO is different in a way that we are not a new innovative technology, but we are leveraging proven and trusted models to introduce a new upcoming technology to the masses. We look at what is proven to work, and apply it in our model, which in this case will bring tremendous value to the crypto-economy as a whole. The Etcetera cards will make cryptocurrency visible and tangible around the world, and this is what we believe will be the key to our success.
6) How much do you intend to raise in the ERA Token Sale and What are the steps for investing in ERA Token?
Brasseur : We plan to raise a minimum amount of 1.000.000 dollars, and we have set a limit contribution amount to 27.000.000 dollars.
1 million is the absolute minimum to roll out our product in one or two countries. Because we work with distributors, and they contract Salespoints, we need to have a substantial amount of cash and cryptocurrency reserves. Whenever a customer buys one of our cards in a local store, the money paid at the register will only reach Etcetera 2-3 months later. For this reason, we need a big cash reserve to back every card we sell. Once our sales our proven, we can increase those reserves substantially. But with 1 million dollars, according to our calculations, we are able to develop our infrastructure and distribute around 5.000 cards to salespoints. So in order to roll out worldwide in multiple countries/regions, we aim to raise more than 20 million, to decrease the growth time needed to reach that point. You can invest in the ERA token by registering on our website etcetera.ltd, entering your Ethereum address with which you will contribute, and then you can send the Ethereum to our Ethereum address which will be displayed on your dashboard. The moment Etcetera receives the ETH, the tokens will automatically be sent to the address of origin.
7) Why would Etcetera increase in Equity and Value and how can ERA Token holders Profit if they invest now?
Brasseur : The Etcetera token will be the intermediary token for all transactions, meaning that if someone buys an Etcetera Ethereum Card, they will first buy Etcetera tokens, which will then be partly burned/destroyed, and the remaining part will be offered back to the market in exchange for the desired cryptocurrency. We will continue burning tokens on every transaction, this process will never stop. By using this model we create 2 things :
High transaction volumes and high demand

Ever decreasing total supply
Which will drastically increase the token value. But we don't stop there, because we will offer Etcetera Token Card wallets as well, we will increase the visibility and awareness for the Etcetera Token, indirectly increasing the adoption and use of our token as well. Also, since the Etcetera token is a ERC20 token existing on the Ethereum blockchain, transaction times and fees are low, making it a good alternative as a payment method. Etcetera aims to market the Etcetera token in such a way, that upon the growth of the Etcetera company, Etcetera can contact all the stores who currently sell the Etcetera cards and use the Etcetera online infrastructure, and provide them with a way to accept payments with Etcetera tokens or others too, simply by turning the system around. By then stores will see and acknowledge cryptocurrency more than ever before, and since they have been offering our cards already, they will be more easily introduced into an alternative payment system.
We at Etcetera aim to have valid use cases for the Etcetera token, next to the intermediary use case, by being able to pay in stores with the same token you can buy there. This vision we believe is within reach, and with the low and decreasing supply of the Etcetera Token, combined with the growing demand, the value can increase exponentially.
8) Would you like to share the exchanges where ERA Token will be traded and on what date will you start trading After ICO?
Brasseur : We are currently reaching out to exchanges to list our token. We are however also in the development phase of our own online exchange too, which will be the backend for the offline sales of the Etcetera cards, and front end for online users. People will be able to offer their tokens there, which will ensure a part of the tokens will get burned before they get offered back to the market. This will only happen if they exchange/offer their tokens on the Etcetera exchange, which is a good stimulant/motivation. This together with our mobile wallet, which will work directly with the online exchange will increase the trading volume on our exchange. The Etcetera mobile wallet will be introduced to all Etcetera card adopters in the form of a booklet, explaining them how to install the mobile wallet, import their physical card wallet, and start making payments, trades, or exchange their cryptocurrency back to fiat currency. This way, we aim to reach millions of people, and guide them into the world of cryptocurrency, and pave the way to a global adoption.
9) Where do you see Etcetera after ICO and in the next 5 years, do you have any value projection for the token price?
Brasseur : We project a high value for the Etcetera token within the period of 2 – 3 years even. We do not like to gamble with numbers, but if you look at the maximum total supply, the use cases, the burning process, the potential adoption level and high demand, we can easily expect a value of over 1.000$/ERA.
10) What are your marketing and sales strategies to achieve this goal?
Brasseur : We plan on making the ICO successful, and then we will start the production of the cards and we will market our products through our distributors and Salespoints.
11) Would you like to talk about your legal and security measures?
Brasseur : The legal and security measures are standard, nothing special to mention, accept that for every country we will be applying different maximum amounts that can be purchased in one purchase, to avoid/circumvent KYC regulations. In some countries the cards will be prohibited, we are aware of which ones, and in most of them there are steps to be taken that will allow us to still sell the cards without a KYC process. But in the list of initial countries we want to roll out, we are sure that our current model permits the sale of our cards.
12) Do you have more information for our readers?
Brasseur : There is a 15% bonus period for early contributors running from February 2nd until February 9th. Get in while it's hot! And thank you for all the support and belief in Etcetera!
See the Etcetera website.