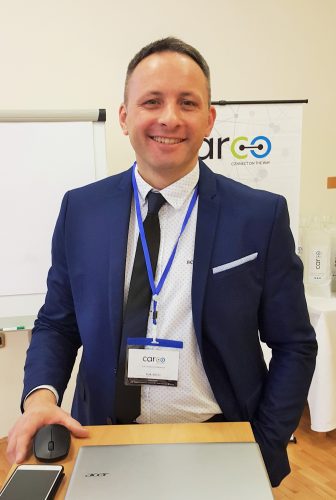 Rok Areh is the CEO of CARCO project, a NextGen Drivers Application & Decentralized Social Network.
1) Hi Rok! Could you please tell us more about yourself?
I'm the founder and CEO of CARCO. I'm from Slovenia, where I was born, finished university and where my business career began. Despite the fact that I am an economist, I always found more inspiration in information technology. When I started working in banking 17 years ago, I was very much interested in the banking IT system than in the banking business itself, so I realized how my future would look like.  
I have 15+ Years of experience in the development of IT and RFID technology as well as great expertise in the field of managing an IT projects, human resourcing, digital marketing and e-commerce.  Together with my team, we established first RFID-EPC test lab for the purpose of testing EPC products for customers of GS1 Slovenia. I speak four foreign languages, love sports and I am a family man.
2) What is  Carco Project and what is the technology behind it?
The CARCO core is a decentralized social network CarcoHUB with its specially designed application for drivers, which can easily communicate with vehicles or their drivers while driving, or can meet new ones through registration plate recognition of nearby cars or through geolocation functions of mobile devices. The necessary information is then displayed in the simple application menu. The main and large added value of the CARCO technology is in its modular structure, since it is comprised of the main and additional modules, which together form an integral solution. When I'm talking about modules, I mean modules like CarcoHUB, CarcoPAY, CarcoHORIZON, CarcoPLAY, CarcoBONUS are and the two most important parts of the CARCO technology, which cares for the smooth Blockchain transactions upon positive economic effects, CarcoCHAIN and CarCONOMY.
3) Would you like to tell us about your team?
I personally know how important teamwork is and how delicate it is to find the right person, to be part of such a project like CARCO. During my previous projects, I have met a lot of interesting people and professionals, and with many of them we built up successful stories. So the decision was not so hard to choose from amongst them. They recognized my enthusiasm for the project and they started to believe in CARCO too. So today the CARCO team is made up of the following members:
– ALJOŠA OZIMIC, (COO), – VINCENT MAHOLETTI (Europe operations), DARIA VADIMOVNA (Baltic expansion), LEVAN IREMADZE (lead Developer), MATIC BREZNIK (CBO) and few other team mates, who are part of this project too but are not shown in the CARCO white paper.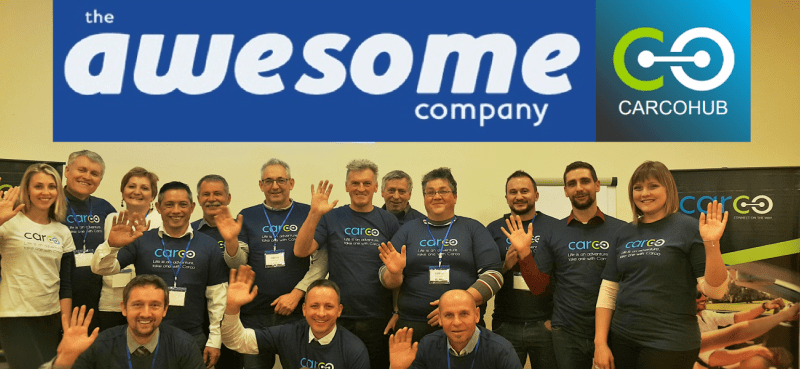 Good advice is very important to help us get the Carco job done properly, so we have invited four experienced and honourable people to our advisory board:
DARE STOJAN, honorable Enterprise Member of the European Economic and Social Committee (EESC), Section for Transport, Energy, Infrastructure and the Information Society, with more than 40 years of strong experience from audiovisual and media technology.

ANDREJKA KUMER, +15 years of experience in banking sector

JANEZ ZALETEL, 25+ years' experience in development of IT/SW solutions, project and team management in companies and banks, a part of the international organization GS1. He also established Slovenian Oracle User Group – SIOUG in 1995 and has been its President for 22 years.

MATJAŽ ABERŠEK, a Court-certified Expert for Innovations, a President of Innovation Commission at Slovenian Chamber of Commerce. He has experience and knowledge in automotive business and innovations. He was one of the first five people in Slovenia entitled a "Black belt"
4) What inspired you to launch a Transportation business on Blockchain?
On one hand, we have the internet, where today everyone of all ages use the internet, and that is dramatically influencing the way how we live and act, even when we are on the road. On the other hand, we have Bitcoin and other cryptocurrencies, where millions of people are making transactions every day using their mobile devices. When talking about smart mobile device services, using them while you are driving can be very dangerous. Studies carried out in the USA in 2016 have shown that at least 7 out of 10 drivers use their smartphone while driving or when on the road and more than 50 % of smartphone users have at least one registered profile on social networks, which just further confirms that future life will be unimaginable without social networks. So we just combined those things together, internet, cryptocurrency, transportation, social networking and mobile devices, and the idea CARCO was born! We think that Blockchain-powered communication interface, which will be exclusively designed/adapted for drivers, is definitely the right strategy.
5) What makes  Carco Project crypto-currency different from the others, tell us more about your value proposition?
I know today there are many young startups on the market, where a lot of knowledge is involved in their project work and products. What I can say, for us and for our team, having substantial knowledge, a homogenized team and experience is what leads our path into the successful release of the CARCO product.
There are plenty of ICOs on the market, where their products do not have a bright future, in other words, this is "a short track run" for the companies as well as for the investors.
We know how important and significant the car market is today. There are more than 7.4 billion people living on this earth, and we all have one thing in common, to socialize. Like I have said already, we know from studies, that at least 7 out of 10 drivers use their smartphone while driving or being on the road and more than 50 % of smartphone users have at least one registered profile on social networks. All these facts support  the fact that CARCO is just what the market needs and for a technology such as CARCO, this is of great importance, since we are developing a communication interface, which will be exclusively designed/adapted for drivers. It will enable drivers to complete communication, while ensuring that the driver will still be able to maintain his focus on the road and manage his vehicle safely.
Users will have the opportunity to use the CARCO paying system for all services (such as ATM machines and other products and service providers) within as well as outside the Carco network. CarcoPAY will be based on a contactless payment card, which will be directly connected with the user's current Carco token status in his wallet and will allow real time conversion of Cryptocurrency to desired fiat currency.
6) How much do you intend to raise in the CARCO Token Sale and What are the steps for investing in CARCO Token?
In total there will be 650,000,000 CARCO tokens released!
Our ICO will take 3 stages:
PRESALE (from February, 19th to March 31st, 2018), where 97,500,000 CARCo tokens will be on presale, with 45%-75% discount – all unsold tokens goes to preICO pool.
preICO campaign (from April, 2nd to May, 31th, 2018), where the rest from 97,500,000 CARCO tokens will be on presale, with 45%-70% discount– all unsold tokens goes to ICO pool. With a preICO campaign our goal is to reach 1000 ETH (soft cap) and 4200 ETH (hard cap)
ICO campaign (in 4th quarter of the 2018), where 390,000,000 CARCO tokens will be on sale, with 5%-40% discount.
7) Why would  Carco Project increase in Equity and Value and how can CARCO Token holders profit if they invest now?
We believe that Carco technology is an excellent opportunity with an interesting product. Due to the unique CARCO technology, which comprises a driver, Blockchain and traveling  with a CarcoPAY system, we are aware of the future popularity of Carco Token especially among those investors who will recognize in its complexity and attractiveness a very interesting investment asset, which has the potential to generate truly decent earnings in the long run. The technology's success will be primarily reflected in its profitability, through the increase of its use among users. We are convinced that with the product's recognition, our cryptocurrency will grow in popularity and will be found on all big and renowned trading platforms.
At CARCO we have predicted future value with technical analysis upon market research as well as upon Carco unique Blockchain use in the automotive sector. Based on our forecasts, a long-term increase is expected for CARCO token, the price prognosis for 2019 is for about +30%. With a 5-year investment, the revenue is expected to be around +1100%. For example if you invest $100 to buy CARCO tokens in preICO with 45% discount, your investment may be up to $1840 in 2023.
8) Would you like to share the exchanges where CARCO Token will be traded and on what date will you start trading After ICO?
Right after ICO stage in the 4th quarter of year 2018, we are planning to announce where investors in CARCO tokens will find marketplaces to trade them. We have already made some contacts with trading platforms, but at this moment it is still early to talk more specifically about these.
9) Where do you see Carco Project after ICO and in the next 5 years, do you have any value projection for the token price?
Every "handy" tool finds popularity among his users and we believe CARCO will find its own place among many users around the globe. With more users, CARCO token will gain in value and in my opinion in next two or three years there will be a great breakthrough for CARCO in the market. Nobody likes a disease, but frankly I hope and believe once people recognize the advantages of using CARCO in their everyday life, then I wish CARCO will be spreading like a plague, which will affect on the value of our token. Like I said, we predicted future value with technical analysis upon market research and we believe the investment in CARCO token can bring up to 1100% of revenue in 2023.
10) What are your marketing and sales strategies to achieve this goal?
We know that important impact has a good commercial strategy for the product, so we are now in the stage where product CARCO is almost released and we need to do all necessary steps to bring it to the public. Together with our PR agency we are preparing a PR plan of where and how to place the product to be promoted and to be effectively represented to potential customers and we are also looking the right persons whose presence will be positively affected to reach the target market properly and successfully.
11) There is a lot or interests in Crypto regulation recently, would you like to talk about your legal and security measures?
Definitely there is a lot of concern now among investors due to crypto regulations in some countries. I remember myself in the beginning of my career in early period of millennium, where stock brokers constantly offered to me different kinds of investment packages, where it later showed up that plenty of them were scams. Today, with the crypto market, it is unfortunately the same story, where digital tokens/coins are replacing stocks and not necessarily the kind of investment that brings capital profit to the investor. I personally think the crypto regulations you have mentioned can bring some positive effects to the market and investors, but anyhow there always will be possibilities for the scammers to infiltrate their ICO products to the market as seen in many occasions in the past.
12) Do you have more information for our readers?
I would like to take the opportunity and to wish all investors who are reading this interview, and who find investing in ICO interesting, to find a perfect, progressive and with great perspective project for their investment and gain their capital investments as much as possible. Definitely CARCO is one of those projects too, which has a bright future and me personally would be very glad to see you raising our achievements together and would be glad to share all successes with our precious investors together on board! Life is an adventure, take one with CARCO!
Visite the website for more information: http://www.carcohub.com/