The Logistics industry is Lucky to witness one of the greatest innovations in the industry; a Temperature sensitive logistics solution, built on blockchain technology by Smart Containers. Richard Ettl, Co-Founder & CEO of Smart Containers will be sharing with us, the benefits and opportunities provided by this project:
1) Could you please tell us about yourself?
I love technology and to improve things. When I was a child I always wanted to understand how everything works – so I took everything apart and put it back together as a hobby…
My second big passion is entrepreneurship. This has led me to create my own company, Smart Containers, very early on. I am very proud of what we have achieved as a team until today.
As a person, I value relationships and loyalty a lot.
2) What is Smart Containers?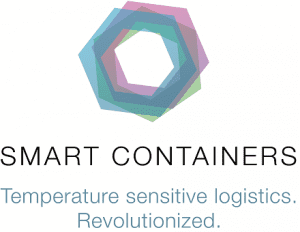 Smart Containers started by chance. Nico my co-founder developed an insulation technology for buildings. When we pitched it for a building of a large pharma company in Switzerland, they asked if we could design a new container to transport pharma products to the Middle East, as they had many issues shipping there. We investigated and found this a very interesting opportunity. Therefore, we focused on containers for the pharma industry, which we launched as a subdivision under the brand SkyCell, which is now the 4th largest provider in the space.
Today Smart Containers has 2 divisions, SkyCell for pharmaceuticals and FoodGuardians for food logistics. We pool these high-tech containers globally, based on IoT and blockchain technology.
3) What inspired you to launch a Blockchain and Cryptocurrency venture with Smart Containers?
My wife. She got involved in blockchain and crypto about 2 years ago and helped building up the swiss crypto exchange and ICO platform Lykke, which is our technology partner for the ICO. I have to admit it took me 6 months to understand the technology, because I assumed regulation would be able to kill it. But when I saw, how this young community weathered the storms of the regulators and saw the potential of blockchain in logistics – we decided we needed to be at the front of this revolution.
4) What are some of the problems you see with the logistics and transportation industry right now when it comes to pharmaceuticals and food distribution?
We have to separate some of these challenges. Logistics is still a classical old school business – a lot of emails flying around to make 1 shipment happen (Kuehne+Nagel estimates 200 communications for 1 shipment).
Pharma is regulatory driven and heavily focuses on product safety. Consequently, the industry is slow to adapt to change. Clients only start to listen, when you can prove a 25x increase in safety. The process then comprises testing, verifying with small volumes and once successful, scale to their massive volume products. We won 3 top 10 pharma companies in Q1 2018 alone – the last time they switched solution: 17 years ago, 15 years ago and 12 years ago… So there is strong loyalty once pharma companies agree to partner, which is great to build a business.
Food will be very different – massive volumes (more than 100x bigger than pharma), heavily cost driven. However, if you can show that 25% more fresh food will not perish until it's in the shelf by being shipped in a better solution, this is a game changer in the industry.
5) How will Smart Containers help improve food and pharmaceutical distribution?
Pharma:
reduce product loss in the supply chain (safest system on the market)

reduce total cost by up to 20%

help with regulatory compliance

reduce CO2

significantly lighter than other containers

→

saves fuel in airplanes

larger inner dimension

→

can take in more payload

insulation produced of recycled PET bottles
Food:
reduce the loss in the supply chain (reliability)

total cost savings

improve the taste of products until they are consumed

reduce CO2
The gains are very similar in both segments. We can benefit from what we have learned on the pharma side and apply it to the food side.
6) How does blockchain technology help Smart Containers accomplish this?
Automation. If you want to rent out millions of boxes you need to keep a good overview of the pool, fulfill customer needs, manage a multitude of different clients – it needs to be organized in a decentralized way.
7) Can you tell us more about the technology and components of your Smart Containers ecosystem that make it function?
It's a simple formula: Hardware & software. We design cutting-edge container hardware and equip them with sensors and the software around it. This way we track the containers, rent them out and learn a lot about the supply chain to offer addons.
To administrate containers, we want to put it on an open source blockchain eco system, the LOGI Chain – which solves not only our problems, but also those of other logistics companies, airlines and further stakeholders: sharing information to move a parcel around the world.
We will put this system on an existing blockchain protocol, but we have not yet decided on which one. Projects we are considering are Ethereum, NEM, EOS, NEO, Fabric and Corda. It is important to us to be able to switch between systems if a new, more suitable protocol is released.
8) What are the differences between the SMARC token and LOGI tokens you're offering and how do their intended uses differ?
We are emitting 2 tokens:
The SMARC token is a profit share token and is viewed as security token by many countries. Token holders are entitled to 20% of future dividends generated in Smart Containers Group, comprising the profits and potential exit gains of SkyCell and FoodGuardans.
LOGI tokens are the crypto fuel for the LOGI Chain ecosystem. This payment token is required to pay for transactions and services on the LOGI Chain and will be bought by every logistic player that will join the ecosystem.
9) Do you know which exchanges the SMARC token and/or LOGI token will be traded on at this time?
Unfortunately, exchanges do not allow us to announce listing prior to completion of ICO. There are a couple of ICOs in a similar space. Examples are Shipchain, Modum and Ambrosus. Shipchain is in the process of minting tokens and not yet listed but both Modum and Ambrosus are listed on good exchanges and did quite well post ICO.
10) What were some of the biggest challenges you encountered while working to launch your ICO?
Finding the right team, advisors and partners is quite difficult and consumes a lot of time. We planned ahead and knew regulation would be important. Therefore, we got in touch with the Financial Market Authority of Switzerland and are one of the first ICOs that got full compliance confirmation before launching the ICO. This gives a lot of safety to investors.
One big challenge is to allocate the right funds to the right marketing and fundraising activities. You never know what works best and it is difficult to assess the quality of service providers before signing partnerships. Many unprofessional people sell their services for an insane amount of money.
11 ) What's going to happen to Smart Containers after the token sale concludes and where do you see things in 5 years?
Before ICO is after ICO. We continue working on our global expansion. Through the ICO we were introduced to some great business leads by our new investors – ex. Shipping salmon from Norway to Japan, fresh food to hotels and restaurants in Vietnam and independently within the UAE. It's great to have a global investor base that brings us leads ?
5 years from now: a partial exit of a line of business is not unlikely. SkyCell will be no. 1 on pharma containers. We will introduce direct-to-patient shipments, which is changing the way pharma is distributed, including that you get it shipped to your home like groceries.
On the food side, it is more difficult to say, since we've just started the business. We see the biggest opportunity with the direct-to-consumer box, which will allow a more convenient, cost-effective and secure delivery of fresh food to your home.
12) What are your marketing and sales strategies to achieve that?
SkyCell is operative for 5 years and has an excellent global sales team. As a next step we need to build up a relevant sales force in Asia-Pacific.
Our B2B marketing focuses on our presence on relevant trade fairs and conferences as well as publication in specialized press.
When it comes to FoodGuardians, we need to build up a team from scratch and identify how to scale the business fast. We will work our way from low hanging fruits upwards. First step will be to provide airlines and freight forwarders with relevant container volumes.
13) Could you tell us a little about your team and customer support?
Today SkyCell includes 38 employees directly in Sales, RnD, Operations, IT and Marketing. About 40 people are in production, which is outsourced. Our team is growing fast since the company is scaling rapidly. We are very proud to have so much impact in the industry.
FoodGuardians: Team built up will start once the ICO is completed. However, we will try to build a lean structure by outsourcing operational sales activities to business partners. The management team is highly motivated to move this business venture forward.
14) Would you like to talk about your legal and security measures?
Legal: We are advised by an excellent lawyer, Gabriela Hauser. She provided legal advice for the Ethereum ICO when she used to work for MME, the most recognized ICO lawyer company in Switzerland.  We appreciate her diligent, but pragmatic way of working.
Security: From the very beginning of the process this was one of the most important elements. We have a combination of security measures, some of them inhouse, while others are provided by our technology partner Lykke and external auditors. We have already been attacked several times but did not take a hit on our infrastructure. It is our highest priority to make sure investors are getting their tokens and we secure the capital to expand our business.
15) Do you have more information for our readers?
I think Smart Containers is today a little bit unusual – a running business doing an ICO. But in the next months this will change – as the space professionalize it will become very attractive for SMEs to get global investors to support them expand. Exciting times ahead for this young industry.
Website: https://smartcontainers.ch/