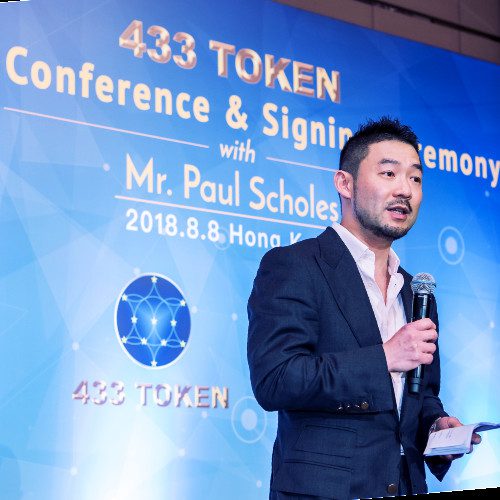 Raymond Wong is the co-founder of 433 Token, a blockchain powered project aimed at empowering the 3 Billion plus football fans and creating new Superstar players all over the world, with the help of blockchain technology. Raymond will be discussing the 433 project with us in this interview.
1) Please tell us your name and about yourself?
I am Raymond Wong, co-founder of 433 Token project.  I was born and raised in Hong Kong, with a Bachelor of Business Administration degree from The University of Hong Kong in 1995.
I have been an alternative assets investor for over 10 years, and I first invested in cryptocurrencies and blockchain projects in early 2017.  I was fascinated by the great potential of blockchain and smart contract technology, just like what I saw in the internet technology in the early 1990s.  Back then I was one of the very few proud email users and modem owners in Hong Kong.
In addition, I am also a big football and basketball fan.  In those days when internet wasn't for everyone (some 30 years ago), I went out of my way to purchase USA Today and The Guardian everyday to check on EPL and NBA scores.  I must admit that, I love to chew on sports stats more than sandwiches, always sacrificing my pocket money for more information on my favourite stars.
2) What is 433 token and what is the technology behind the project?
433 Token is designed for fans of the No. 1 Sport on Earth : Football.  By implementing blockchain and smart contract technology, 433 token will empower those 3 billion plus football fans with new abilities and bridge the gap between them and football legends, superstars and youth talents.
3) Could you give us a structural analysis of how the 433 Ecosystem works, what are the Major Services you provide?
433 Token is a standard ERC-20 token, with the ecosystem and Dapp built on the Ethereum platform.
With Blockchain technology, all data and information are transparent and reliable. Every football fan in the world with internet connection and 433 token can participate, scraping the need to go through intermediaries or even having bank accounts.
433 Token will provide 3 major utilities to football fans: sponsoring, voting and bidding. Smart Contracts make these utilities feasible and trustworthy.
4) 433 Token offers a Hat-trick of three major utilities: Sponsoring, Bidding, Voting, could you tell us more about these and how they work?
Sure.  First of all, 433 Token Ecosystem has already been joined by 2 legendary football players, Paul Scholes and Andriy Shevchenko.  Both of them not only endorse the project, they will personally participate in them as Principals.
For Sponsoring, fans can use 433 Token to directly sponsor the Principals in mentoring youth talents. Via Smart Contract, once enough tokens are sponsored, no more will be accepted, and the Principal has to start the mentorship in order to receive the tokens.
For Bidding, the Principal will come up with events with his personal participation (eg. charity dinner, watching Manchester Derby with Paul, a round of golf with Andriy) and fans can bid with 433 tokens.  Beside the highest bidder getting the exceptional experience, for some events there will also be lucky draw for ordinary fans to have a chance to meet the Principals personally.  Again, Smart Contract will make sure the tokens will return to the fans if for whatever reason the event cannot materialize.
Secondly, Global Legends Series (which organizes exhibition games of football legends in cities around the world) is an official partner of 433 Token.  Fans will be able to Vote on the venue, roster and even game format of the Global Legends Series games, using 433 tokens.
5) What is the market size of Sports on Blockchain and who will benefit from the 433 token Ecosystem?
I am not sure if I have the answer to the first part of your question. According to the "2018 Deloitte Annual Review of Football Finance", the European football market alone is worth US$30 billion (€25.5 billion) in the 2016/17 season.  And there are huge markets at South America, Asia, Africa and Middle East, not to mention the FIFA World Cup which is the most popular sport event in the world, with total viewership of 3.4 billion.
I must say that our beloved sport of football is already doing very well, and 433 Token is here to bring even more improvements via blockchain technology and smart contract.
For the second part of your question, we believe 433 Token will bring benefits to at least 8 types of people.
Fans
participate in developing the next superstar and follow his growth closely.
bid for a personal experience with his/her favorite player.
have more say in soccer decisions.
Youth Talents
be sponsored by fans to learn from the very best.
Legends
build a new legacy
interact with fans
contribute to charity
Scouts
have more reliable data in tracking talents
improve talent evaluation
Clubs
have better scouting
have higher supply of properly mentored players
Global Legends Series
have better decision-making
have more popular games
Blockchain community
promote blockchain technology to 3 billion people
gain better understanding and higher acceptance
Cryptocurrency investor
billions of users will create a highly liquid cryptocurrency
6)  Tell us more about the 433 utility token, how does it work and what are the benefits to token holders?
433 Token will run on the Etheruem platform.  Everyone with a internet connection and 433 token in his wallet can enjoy the 3 utilities through the Dapp.
Say, for the bidding utility, the Principal comes up with an event with his personal participation, it will be put on Smart Contract with specified details, and various trickering events.  Fans around the world can bid on it, and all the bidding data are transparent and reliable on blockchain.  As auction ends, the winning bidder get the right to the event, and other bidders' tokens will go back to them via Smart Contract.  If for whatever reason the event could not be held, it will tricker the automatic return of the tokens to the winning bidder.
With Blockchain and Smart Contract, token holders can be confident that there will not be manual manipulation or deception.
7) Do you have any strategic partnerships and investors you will like to share with us?
Beside important partners like Global Legends Series, Paul Scholes and Andriy Shevchenko, we also have the support of Coinsuper, BTCEXA, Quantstamp, EBC Fund, just to name a few.  And we have personal investors who are fund managers, hedge fund managers, crypto investors and huge football fans.
8) On what stage of development is the 433 Token Ecosystem and what is next on the roadmap?
We are developing the first module of the ecosystem (Voting), and an early prototype is available.  We plan to have the MVP ready by early 2019.
9) Tell us about your team of experts and the brains behind this amazing project?
Our CTO is Dr. Wailok Tam, PhD from University of Tokyo.  He has years of research experience at top universities and laboratories. His main field is Artificial Intelligence (with his paper accepted by IJCAI).  He became interested in blockchain technology late last year, and being an expert in Python and Scala, he has quickly taught himself Solidity and have started writing Smart Contracts.
Our Chief Technical Advisor is Dr. Hilton Chan, PhD and Adjunct Professor of Hong Kong University of Science and Technology (HKUST).  He is a blockchain and Fintech expert and has over 20+ years of leading and managing development for Government's mission-critical systems.
Eric Byron and Ong Jun Hao are two other blockchain experts we have on our Advisors Board.  Eric used to lead project developments at Electronic Arts and Disney, a true expert on user interface and experience.  He is now more into the coaching role, educating people about blockchain and organizing smart contract bootcamps.
Ong is the founder of BlockConnectors.io, a top blockchain and ITO consultant, as well as a trusted influencer.
On the sports side, we have of course Jefferson Slack, our Chief Sports Advisor.  He was former Head of Football at IMG and CEO of Inter Milan FC.  He is currently on the director board of STATSports and Miami FC, and he has recently founded JS3 Sports and TOK.tv.
In addition, we have Ismael Pena, our Chief Media Advisor.  An Emmy Award winner with over 30 years of sports broadcast experience.  He launched CNN Español as head of sports and and covered a total of 7 FIFA World Cups, and 3 Summer Olympic Games.
I must say, I am astonished by the passion of these top-calibre people who selected to join the 433 project.  Their love for football is of course a major factor, and they also have great faith in the integrity and capabilities of our management team, who has successfully gained the trust of superstars like Paul Scholes, Andriy Shevchenko and many others.
10) How Safe is 433 token, would you like to talk about your legal and security measures?
433 Token is a standard ERC-20 token.  It has already passed security audit by JohnWick Security, a professional firm that has audited RUFF, ETHERPARTY, etc.
For safe-keeping of 433 tokens, we already have conversations with several top wallets.  We will announce our partnership shortly, so as to make sure all users will have a secure and easy to use wallet for his/her 433 tokens.
Legally, we have already obtained professional legal opinion on the nature of 433 Token.  It is a Utility Token, meaning that it can be purchased, used or traded by citizens/residents of most countries and regions in the world.  (please refer to website and whitepaper for exceptions)
11) Do you have more information for our readers?
We are very honoured that Paul Scholes and Andriy Shevchenko has joined us in this meaningful project.  And we also have commitments from other big-name superstars and clubs.
The more we work on this project, the more we recognize the power of football.  Wherever we go (Japan, Taiwan, Germany, Malta…), we always receive passionate reception on the 433 project.  Blockchain community are excited about finally have a "killer app" to draw huge adoption of the technology.  Football fans love the idea of interacting directly with their idols and participating more in their favourite sport.
I believe we are only scratching the surface of how much synergy blockchain and football can bring.  The 3 utilities of 433 Token are all scalable and sky is the limit for the Ecosystem's potential.
Really great that I have the opportunity to work on this project, and I would like to thank all for the support.
For more information, visit https://433token.io/
Like on Facebook: https://www.facebook.com/433token/
Follow on Twitter: https://twitter.com/433Token
Join on Telegram: https://t.me/fourthreethreetoken