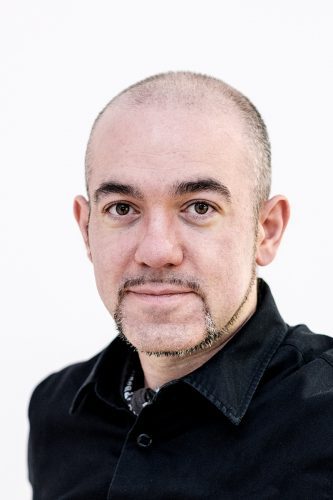 Doctor Smart is an innovative digital solution to healthcare and wellness services, built on blockchain technology, headed by Pavel Roytberg, the CEO. In this interview, Pavel will be talking to us about the Doctor Smart ecosystem and the opportunities available.
1) Please tell us your name and briefly about your?
I'm Pavel Roytberg, Co-Founder of Doctor Smart. I have a PhD in Economics, and I'm one of the leading experts in telemedicine and health technology in Eastern Europe.
I'm a Member of the Board of Directors of Medicina, a JCI-accredited clinic in Moscow.
I have been an active member of blockchain and cryptography communities in Russia and the US since 2016. In 2016, I studied Leadership Strategies for Information Technology in Health Care at the Harvard T.H. Chan School of Public Health.
I have been involved in healthcare software development for more than 20 years, created a cloud-storage solution for medical records (Smart Medicina, 2014), an expert clinical decision support system (2015), and an automated prescription checking system (2015).
2) What is Doctor Smart?
Doctor Smart is a blockchain ecosystem for digital healthcare and wellness services. You can use Doctor Smart 24/7 to get instant medical advice from a physician, a dietitian, a fitness expert or even a vet — all at a lower cost than you would normally expect from traditional services.
Doctor Smart aims to give millions of people access to quality healthcare, regardless of their income level or place of residence. Our goal is to help improve medical support and overall quality of life.
The Doctor Smart ecosystem will use blockchain technology and smart contracts to integrate innovative new technologies with the infrastructure of the traditional healthcare system, such as offline medical facilities and insurance companies.
Doctor Smart aims to give millions of people access to quality healthcare, regardless of their income level or place of residence. Our goal is to help improve medical support and overall quality of life.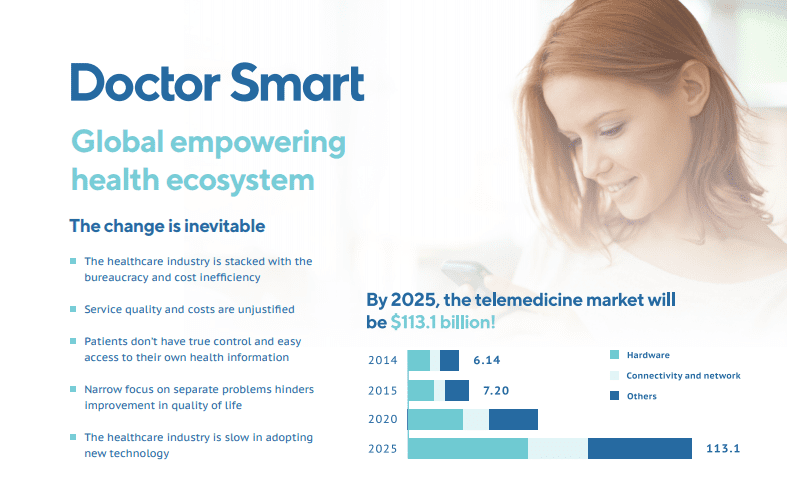 3) What are the Major Features and Services provided by Doctor Smart?
Doctor Smart is using existing infrastructure as a basis for building a new digital health ecosystem.
Doctor Smart offers three key advantages: the fastest available access to health and wellness advice, a broad spectrum of specialities, and a unique, technologically advanced platform.
The platform's speed of service is something that every Doctor Smart user will come to appreciate. Our goal is to make it as fast as possible, so that no one needs to wait for over a minute.
The number of health and wellness specialties available also makes Doctor Smart different from competitors who only offer medical advice. Doctor Smart gives you access to vets, nutrition and fitness experts, as well as health and beauty specialists.
The technology behind Doctor Smart is what really makes it special. Firstly, Doctor Smart is the only solution in the market with a treatment verification system. Doctor Smart automatically checks any prescribed medication for relevance, compatibility with a patient's previous medical records, and for drug interactions. This solution has already been implemented at Medicina, one of the leading multi-specialty medical clinics in Moscow.
Secondly, Doctor Smart has developed a proprietary technology for verifying medical qualifications. It uses the current international professional standards to ensure that Doctor Smart users receive high-quality advice.
Thirdly, Doctor Smart is a blockchain-based solution. Blockchain smart contracts make interaction secure and transparent to all Doctor Smart users, while enabling efficient exchange of medical and financial data between its participants. It's a friendly, technology-driven ecosystem, aimed at protecting the interests of all participants and giving them true control over the system.
Moreover, Doctor Smart will offer smart contract-based health insurance. The tripartite mechanism – involving patients, health care providers, and insurance companies – will help reduce human error. With insurance policies written in a direct and easy-to-follow manner and secured through blockchain technology, self-executable contracts will facilitate clarity and transparency.
Doctor Smart users will keep and manage their own health history. Their medical records on Doctor Smart will include information from various sources, such as recommendations from different medical specialists and fitness experts, laboratory test results, data collected from wearable wellness devices, heart rate monitors, glucose meters, etc. This information will be made available to health and wellness service providers to ensure their full awareness. Having access to their own health data may also cause patients to form new habits such as monitoring their health more carefully.
4) What makes Doctor Smart ICO different from the others?
The healthcare industry is suffering from cost inefficiency and too much red tape. Currently, healthcare quality and costs are unjustified. Narrow focus on separate problems hinders improvement in quality of life. Patients don't have true control over and easy access to their own health information. The healthcare industry is slow to adopt new technology. But the revolution has already begun!
A possible scenario is that the transnational corporations win, keeping hold of resources and data. An alternative would be to give consumers control over healthcare. Doctor Smart aims to drive change to empower consumers worldwide! We aspire to help people take control of their health and quality of life! That's what makes Doctor Smart ICO different from the others.
5) How much do you intend to raise in the DSTT Token Sale and how can we invest?
Softcap is $5M, hardcap is $50M.
Just 7 simple steps to invest in DSTT Token:
Register at doctorsmart.io, powered by the Cryptonomos ICO platform, and create account.

Top up your account with BTC, ETH, BCH, LTC, DASH, ZEC.

Once logged into your account, you can select to buy DSTT.

The system will auto-generate a contract.

In your account, you will see the information regarding your purchase (the number of tokens, similar to futures contracts), but you will not be able to redeem your tokens as yet.

Next, undergo the KYC process:

a) if you fail to pass the KYC review, the purchase amount is instantly canceled;

b) if you refuse to complete the KYC, the purchase amount is canceled after the public sale is over.

When the public sale finishes token buyers, who have completed the KYC process, can withdraw tokens from Cryptonomos to any ETH erc-20 wallet.
6) Where do you see Doctor Smart after ICO and in the next 5 years?
As an ecosystem, Doctor Smart works globally, giving millions of people access to quality healthcare, regardless of their income level or place of residence.
Our analysts predict that the cumulative potential of telemedicine, wellness and fitness services and AI solutions for healthcare markets will reach $2 trillion by 2022. As a company, Doctor Smart aims to achieve a market share of at least 2%, at which point the platform's turnover should be $40 billion a year.
As a medtech ecosystem, Doctor Smart will provide:
— The most technologically-advanced solution on the market
— The most transparent transactions on the market
— The best medical consultations on the market
7) What are your marketing and sales strategies to achieve this projected success?
The Doctor Smart ecosystem is designed with scalability in mind – it can extend into new markets and serve thousands of users daily.
Doctor Smart is going to engage private practitioners as well as specialists employed by partnering clinics, which will enable us to quickly grow our base of specialists. At the moment, it already includes more than 600 healthcare professionals.
We are going to launch the first version of Doctor Smart in Russia in Q2 2018. We will continue development throughout the year, so our local audience will be able to see Doctor Smart update and improve to better meet their needs.
Doctor Smart will launch in neighboring countries by the end of 2018, and in Europe in Q2 2019. We are planning to enter the Asian market by the end of 2019, and the markets of North and Latin America in mid-2020.
As you can see, Doctor Smart is an international project—our mission is to remove barriers to healthcare for people in need of health and wellness advice.
8) Could you tell us about your team and customer support?
Doctor Smart was founded in 2017 by Pavel Roytberg, one of the leading experts in telemedicine and health technology, and Vladimir Nikolsky, who has more than 10 years experience in international internet businesses, with numerous successful tech product launches.
Nevil Chimon, Business Development Director for the Asian region, has been a leader in drug discovery and diagnostic healthcare over the last two decades, Nevil helped transform how drugs are tested and changed the direction of clinical trial design by using molecular imaging to save dozens of millions of dollars for Big Pharma. In 2010, as a CEO, he helped grow the largest private diagnostic clinic in Singapore with unmatched capabilities in nuclear medicine, successfully completing M&As with Fortis Healthcare in 2012 for USD56M and Fullerton Healthcare in 2014 for USD85M.
Viacheslav Potemkin, Head of Product, is in charge of product development, making sure Doctor Smart grows fast and efficiently, to achieve its full market potential. As a Project Leader in mobile and web design with more than 9 years experience, he has worked on products with audiences of more than 75 million users in 42 countries.
Dmitry Khan, Vice President International Business Development is a blockchain expert and corporate strategic advisor. Dmitry has 20 years experience in the venture capital industry and direct investments, as well as in the field of mergers and acquisitions in hi-tech and biomedicine.
Kirill Keker, System Architect, is designing the unique, technologically elegant platform that will make Doctor Smart stand out in a global market. Kirill is a technical expert with more than 10 years experience in software development for mass media, telecommunications and banking.
Ivan Tiutiundzhi, PR Director, carefully interprets user needs and communicates with the Doctor Smart team in order to convey the right messages. He has a PhD in Sociology and has previously been recognized with industry awards—Best PR Director in 2014 and 2017— by the Russian Managers Association and the Kommersant Publishing House.
There are currently four technical teams working on Doctor Smart, each including 7–16 developers.
We have operational teams in Singapore, Russia, and Cyprus. The company currently employs more than 30 people (both in-house and outsourced). We are using such tools as Slack, MeisterTask, Jira and other solutions for internal management.
9) How Safe is Doctor Smart, would you like to talk about your legal and security measures?
Healthcare providers are required to comply with all of the requirements of Health Insurance Portability and Accountability Act of 1996, HIPAA – the regulatory framework which creates the rules for handling patients' personal medical information at medical facilities.
Using blockchain together with other technologies for dynamic data security, Doctor Smart is creating a blockchain-based platform that will comply with all HIPAA's security requirements. Doctor Smart's dynamic identification protocol will divide data into three groups with different levels of access permissions depending on the type of the user, time and reason for access, geo-location and business needs. The use of anonymous dynamic identifiers obtained non-mathematically will help Doctor Smart's blockchain to overcome the so-called mosaic effect and provide opportunities for granular control of personal data access.
To ensure more secure data protection, medical information will be stored apart from the public blockchain.
The use of blockchain technology together with a dynamic identification protocol based on a distributed P2P network will help to ensure a new and higher level of data protection as compared to traditional databases with a centralized method of information storage. This is privacy by design.
10) Do you have more information for our readers?
The Doctor Smart telemedicine ecosystem is built around a platform that processes user requests and financial transactions, and provides tools for health care specialists to speed up and improve service.
Кey Doctor Smart Technologies:
Doctor Smart Blockchain Platform is a blockchain-based platform that ensures transparency and security for all participants. Blockchain is used to secure financial transactions, medical qualification and certification data, and user-generated ratings.
Cloud Medical Information System (Doctor Smart Cloud EMR) is a cloud storage solution for specialists and clinics joining the Doctor Smart ecosystem.
Specialist Ratings Module provides a mechanism to collect user ratings—patients are invited to rate their experience during a virtual visit.
Smart Queue Module is an AI-powered solution able to recommend specialists based on the subject, qualifications, and user ratings.
Clinical Decision Support System is an intelligent tool for supporting clinical decisions that performs matching against previous medical records.
Data Bank stores medical data, including the Doctor Smart health records and history, as well as information from other sources, such as external Electronic Health and Electronic Medical Records (EMR/EHR) systems.
Join our token sale, join the future of medicine! – https://doctorsmart.io