SpiderDAO's decentralized hardware proposes some privacy and security tools for today's and tomorrow's internet users. The founder and CEO of SpiderDAO Nathan Varty will tell us more in this exclusive interview with TechBullion.
Please tell us a little about yourself?
My name is Nathan Varty, I am a 37 years young hardware Tech entrepreneur from the North-East of England. Since the days I can remember I always had a knack for disassembling different tech stuff and putting it back together. Found crypto at still quite early years back in 2014 as everyone bought some bitcoin and later participated in the early ETH days and later decided to create a SpiderVPN business in the space, while that business is still running & doing well today, but I knew we haven't tapped into the full potential of the hardware there just yet. So just like that, SpiderDAO was born to bring forward the full potential of it.
What is SpiderDAO and what solutions are you bringing to the market? 
SpiderDAO is the world's first hardware-based DAO. We are a new product that plans to bring hardware to the whole DAO ecosystem, pathing a new way into the future towards whale-resistant DAO's by bundling hardware and software tools building on top of the Polkadot Network. By doing that we nullify all the current existing troubles of the DAO such as plutocracies, Dark DAOs, and exploitable governance mechanisms – read more about it here : https://spiderdao.medium.com/spiderdao-the-challenge-explained-f8e083acb3ae
What is a DAO? please give us a breakdown of what it means.
A DAO is a Decentralised AutonomousOrganisation. This is a governance system that offers the community to take control of the Organisation by voting and proposing ideas from a community. This is in replacement of a typical organisation which has board members limited by shares or other economic benefits. The DAO takes away the power from the wealthy and powerful person, also known as a "Fat Cat," and replaces it with a community voting system offering an equal opportunity to all participants. 
Tell us more about the SpiderDAO Governance Mechanism, how does it work?
SpiderDAO is a democratic governance mechanism which distributes power and decision-making amongst its consumers. Hardware-based DAO eradicates third parties from interfering and manipulating elections. SpiderDAO's unique governance model gives rise to many use cases, such as a completely self-governing decentralized VPN network called the SpiderVPN. Consumers can utilize its features by using tokens.
Could you give us a walkthrough of the SpiderDAO Ecosystem and how it works?
The first step of the Ecosystem would be the SpiderDAO itself. This will be the solid foundation on which all of the other security tools and features will be built. 
On top of this, we will introduce a whole suite of Internet 3.0 web security tools and the first of these will be SpiderVPN which will offer centralised and decentralised VPN services as well as access to the SpiderDAO governance system.
The SpiderDashboard will be introduced to allow ease of access to our users who would like to be involved in the many other token utility options such as the LAU concept where staking Liquidity Provider (LP) tokens will get you free VPN access to SpiderVPN or Utility Mining where you can gain SPDR rewards for staking liquidity in yield farming.
Then we have the SpiderMarket which will also be accessible through the SpiderDashboard. This will offer a place for our users to trade their unused bandwidth and also create a passive income in SPDR Tokens.
Finally, we have the SpiderVault which will utilise 2% of all the future crypto proceeds from its products which will drive revenue to help and build more products and make it a self-sustaining Ecosystem controlled by the community. 
This sustainable Ecosystem is all built on the solid foundation of the SpiderDAO and interwebbed together by a decentralized VPN offering a safe and secure environment for the DAO to thrive. 
How does the multi-layer utility token work, the SPDR Token and the benefits? 
SPDR Token can be used in the Liquidity as Utility (LAU), Utility Mining, and DAO voting and proposals, all while being protected under a secure and encrypted dVPN environment. It will also be the main currency inside of our SpiderDashboard. With the help of it you will be able to monetise your bandwidth, which you would utilize to bring some of the cheaper internet possibilities to less developed countries and areas while still making some passive income. 
At what level of development is the  SpiderDAO project and what is next on your roadmap?
Since SpiderVPN has been running since 2017, the Router and VPN aspects of the project are at a very advanced stage of development. These are ready for use now. 
The next step in the Road Map is to introduce the SPDR token and then complete the launch of the DAO, the solid foundation of our Ecosystem. 
Also, we will be sending out the Routers to all participants of our successful strategic sale, as well as making a start on our decentralised plugin 

The full roadmap: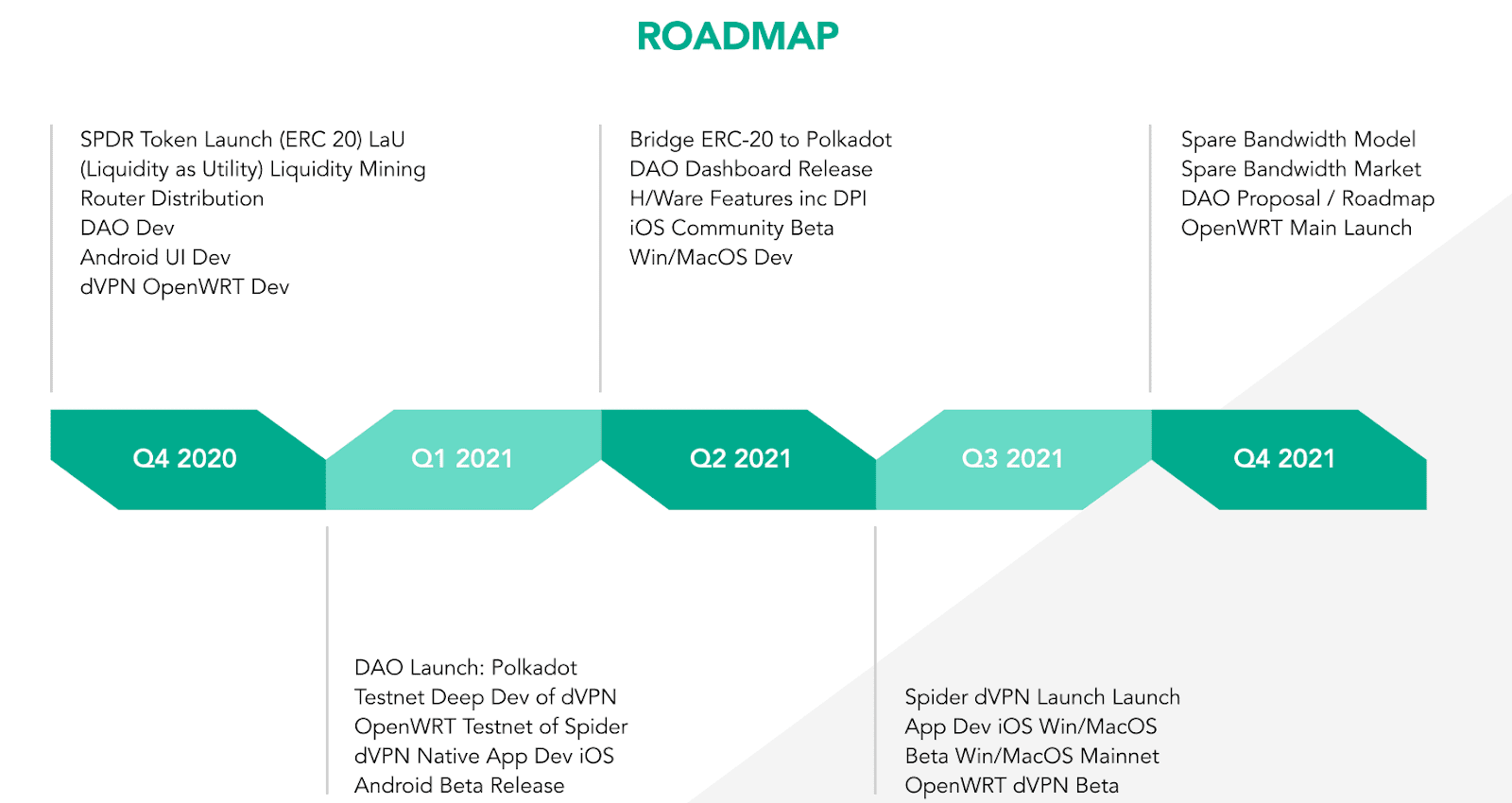 Tell us more about your leadership team and customer support at  SpiderDAO.
Our leadership team has been working together for a combined total of 5 years. In this time we have worked on diverse and innovative projects with a proven track record. This has been proven with our work in the VPN Industry working with hardware routers at SpiderVPN since 2017. We are being advised by experts in their own fields with over 10 years of experience in hardware and blockchain ecosystems respectively.
How safe is  SpiderDAO? Would you like to talk about your legal and security measures?
SpiderDAO is committed to protecting its consumers from the ever-rising malicious threats on the internet. Most common risks include spam, virus, keyloggers, pharming, worms, trojan, adware, phishing, and spyware.
As we are building on top of a Polkadot parachain, we will benefit from shared security since all state transitions will be secured by the Polkadot Relay Chain validator set.
SpiderConnect Router is also extremely safe protecting against Kernel/User space Stack-Smashing Protection.
The SpiderConnect Router software is hardened with RELRO protection, Buffer-overflow detection, Kernel/User space Stack-Smashing Protection, and GCC format-security. The package manager packages are all signed to avoid malicious packages being installed.
All traffic going through the router will be encrypted through our VPN protocol between the dVPN nodes with the kill-switch option to drop traffic if VPN is disconnected. Even if the VPN is disconnected with kill-switch turned off, all traffic will be filtered locally in the router to avoid malware and other malicious traffic.
Do you have more information for our readers?
Yes we would like to inform readers that the project is still in the early stages and that many features are soon to follow and will be added to the DAO Ecosystem on which users will be able to vote by using SpiderConnect Routers. With the power of that they will also participate in the voting for the new features to come. It's also worth mentioning that we have implemented a feature called SpiderVault into the DAO and the sole purpose of that is to ensure that 2% of all crypto proceeds are gathered in the Vault and those proceeds are then spent on building new features that users have voted for. As you can see, it's a self-sufficient ecosystem that keeps thriving and developing itself further with the help of the monetisation of the already established VPN business.

At the end of the day, with the help of the SpiderConnect router there will be plenty of use cases:
1: Enjoy a higher level of security than your standard VPN  
2: Create passive income with the router combined with the LAU concept
3: Enjoy geo-blocked content
4: Participate in the DAO activities
5: Access to extended SpiderDashboard with tons of features

For more information, visit the website: https://www.spiderdao.io/