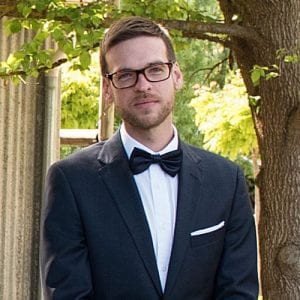 Mike Pomery is the Director of Operations and the co-founder of Countinghouse Fund. He has a background in psychology and statistical analysis, though has been focused on trading for the last decade. In this interview, Mike will be talking to us about the CountingHouse Fund project and ICO and the opportunities available for crypto investors to make more profit.
1) What is Countinghouse?
Countinghouse Fund is an active investment tool typically used to bolster an investor's portfolio with our high-risk, high return algorithms that we employ on the foreign exchange and recently on crypto-exchanges. Countinghouse is the customer-facing arm of our fund, which was originally only available to brokers and institutional investors. We made the move from a private, unlisted fund over to our current structure so as to facilitate more involvement from individual professional investors.
2) What inspired you to launch a Forex & Cryptocurrency Hedge fund?
Our Forex fund has been operating for some time with continued success, though we noticed the volatility of the fiat currency exchanges diminishing slowly over the last few years. Since our algorithms trade volume, not swing or position type trades, yield from our Forex fund has lowered slowly as these exchanges stagnate. Conversely, the comparatively high volatility of crypto-exchanges has delivered returns far outstripping Forex with our crypto-fund algorithms. You can see this broken down in detail by consulting our financial report www.countinghousefund.com/financial-report
3) What are some of the problems you see with cryptoasset hedge funds and other managed funds that currently exist?
Not so much problems as different philosophies, we see ourselves as an investment tool or vehicle and as such we avoid where ever possible to force a particular investment usage of our product. So we don't have any forced vesting periods, we have very low minimal holdings (just one token) and no dividends. This means the investor can choose when and if to liquidate their holdings in part or full or, keep it fully compounding, greatly increasing their returns.
We do however, encourage more funds to come over to the blockchain as this will allow more diversity for investors and their portfolios and help to further bring the blockchain to the mainstream.
4) What makes Countinghouse different than all the cryptoasset funds right now?
What sets Countinghouse aside from almost all other funds is our fundamentally different approach to trading, where we don't rely on prediction to yield profit, we look to force profit through movement. Effectively, we are agnostic about what happens in the market, just as long as it moves!
5) How will Countinghouse help improve help professional investors to better their Return on Investment?
With an active investment such as ours that uses direct-hedging strategies to capitalize on market-movement, as long as there is volatility, there is profit. When an asset decreases in value, having an active investment as a part of a diversified portfolio helps to offset losses incurred by the reduction of speculative value of an investor's passive investment portfolio.
I recently wrote a blog concerning this using BTC devaluation as an example. You can find it here: https://www.countinghousefund.com/single-post/2018/04/23/Incorporating-high-return-active-investments-into-your-crypto-portfolio
6) How does blockchain technology help Countinghouse accomplish this?
The blockchain is helpful to Countinghouse and its investors in two important ways. Firstly, the volatility is far greater on crypto-exchanges as compared to Forex, and with algorithms that thrive on market-movement, this equals greater profit when compared to our Forex fund. Secondly, the smart-contract aspect of an ICO launch combined with the fact that an investor's tokens act as holdings in the fund means that administration from our end is greatly reduced as compared to our Forex fund. This means we can take far lower fees (7% per month on realized profit for crypto vs 25% per month on realized profit in our Forex fund), and that of course means an investor's compounded returns will be higher in our crypto-fund.
7) Can you tell us more about the technology and components of your Countinghouse ecosystem that make it function?
We've certainly come a long way from our beginnings, manually trading contracts for difference at a risk level that still makes me cringe when looking back at our naivety. We automate trade-entries and exits to take away the human element of irrationality and greed while still keeping an eye on things in case a human ever needs to step in and adjust parameters when the market does an unexpected thing. Our Forex bots/algorithms have been adapted to the crypto-exchanges, adjusting volume-indicators and lottage to suit the higher degree of fluctuation found in said exchanges. Our channel partners at Whisper Connect handle our IT infrastructure and VPNs located near the relevant trading exchanges. Unlike many ICOs, our business is established with existing, secure infrastructure.
8) How much do you intend to raise in the CHT Token Sale and what are the steps for contributing?
We have a hard-cap of 20 Million USD, or around 50,000 Countinghouse Tokens (CHT). Any investor can come aboard our ICO sale. Investors from the US and Singapore must acknowledge they are professional investors before contributing, and all investors must follow a simple KYC screening process. All can be done via our site: www.countinghousefund.com/ico
We will only provide investors with links from our site, we will never send out a contract address via telegram, and all correspondence will be from contact@countinghousefund.com only.
Please follow these steps to avoid scams.
9) What were some of the biggest challenges you encountered while working to launch your ICO?
Honestly… Marketing. We've spent most of our trading career just worrying about trading and administration. Learning how to market ourselves has been a very steep learning curve, and we are very happy (and relieved) to be working with Amazix so as to ease that burden.
10) What's going to happen to Countinghouse after the token sale concludes and what where do you see things in 5 years?
As previously mentioned, we are already an established business with existing infrastructure. Once the funds have been raised, they will go straight into our crypto-trading account and get to work making profit for investors. Our tokens will be put on de-centralized and mainstream exchanges as soon as possible, so investors can liquidate their holdings/take profit at any time.
11) What are your marketing and sales strategies to achieve that?
Marketing post-launch will simply be updating our investors and the public with information about how each week of trading is progressing. We will also release a more in-depth monthly report, and a very thorough quarterly. The reason for this is we are a closed-end fund that will never issue more tokens after ICO launch so as to not dilute ICO investor's holdings, and because of this, we will not be actively seeking new investors after the ICO launch completion. Investors can sell their holdings to other investors via the exchanges, but we will not be able to issue any new tokens after ICO completion.
12) Could you tell us a little about your team and customer support?
Countinghouse is committed to delivering fast and accurate responses to investor inquiries at any time. Our team is small compared to many funds, but we believe that running lean is of benefit to investors, as we can afford to take less fees and keep investor profit in investor's pockets. For more information about our team, have a  look at our Whitepaper: www.countinghousefund.com/whitepaper
13) Would you like to talk about your legal and security measures?
Please head to https://www.countinghousefund.com/legal-agreements to see our full legal documentation.
Whisper Connect, our channel partners, handle our security and IT infrastructure, providing encrypted, double-redundancy measures to make sure we will always be able to trade, and keep investor details secure at all times.
14) Do you have more information for our readers?
-Pre-sale finishes 08/05/2018 – 30% Bonus CHT per 1 ETH
-Early investor period starts 09/05/2018 finishes 15/05/2018 – 15% Bonus CHT per 1 ETH
-Crowdsalestarts 16/05/2018 and finishes on the 12/06/2018
Please visit the website: https://countinghousefund.com.