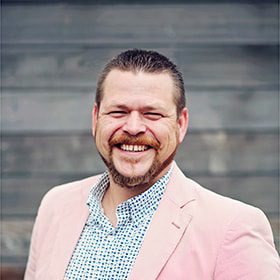 Matthew van Niekerk is the Founder of Databroker DAO, the first decentralised marketplace to sell & buy sensor data using Blockchain technology.
1) Could you please tell us about yourself?
Canadian born, lived in Tokyo for 7 years after university (Economics), moved to Belgium in 2006 to do MBA then worked for the largest Belgian bank. First as an internal strategy and operations consultant, then COO for the credit card business and lastly as Head of Platform Innovation for retail online brokerage.
A side story about me
My primary aim for doing the MBA was to find and build a team for a venture that I had in mind. Although I did not secure funding it after the MBA, in hindsight, I was not alone in recognizing the need for the business I called "P2PFX" (peer-to-peer currency exchange). When bitcoin came out, I thought hmmm, wish I had met that Satoshi guy and good thing that someone much smarter than me made it happen.
Back to the career stuff
In my last role at the bank, I was the internal specialist for blockchain applications in capital markets and was responsible for the launch of the first publicly available blockchain-based app by a bank in Europe. This was a primary and secondary market trading application for pre-IPO companies (equity crowd-funding).
Decided in 2015 that nearly 10 years in banking was enough (I had done my time). It was while attending the Consensus conference in New York and during the trip visiting the Consensys office in Brooklyn that I made the decision to start my own company. Given the potential of blockchain and distributed ledger technologies, focusing 100% on unlocking the potential was what I wanted to do.
My co-founder Roderik and I had been working together for several years at our previous companies and with his work with and love for blockchain technologies, we decided to forge ahead with our venture.
Personal stuff
Married with 2 kids. Love snowboarding and travelling. Hate pre-conceived notions, prejudice and corruption.
Favorite expression
People who say it cannot be done should not interrupt those who are doing it.
2) What is Databroker DAO?
Databroker DAO is a distributed marketplace that connects sensor owners with data buyers. Essentially an "Amazon" for IoT sensor data.
3) What inspired you to launch a Blockchain and Cryptocurrency venture with Databroker DAO?
We began looking into the market for IoT sensors and sensor data in Q4 of 2016 and quickly understood that 1) the market is already absolutely massive 2) the market is growing at break-neck speed and 3) blockchain technologies could be used to drastically improve the efficiency.
We were doing an investigation into data monetization for a major telecommunications company and discovered that rather than blockchain being a solution looking for a problem, it provided the opportunity to blow the doors open for an entirely new business.
We launched the first version of the platform and began showcasing it at blockchain, IoT and smart city events in January 2017. Since then, the inspiration continues as we have incredible product-market fit validation from telecommunications companies, sensor manufacturers, sensor owners and potential data buyers.
It was DataBroker DAO that got us invited by the Smart Dubai Office to pitch at the 2017 Global Blockchain Challenge in May of 2017 and won us the blockchain track of the TechXLR8 pitch competition.
4) How will Databroker  reshape the market for IoT Sensor data as well as the IoT landscape overall?
The market for IoT sensor data is highly fragmented. Sensor owners lock their data away in their own data silos making it nearly impossible for use outside of the organization. There are several "open-data" platforms that try to address this however, it is our view that this is not a sustainable model. Data is valuable and sensor owners deserve to be remunerated for making their data available.
DataBroker will introduce market economics to break down these silos by incentivizing data owners sufficiently to sell their data in the marketplace of DataBroker DAO.
DataBroker provides streaming access to sensor data. Today data provisioning for third party buyers is typically done with batch jobs end of day or even end of month.
The most profound element though will simply be access.
For the IoT landscape, the impact is less profound as we utilize existing IoT infrastructure to the maximum extent possible and don't require sensor manufacturers to redesign and include specific chip components for DataBroker DAO to work. We utilize the connections of existing infrastructure whether they are using 4G, GSM, GPRS, LoRA, Sigfox, etc.
So we are not setting out to change the entire landscape…and that's a good thing! There are more than 10 billion sensors deployed today representing a 600 billion USD per year industry that utilize this infrastructure.
As a result of our pragmatic approach, our time to market is very fast and when a public network (blockchain/DLT/DAG-based) that aims to replace these existing technologies reaches the point where it is both secure and mature, we will be several years down the road, the world will have more than 50 billion sensors already deployed (many on our market place) and only at that point will these networks become materially relevant to the IoT landscape.
By then, we will have a clear first mover advantage and, if these "replacements" really are public networks, an integration will be done to provide the highest level of utility and data availability to DataBroker customers – sensor owners and data buyers.
5) How does blockchain technology help Databroker DAO accomplish this?
Blockchain technology powers the efficiency of the payment system in the platform and integrates a fully automated peer-to-peer remuneration system.
In terms of storing data, we include blockchain based solutions to add a layer of additional integrity to the data that is bought and sold.
For securing the reputation of data sellers, we have included a staking system whereby data sellers stake tokens to prove the integrity of the data that they are selling on the platform. Blockchain technologies enable a clear way to achieve this and facilitates the transfer of tokens in the event that a data buyer seeks to dispute the integrity of the data of a data seller.
More details on pages 22-25 of the white paper and at https://github.com/DataBrokerDAO
6) How much do you intend to raise in the Databroker DAO Token Sale and what are the steps for contributing?
The hard cap is 108 million tokens. The price per token is 4000 DTX per ETH. We reserve the right to adjust the conversion rate DTX/ETH in the event that there would be any major fluctuations in the price of ETH prior to the sale.
To purchase tokens, visit https://databrokerdao.com/ and click on the "PREREGISTER NOW" button.
From there, you will be guided through through the KYC process and if there are no issues with the information provided, you are pre-registered for the sale. If there is an issue, you will receive notification at the email address you provided and may be required to provide additional identifying documents (for instance a passport scan).
The pre-sale will run from March 19th to March 25th with the main sale commencing on the 26th.
7) Do you know which exchanges the DAO token will be traded on at this time?
For centralized exchanges, we are working through the process for a number of exchanges but are already approved for chankura.com.
For decentralized exchanges, we are evaluating a number of options. See the following blogpost on this: https://medium.com/databrokerdao/why-databroker-dao-is-investigating-decentralised-exchanges-c073f296519e
More details will be provided in our telegram channel as soon as available. Keep up to date at: https://t.me/databrokerdao
8) What were some of the biggest challenges you encountered while working to launch your ICO?

First we had to find the right people on the right place to start creating DataBroker DAO and its token sale from scratch. We discovered along the way the communication part was not to be underestimated. That's why we started looking for the right partners to get us successfully through the main token sale and so we found AmaZix for the social media support, Renowned & Co for Marketing and Wachsman for PR.
9) What's going to happen to Databroker DAO after the token sale concludes and where do you see things in 5 years?
First big challenge after the token sale is to continue the growth of the team with primary focus on further building out the sales and marketing team. As the first version of the platform is complete and the alliance is set up, the sales and marketing teams will further drive onboarding of sensor owners and data buyers. From Q2 2018 onwards, this will be priority number one.
As the platform does not sit still, we will also bring on additional developers to accelerate the addition of new features for the platform and to support integrations with additional gateway operators to enable the onboarding of millions of sensors in one go. This is on our road map to drive mass adoption.
While working with our alliance members, we learned that there is a large set of data in the market that companies want to sell to 1) anyone except a competitor, or 2) a private or a whitelisted group of companies. As such this requirement will be integrated and work on the front-end to accommodate will continue through Q4 2018.

Further improving the (white labeled) frontend interface will be a big focus for Q3 of 2018. On the one hand, the focus of DataBroker DAO is mostly on the dAPI. This is where the data streams will flow over, and combined with the smart contracts, the core value of the platform. We expect quite a few gateway operators to use the dAPI to build a marketplace in their existing front-ends. There will however be quite a few that do not have an integrated approach, or no existing systems to integrate with.
That is the reason we will continue to iterate on the DataBroker DAO marketplace frontend so it can continue to be offered in a white-labeled form to gateway operators. The first version of this interface remains a basic one, and the planned further improvements require a diverse set of skills (information architecture, design, web and mobile development) to provide a top tier front end. Further development of the white-label version will be a heavy focus through the rest of 2018.
Having easy access to large amounts of data opens up a wealth of options for many startups across the globe. Aggregation and enrichment makes the raw data even more valuable. There are a few experts in this area in the alliance and the team will continue to add new expertise in this domain. The aim is to add the capabilities of partners in the Alliance, libraries and integrations for commonly used tools for these purposes. Integration with AI tools (like provided by the large cloud providers, or Tensorflow) come to mind. Integrations with these "data processors" is to continue through Q1 2019.
Looking further out, we will be paying close attention to the needs of the market and anticipating the needs of the platform users to fulfill their data provisioning needs. We anticipate major developments in terms of AI and network connectivity in the coming years so as the first mover into this space, we will be vigilant to maintain our pole position.
10) What are your marketing and sales strategies to achieve that?
On the marketing side, we are now focusing on creating awareness about the upcoming main token sale starting March 26, 2018 (presale: March 19).
Thereafter, we'll focus on creating awareness about the DataBroker DAO platform itself to smart city initiatives, manufacturers and government agencies, all sensor owners and stakeholders. The reason to first focus on the sensor owners is quite simple, no one likes an empty shop. We will further populate the platform with a wide array of sensors. When a basic (not critical) mass is on-boarded, we will ramp up the marketing towards data buyers.
Sales' focus continues to be on landing deals with the data sensor owners and further building out the Alliance.
11) Could you tell us a little about your team and customer support?
Today, Q1 2018, as the team consists of 10 people (developers, sales and marketing) we get external support from our partners. As explained earlier our focus for Q2 2018 will be to onboard an extended team with a first focus on an expanded sales team and additional developers.
The growth of the customer support function will mirror the growth of platform users.
12) Do you have more information for our readers?
Any questions, opportunities or partnership requests are welcome on any of these channels:
Telegram: https://t.me/databrokerdao
Facebook: https://www.facebook.com/DataBrokerDAO/
Twitter: https://twitter.com/DataBrokerDAO