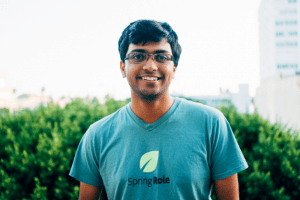 Kartik Mandaville is the CEO of SpringRole, a blockchain innovation redefining the way people connect, exchange trust and engage in businesses around the world.
1) Please tell us about yourself?
I started my career in technology with a bachelor's degree in Computer Science at Manipal Institute of Technology, in India. While I was there, I founded one of the first few Facebook apps called 'Autobudder' which went on to have a large user-base, and also interned for Cisco.
After my bachelor's I went on to study a master's at Carnegie Mellon University. It was while I was there that I started working for Science, and I had the idea to found SpringRole.
The notion that you could send money with just a piece of code without any centralized authority, was one of the primary aspects of blockchain that first attracted me to the technology. After learning about that, I explored the blockchain space further and I realised that this is a technology that has vast potential, and I wanted to develop on it.
2) What is SpringRole?
We are building a blockchain-powered professional profile attestation protocol. In this world of unverified and possibly unauthentic online professional profiles, SpringRole profiles will be verified and attested on the blockchain to ensure the highest level of authenticity.
What makes SpringRole different from its direct competitor i.e. LinkedIn, is that on SpringRole, all the data that a user enters on his professional profile is verified and attested on the blockchain. Any attestation on the blockchain is immutable, i.e it cannot be altered by anyone, even by the user who uploaded it. This implies that when employers view a SpringRole profile of a candidate, they are assured that all the information is verified and genuine, and this would mean that they would not have to spend any money on further verification.
Another way that makes SpringRole different is that since it's on the blockchain, it is decentralized. User data on SpringRole belongs to the user that uploaded it. The user has full rights on the data, and is even compensated when other users use that data, in the way of gaining employment through endorsements, or when SpringRole uses that data for anything else.
3) What inspired you to create a decentralized professional network?
I distinctly remember during my freshman year of college, I thought of developing a computer automation to navigate the recruiting landscape and secure myself an internship. While my friends walked together in groups to career fairs, dressed in suits, I was in my dorm room applying to over 200 companies online in my pyjamas, emailing the HR of each company personally. I was devastated when I received only 20 replies, and worse, only 5 interview calls.
After graduating from Carnegie Mellon, I was given the opportunity to work at Science as their CTO. It was while I was there, that I realised that I was probably missing out on top talent that were not part of any network in India or Santa Monica for key technical lead positions. I realised then, that just as I had built a Facebook birthday-wishing application in college, I could also build something that could teach the world how to become successful using professional networking, and also reward those on digital platforms who had skill superior to those of their peers. Thus, SpringRole was born.
What made me want to make this a decentralized network, is the fact that existing professional networks like LinkedIn do little to nothing to incentivize the user. There is a lot of noise on the platform, and all of the user data belongs to the company, and not the user. I believe that the future of technology is decentralization, and full data control by the data owners.
4) What are some of the problems you see with how professional networks currently operate?
The biggest pain-point that SpringRole aims to solve right now is the need for re-verification before every new hire at a company. With the SpringRole protocol, information that we read about an individual's professional profile online will be trusted and attested. An employer will not have to worry about wrong or false information on candidate's profile before hiring him/her.
Current professional networks are not verified. Anyone can put up anything on their profile, and there is no way to verify that the information is true. This means that when companies hire candidates using those networks, they have to still spend time and money re-verifying.
5) How will SpringRole be different than other more traditional professional networks, and how will the experience of both users and advertisers differ?
SpringRole is a professional credential verification protocol powered by the blockchain. Advantage of being a protocol is that SpringRole becomes an industry standard for attestations. This helps you build a strong professional identity which is useful for wide ranging use cases including sales recruiting, freelancing, credit rating, etc.
Springrole is the only blockchain backed protocol in the world that intends to gather Indian tech talent on the platform. The plan is to become the 'go-to' place for finding highly talented, completely verified and attested tech talent in the most cost effective way for all businesses around the world who are in need of any qualified tech talent.
What makes SpringRole different from other, traditional, professional networks, is that on SpringRole, user data is verified. When someone puts up that they've worked somewhere, and that information is attested, it gets written to the blockchain. This way, when an employer looks at that information, he/she knows that it is true.
Another advantage on SpringRole is that user data is owned and controlled by the user. Also, users are compensated for any use of their data – for example, all endorsers of an individual are rewarded when that individual finds a job through SpringRole.
6) How does blockchain technology help SpringRole accomplish this?
The blockchain plays a crucial role within SpringRole's product. The blockchain allows SpringRole profiles to achieve the highest level of authenticity possible, since data entered on the blockchain is immutable – ensuring that once a profile's data is verified, it cannot be altered. This allows employers and candidates to be secure about the facts on an individual's profile.
7)  What were some of the biggest challenges you encountered while working to launch your ICO?
Most blockchain projects depend on the blockchain ecosystem, and they face issues of scalability and regulation. We have the same risks as anyone else.
As an ecosystem, we should be thinking of how to build great blockchain products for non crypto users, since not everyone will understand the technicalities of the blockchain, but everyone can benefit from it.
8) What's going to happen to SpringRole after the token sale concludes and what where do you see things in 5 years?
After the token sale concludes, we will continue to work hard in building our product and get it out of the beta stage. We have a vision for a decentralized professional profile protocol, we envision its advantages and uses, and we will not stop working until the dream is fulfilled.
According to our roadmap, we will be launching SpringRole in July 2018, and by December, we should be done with more features on the platform like endorsements, attestation framework, directory listing and graph search.
9) Could you tell us a little about your team and customer support?
The SpringRole team consists of 15 hard-working individuals between Bangalore and Santa Monica. The team belongs to a variety of backgrounds and with various valuable experiences. At the same time, we are backed by Science Blockchain as well as a team of trusted advisors.
Visit the website: https://www.springrole.com