Joilson Melo is on his way to becoming one of the most successful legal practitioners in Brazil. His fame is built upon his constant efforts to represent and defend numerous groups that are considered to be disadvantaged. His relentless battle against injustice has placed him in the legal community's spotlight.
Could you tell us a bit about yourself?
Well, to start from my childhood, I was born in Cuiaba. My family didn't have a lot of financial power and I had to learn that life doesn't always offer everyone equal chances. However, I've been lucky enough to be able to learn things quickly, so studying for school was never an issue.
I was good at school and I found it surprisingly easy to learn almost anything. However, when my family first got a computer, a new realm of possibilities became accessible. At 12, I started teaching myself several computer languages. I learnt C++, PHP, HTML, CSS, JavaScript, and even Delphi. I even used most of these to create a few programs and websites.
At 16, I remember getting the opportunity to get a job at Zero9 do Brasil Servicos Digitais Ltda. I took the job and worked for them for 7 years. After that, I decided to explore another industry and I bought a farm. In a way, I think that I wanted to connect both to the technology of the modern world, as well as to nature.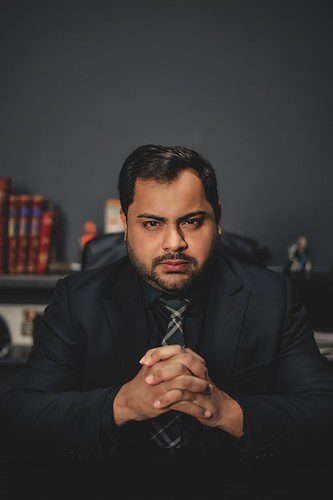 How did you start your legal studies?
There isn't a straightforward answer to this question. I first thought about practising law when I saw just how many injustices were taking place. While this is a reality in many countries, in Brasil, there is an obvious distinction between how poor and financially privileged people are treated by the legal system.
Since I started my studies, in 2019, I've come across a large number of injustices and acts of corruption that have taken place inside the legal system. Although I am still a student of Law, I've had the opportunity to take part in several movements and cases that have revealed malpractices done by various organizations.
The fact that I come from a poor family has offered me many firsthand experiences that showed exactly how much corruption there is in Brasil. Although I did not have the power to voice my concerns or encourage change, when I was a child, I've worked hard to be in the frontlines of the battle against corruption.
Why did you choose to become a lawyer?  
Well, it is because lawyers should be the first line of defence that people of all financial statuses have in legal matters. They must ensure that the laws and regulations of a country are being upheld, for everyone. However, as a lawyer, it would also be my duty to ensure that no injustices or acts of oppression are being committed against people, regardless of their financial status.
In many ways, I chose the path of a lawyer because I wanted to fight corruption. The fact that there is a lot of corruption in Brasil is no secret and every citizen is aware of this fact. However, most people do not try to seek justice because they are afraid of the consequences. By ensuring that people are treated and judged fairly, I hope to restore their faith in the legal system.
What do you consider to be one of your biggest accomplishments up to date?
It's hard to say. There are many things that I've done and have had a positive impact on how people are treated in the legal system. However, I wouldn't call any of them actual accomplishments. It's difficult to encourage change simply as a student.
I would say that one accomplishment has been that I've been able to address a call to action, to the National Council of Justice. This is the first step in uncovering the procedural errors that have found their way into our legal system. By bringing the issues that I find into the spotlight, I hope to make people more aware of them. In turn, this may encourage others to share their discoveries and work towards correcting the injustices that are done to poor citizens.
I've been a part of several movements that have corrected injustices done to Brasil's citizens. However, I hope to have a more active and central role in this effort, once I get my degree and am able to practice Law.
What do you hope to achieve, through your legal practice?
First of all, I hope to restore the people's faith in the legal system. After all, if the organizations that are tasked with upholding the law do not protect Brasil's citizens from injustice, then who will? I've taken it upon myself to do anything in my power to correct the errors in the legal system and ensure that all people, regardless of how rich or poor they are, are treated fairly.
Once you finish your studies and begin practising law, what are your plans?
I will probably continue analyzing Brasil's legal system and work towards correcting procedural errors and injustices that occur because of them. I'm also considering working for a legal firm. However, this may be difficult because I do not believe that the quality of a lawyer or legal consultant should be measured by how many cases he has won. Instead, I consider that knowledge and experience are much more valuable.
A lawyer should first have the knowledge and skills necessary to tackle any situation and on any level. This means that I will have to continue studying and look for ways to get involved in projects and organizations that try to make the legal system better.
I am also a firm believer that a good lawyer should work constantly to stay up to date with all changes that occur in the legal system, large and small. I will have to keep my wits about me and make sure that I don't miss any mishaps.