KStarCoin by KStarlive is bringing blockchain technology to the K-Pop Concert & Hallyu Community through its blockchain project and the 1st Incentivised  Hallyu Cryptocurrency. The CEO Hee Yong Lee will be discussing the KStarcoin project with us in this interview.
1) Please tell us your name and about yourself?
Hi! My name is Hee Yong Lee and I'm the CEO of KStarLive. I started KstarLive 2 years ago. In the past, I started AD Ventures, a medical big data service that worked alongside the Korean Government in providing medical big data solutions. After my exit from my previous business, I have been operating KStarLive for the past two years.
2) What is Kstarcoin?
KStarCoin is KStarLive's ERC20 coin that will be integrated into KStarLive's community.
3) Tell us more about K-Pop concert and KStarlive experience and your user community.
One of the main reasons why we started this project is to help foreign fans of K-Pop access information quickly. While providing our service to foreign fans of Hallyu, we focused on covering stories that non-Korean speaking fans had a tough time accessing. Due to our niche content, we were able to gather a user base of 8.7million people around the world. While we were operating, we have always gotten messages from fans around the world on how to access Hallyu goods or services.
For example, it is common for Korean fans to purchase birthday subway ads as gifts for their favorite stars. Many of our users have asked in the past how they could do the same. It was disappointing to tell our users that you need to speak Korean and contact them directly. From simple services such as gifting subway ads or buying exclusive goods of a star to crowdfunding concerts and fan-meeting, we hope to be able to provide access and value to our users that they previously haven't experienced.
4) What major services will the KStarcoin platform be providing?
The first "service" or value add that we will be providing is giving back value to our users. Currently, there are tens of thousands Hallyu contents generated on other SNS platforms everyday. However, the profit generated by this traffic is kept by the SNS platforms. On KStarLive's community, we will be giving back the ad revenue generated on the website to our users in the form of KStarCoin. More specifically, all activities that generate traffic, such as reading, creating and sharing, will be rewarded.
With these coins received as rewards, users will be able to purchase the goods and services provided on our platform. As previously mentioned, we plan to provide many services such as crowdfunding concerts & fan-meetings, gifting services such as subway ads and sending food trucks to sets. We also plan to provide Hallyu products such as star related goods as well as Korean cosmetics and cultural items.
5) How big is the opportunity for the KStarcoin, are the services available and open to other parts of the world outside of South Korea?
We believe that we have a huge opportunity in front of us. For the first time, foreign fans will have access to news as well as products and services in the same manner that Korean fans do.
All of our current 8.6 million users are located outside of Korea and our services and products will be geared for our user base.
Moreover, even in terms of the market, Korean culture (K-pop, K-drama, K-beauty) has been growing tremendously in the past few years. We believe that we will be able to capture the existing market of 300 million Hallyu fans but also help grow the market by making it more accessible.
6) Tell us about the KStarCoin cryptocurrency, how will this work and what will be the benefits for investors?
KStarCoin's token economy will function with two coins. First is KStarCoin (KSC) in which users will be able to purchase exclusive products or services such as concert tickets and exclusive star goods. KStarLive's second coin is KRCoin (KRC), which will be pegged to the South Korean Won. As a stable coin, KRC will enable KStarLive to award users rewards accurately. Also, KRC will allow users as well as vendors to purchase and sell goods on KStarLive's platform without the risk of a fluctuating price of a coin.
As our user base, capabilities, and products & services grow, we believe that demand for KStarCoin will grow as products and services (such as concerts and fan-meetings) will only be available to purchase through KStarCoin.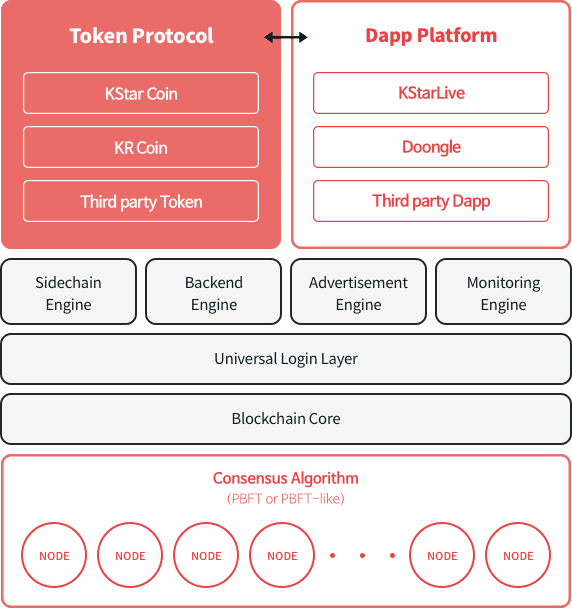 7) Would you like to share with us any partnerships and marketing strategies to help achieve these set goals?
Currently, we are finalizing partnerships with major firms in the entertainment industry as well as major broadcasting companies in Korea. Once the partnerships are finalized we will be announcing them.
8) What is next on your roadmap and what projections do you have for the value of the KStarcoin within the next 2 years?
Our first focus is on creating a service that users will want to use and find value in. Our thought in creating our service is that "no one will use our service because it is decentralized" To us this means that at the end of the day, users just want a better service & better experience. We plan on making a blockchain service that is easy to use, easily accessible and most importantly, gives a better user experience.
After our reward community launch, we plan on connecting our users with products and services through KSC & KRC. We will focus on connecting our users to products and services that connect them to K-pop and K-beauty
9) Your investors will like to be sure their investments are safe, would you like to discuss your security and compliance plans for the  KStarcoin?
For our small public opening, we will be ducting KYC. In terms of the coin, our coin is designed and developed so that if a hack were to occur, the coins can be locked and returned to its rightful owners.
For more information, visit the KStarcoin website: https://www.kstarcoin.com/