Fort Financial Crypto (FortFC ) offers a flexible, easy and fast multi-functional platform for cryptocurrency transactions. The CEO Evgeniy Filichkin will be discussing the Fortfc platform with us in this interview.
1) Please tell us your name and about yourself?
My name is Evgeny, I am CEO of FortFC. During last 9 years I have been developing international FOREX broker FortFS and when our clients became interested in crypto currencies trading we started looking for collaboration with those liquidity providers who could serve our crypto currency orders. However we realized soon that there are no comprehensive  services capable of giving stable liquidity on crypto currencies. For example, nobody can provide liquidity for high frequency traders, etc. This is how we decided to create our own crypto currency liquidity provider to serve our needs and to help other brokers, traders, funds, etc to feel confident while operating.
2) What is Fort Financial Crypto?

FortFC  is the unique liquidity provider for crypto currencies.
FortFC provides clients a single access point to all exchanges via our own product: Aggregation Engine, allowing the customers to choose both the best specific price from a particular connected exchange or the best price offer from the entire market.
In addition we give the opportunity to perform arbitrage trading between exchanges, for example, if Bitcoin on one exchange is more expensive now than on another, then you can buy it at the cheaper price and immediately sell it at the exchange where Bitcoin price is more expensive – this is almost an instant transaction in our terminal.
3) What are the Major Features and Services you provide at Fort Financial Crypto?
Our solution allows clients perform transactions of almost any volume, as well as the opportunity to significantly reduce the cost for paying the commissions using different exchangers due to the single access point to the market.
Plus we provide opportunity to use free expert advisors in MT5 trading terminal, transparent price feed, FIX/REST API, tick data and data history. And many other services.
4) Could you tell us more about crypto liquidity aggregators and the market demand for services like this?
We all remember the 2017 issue when due to the sharp drop of the market, almost all participants could not sell or buy the required volume of cryptocurrency. Many could not fix a huge profit, and some even suffered significant losses. At that moment, the entire crypto community clearly recognized the problem of the lack of the necessary depth of liquidity in the cryptocurrency market. This affected not only private traders, but also exchangers, funds, brokers and other major market participants.
This is why we believe that FortFC offers a unique solution – accumulated liquidity for our clients through our own unique Aggregation Engine technology.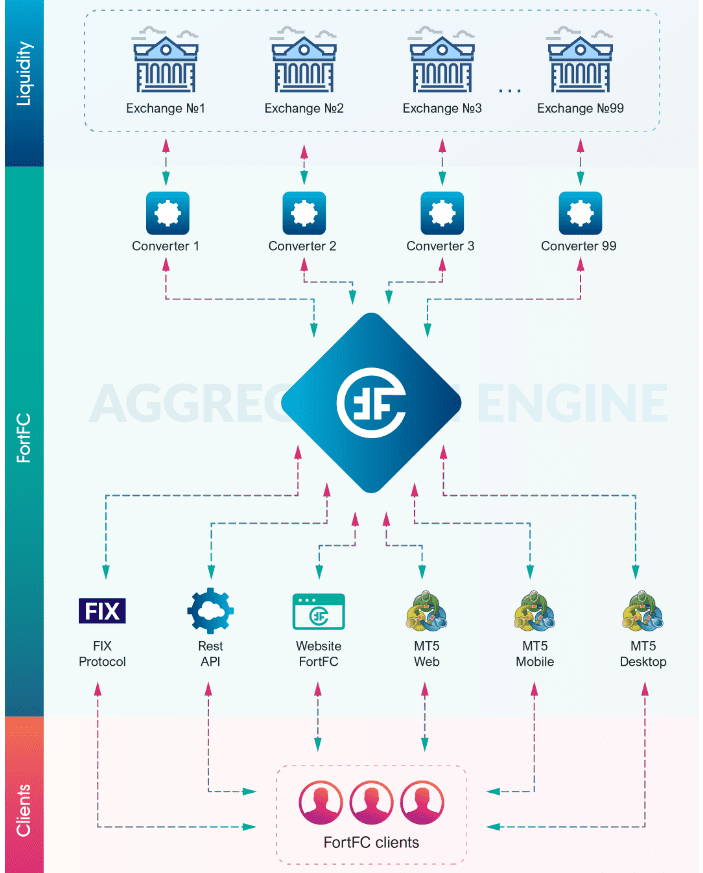 5) Tell us more about the technology and the architectural side of Fort Financial Crypto?
FortFC has established the connection to several crypto-exchanges. Quotes from each exchange go directly to the FortFC liquidity engine, access to which is provided through FIX connection or through MetaTrader 5 terminals. Every liquidity consumer will choose their own connection type to the liquidity core. The following options will be available for the company's clients:
MetaTrader 5 terminals (Desktop, mobile, web)

FIX API protocol connection

REST API protocol connection

Visual interface in FortFC client's cabinet implemented by our team (Website FortFC) Liquidity sources are going to be connected to the liquidity core through the internally developed API, using unified connectors developed for every single exchange.
There are a lot of interesting features regarding architecture and implementation of our product and i would recommend to read our Technical Page with comprehensive description.
6) At what stage of development is the Fort Financial Crypto platform and what is next on your roadmap?
At this moment we are on Pre-ICO stage. However, the basic product architecture is already created and the current version already supplies quotes and processes orders for the MetaTrader server. All interested investors can check it and see how it works by registering on our website and gaining access to MT5. We already established connections with several crypto exchanges. Now we are actively working on the optimization and scaling up the core and eliminating potential bottlenecks in the project.
7) What are the investment and partnership opportunities available at Fort Financial Crypto?
Investors and Tokenholders, who bought tokens during the token sale, will get:
– Free-of-charge half-year services use
– Lifelong 35% discount
– Investment and informational partnership for the corporate clients
– Dedicated account manager
Tokenholder will save significant amounts of money by paying for exchange or trading with our tokens.
In addition we believe in stable growth of the project since there is a strong need for our services in the whole crypto industry.
Regarding partners – we provide very interesting partnership opportunities for  payment systems and exchanges. First of all we will substantially increase the customers inflow and trading turnovers for such partners by integrating their system into our platform.  We are also very open for other types of partnership ideas.
8) Tell us more about the Token, how does it work and what are the benefits for token holders?
Our Token is a classical utility Token. Tokens could be used within our ecosystem as payments with significant discounts for the following:
– liquidity
– paying trade commissions
– paying monthly fees
– paying for services for creating and setting up a risk management system (A/B books)
– paying commissions for listing third-party tokens
The more trading turnover client has, the more benefits he will get by paying for services with our tokens.   
9) Could you tell us about your team and customer support?
FortFC is a part of the international holding FFS, founded in 2010. The core competency of the holding is the development of IT products for financial industry. This team of the topnotch professionals, specializing on the financial and cryptocurrencies markets, IT engineering and MetaTrader 5 administrating, is now creating the innovative product – a cryptoliquidity provider.
Having all the experience in FortFS international forex broker that operates since 2010 our team has also well trained support division that understands not only how to solve issues fast but also how to retain clients and exceed their expectations.   
10) How Safe is Fort Financial Crypto, would you like to talk about your legal and security measures?
We already mention that FortFC ia a part of international holding FFS. We must note that the holding already possess international brokerage licence since 2013 and comply with all regulatory requests regarding safe financial operations.
In addition, on the technical side, we have the highest security standards for the implemented solutions. First of all, we focus on maximizing code quality and automatic testing. The next stage is proactive defense, based on machine learning, which assumes an instant lockdown should any deviations from the norm be detected. SSL connections between servers, encryption of all significant parts of the system, two-factor authorization for users, continuous monitoring of emerging vulnerabilities and timely software updates are the mandatory standard for the company. The security of client's assets in cryptocurrency is conditioned by the use of cold wallets where the main customer funds are stored. These cold wallets are disconnected from the Internet. At the same time, it is possible to promptly withdraw the required funds according to customers' requests using secure funds withdrawal systems.  
For more information, visit the Fortfc website on: https://www.fortfc.com/