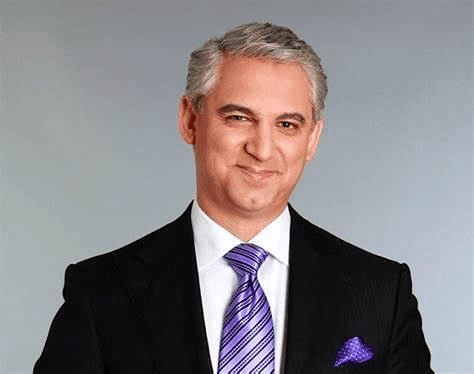 Below is our recent interview with Dr. David Samadi, Director of Urologic Oncology at St. Francis Hospital:
Q: Hello Dr. Samadi. We appreciate the time you're taking to help us get to know you and to understand your remarkable life's work. Could you provide our readers with a brief introduction to your practice?
A: Thank you, I appreciate every opportunity to meet new people and help them understand my work. I can sum up my passion for medicine by reflecting on the more than 9,000 patients so far whom I've been able to help, often in life-saving ways, through my practice and my research into new, advanced techniques in urology. Though I've helped thousands of men and their families with various urological issues, my speciality is urology, specifically prostate cancer.  I enjoy my work with all my heart and enjoy meeting patients from all over the world. My focus for the last 22 years has been prostate cancer, focusing on developing skills and procedures so that every man I treat can have a successful outcome of urinary and sexual functioning. 
But as I see it, my goal has always been to help more men improve their overall health and quality of life. I want to be in the business of healthcare and not of disease care, especially regarding men.  Medicine does not only happen in an office, a laboratory, or an operating room. I deeply believe in the importance of family, the personal connections that surround and enfold every patient, and in a physician joining in that community of care. The stresses of illness and surgery are sometimes too much for a patient to bear alone. 
Overall, I love my practice. What I especially like about my job is that I have a life-long relationship with my patients and their families. I get to meet their children and grandchildren and go through their lives with them. It is quite an honor to be able to do that and one I greatly cherish. 
Q: It seems like your interest in a patient's well being probably also reaches out into the general public, as well. What else are you doing to make that happen?
A: The ability of new technology to educate the public is enormous. I host a YouTube channel, for example, called Dr. David B. Samadi, where I do videos on various health topics, mainly for men but also the women who love their men. Even though many of the videos primarily focus on prostate cancer, I also cover nutritional needs and other matters concerning men's health. My  passion for educating men on how to achieve a long, healthy life, has been a life-long goal.  I've also had the good fortune and tremendous opportunity to be a host for 10 years of a TV show called Sunday Housecall on FoxNews. We always brought awareness and education to the public of the latest health news that covered a wide range of topics. It was also during this time that I was a radio show host for World Health News, which aimed at educating people about many important health issues.  On my radio show, I would routinely bring on famous guests from a variety of medical disciplines such as doctors or experts in exercise and nutrition. 
My work has also been featured in the public and social media, as well as recent features in Forbes Magazine and the 2009 Best Doctors issue of New York Magazine. 
In addition, I am also active on several social media channels that include Facebook, Twitter, and Instagram, that reach hundreds of thousands of people from all walks of life, both men and women. 
Q3: Can you give us more insights into what makes your practice unique?
A: I have found a significant advantage when advising my patient about their treatment options, as I am now one of just a few urologic oncology surgeons trained and experienced in conducting all three of the techniques now recognized for prostate surgery. They are the open surgical method, the less invasive laparoscopic prostate surgery, and the most advanced Robotic Assisted Laparoscopic Prostatectomy (RALP) surgeries. Prostate surgery is not a one-size-fits-all business and each procedure can be the best one for somebody.
I have also developed a special technique called SMART Surgery. This is the Samadi Modified Advanced Robotic Technique that helps improve the quality of surgeries by specifically improving incontinence and sexual function.
Q: Can you tell us more about robotic surgery as you do it?
A: This was a significant advancement. The robotic system uses optics that significantly magnify the surgical area. This improves my visual field and allows far greater precision during the surgery. In addition, robotic control allows the surgeon to manipulate instruments and tissues on a much finer scale than hand control could do alone. I specialize in using the daVinci robotic surgical system.
Q: Is part of your work, then, devoted to training other doctors?
A: Absolutely. Over the years, I worked with numerous fellows and residents who are in medical training and have helped expose each of them to robotic surgery. I have always performed each of my robotic surgeries from start to finish, as I educate future doctors who are planning either to become urologists themselves or those who simply want to learn more about this procedure. Over the years, I've had the opportunity to speak at international conferences where I have presented my findings and techniques to a wide range of others in my field. I have also dedicated time in my practice to train hundreds of other surgeons in prostate cancer surgery and a wide range of other urological conditions.
I have also frequently communicated with my peers through publications like the Journal of Robotic Surgery, the Journal of the Society of Laparoscopic Surgeons, Urologic Oncology and the World Journal of Urology.
Q: Can you give us insights into your other services?
A: Surgery is important, but there are many urological problems better treated medically. While prostate cancer is asymptomatic and is a silent killer and is a significant part of my practice,  I also frequently see many men who are suffering from enlarged prostate that affects their quality of life.  Another portion of my patients are men experiencing erectile dysfunction, kidney stones, and urinary tract infections. 
Other conditions that I do treat surgically, include urologic oncology–kidney, bladder and prostate cancer.
Q: What kind of education and training does it take to provide the kind of care you offer to your patients?
A: It's a long road we travel to become physicians. I began at Stoney Brook School of Medicine. It's a research institution known worldwide. I earned my MD there in 1994 followed by a general surgery residency at Montefiore Medical Center in 1996, a urology residency in 2000 at the Albert Einstein College of Medicine in The Bronx, New York, and a Fellowship in Urology Oncology with the Memorial Sloan Kettering Cancer Center in Manhattan. Following that, I had the privilege of completing a Fellowship in Laparoscopic and Robotic Surgery at Henri Mondor Hospital in Paris in 2002. I am also a member of both the American Medical Association and the American Urologic Association.
Q: Have you received any recognitions or awards for your work?
A: A few, and I'm proud of the professional recognitions, but the ones that mean the most to me are from patients and the public. In 2013 I was honored by being named among the 2009-2013 America's Top Doctors for Cancer awards, the 2013 Most Compassionate Doctor and Patient's Choice Awards, the 2015 New York Magazine Best Doctor recognition, and the 2018 Best Urologist in New York. Many of those I especially appreciate because compassion and the kind of strong family bonds I promote for my patients' wellbeing reflect my Iranian, native born heritage.
Q: How do those values show up in your personal life?
A: I find balance in my life by taking time for activities that bring me joy. While I find tennis relaxing and I enjoy the intrigue of backgammon, I find my greatest contentment taking long walks with my elderly father on the weekends.