Allied Wallet provides a NextGen Payment Gateway to process multi-currency in over 196 countries. The CEO Dr. Andy Khawaja will be discussing the Allied Wallet vision and services with us in this interview.
Please tell us your name and about yourself?
I am Dr. Andy Khawaja, CEO of Allied Wallet. I was recently named FinTech CEO of the Year by Corporate Vision magazine and recognized by the Vatican and Pope Francis for my philanthropic efforts around the world. I'm a believer in dreams and a supporter of entrepreneurs.
What is Allied Wallet?
Allied Wallet is a leading provider of payment services worldwide. We strive to make payments simpler and more secure and connect buyers and sellers all over the world online with integrated payment services. Regardless of your country or currency, we want you to be able to transact in your payment method of choice. Whether you wish to sell online or shop online, we want to promote and innovate that.
What are the features and Services you offer at Allied Wallet?
At Allied Wallet, we have so many features and payment services – more than any of our competitors. The reason for this is because we focus on the e-commerce market as a whole. We focus on 'global'. We offer all the industry leading functionality within our NextGen Payment Gateway, but we also accept more alternative payment methods globally than anyone else. It's countless how many we accept in other countries and the reason for this is because they all have different needs based on their culture.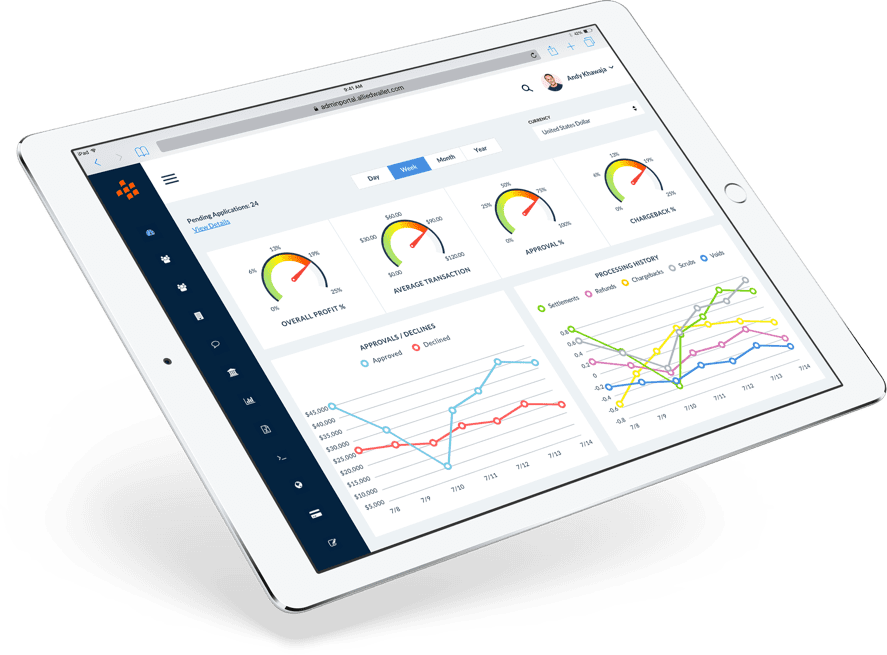 What is the technology behind Allied Wallet, could you give us a walkthrough of your your payment processing system works?
We have our NextGen Payment Gateway to process multi-currency in 196 countries. Business owners can log in to their dashboard and easily track all their transactions. We also have a reloadable prepaid card system that many merchants can use for employee/affiliate payouts, but this prepaid card also links in to our eWallet. Our eWallet is our secure digital wallet that people all over the world can use to shop online or even in store with their linked prepaid card. We even support mobile point of sale to make sure we give our clients the most options for accepting payments. With this device, they can accept payments in person on their mobile device.
All of this is protected with our state-of-the-art security, PCI-DSS Level 1 Compliance, and SHA-256 SSL encryption.
At Allied Wallet, we know how important it is to use the tools available online to grow your business. So, we're also compatible with the leading shopping cart and e-commerce solutions for easy integrations.
What makes Allied Wallet unique in the payment market?
Allied Wallet is unique because we have an all-inclusive solution. We enable merchants to accept more payment methods than anyone else. We offer more products and solutions for our merchants' businesses than anyone else. We have state of the art security and connectivity to 3rd party features and solutions. With everything we offer, many would expect us to have higher rates – but we don't. We offer rates starting at less than 1%. We pride ourselves on being the best option and we encourage more businesses to try Allied Wallet. Integrate us as even a secondary solution and see the difference. See what we can do for you.
In how many countries is the Allied Wallet services available and what is the success story so far?
Allied Wallet is available in 196 countries worldwide and many, many merchants have already been successful – but this is just the beginning. On a weekly basis, we are announcing new compatibilities with payment methods in more countries to further connect buyers and sellers. Just in the past year, we've made announcements of new payment options in Peru, Austria, South Korea, Canada, Sweden, Malaysia, Finland, Brazil, the UK, Mexico, Italy, Ireland, France, and more.
Why should a client use Allied Wallet instead of Paypal and other payment checkouts?
A client chooses Allied Wallet because they want dependability. They don't want to be shut down and have their business on pause for an unknown amount of time. They want connectivity. They want to accept more payment types worldwide and not be limited in what types of payments they can accept or where their customers are. Often, the most well-known solutions are not the best solutions. We invite merchants to try Allied Wallet, even as a secondary payment processor in addition to their primary. They will quickly see why we are a global leader in payment processing. Allied Wallet gives you options and opportunity.
Could you tell us about your team and customer support?
Allied Wallet's team culture is fundamentally rooted in the desire to provide superior products and services to our clients around the world. We prize innovation and creativity, and we know that creating an open environment where all voices and ideas are heard is the best way to foster them.
Not only does our environment foster innovation, it functions to make sure that our employees are happy working here. Happy employees lead to happy customers. Providing our employees with a comfortable and fun environment keeps our team providing the best possible service to our clients and their customers.
How Safe is Allied Wallet, would you like to discuss your legal and security measures?
As one of the most preferred payment processors on an international scale, Allied Wallet provides the most up-to-date security features available in the online payments industry. With the ability to process in 164 currencies across 196 countries, Allied Wallet has placed its primary focus on state-of-the-art security that includes PCI Level 1 compliance, AML protection, FSA Certification, First Data certification, proprietary Fraud Scrub technology, and chargeback protection technology with SHA-256 SSL encryption to ensure that sensitive merchant and consumer data is protected at all times.
Do you have more information for our readers today?
At Allied Wallet, we are firm believers in giving back and trying to make a difference in communities all over the world. We sponsor groups like the United Service Organizations,  Wounded Warrior Project, Eagle and Badge Foundation, After-School All-Stars,  American Red Cross, Brent Shapiro Foundation,  ASACP, Action Innocence, Los Angeles Police Canine Association, From the Heart Productions, Hope for Change International,  STAR Team for the Children, and the Paralyzed Veterans of America. I would like to invite everyone to visit Allied Wallet's site to find out more about the charities we support, and we encourage to support them as well.