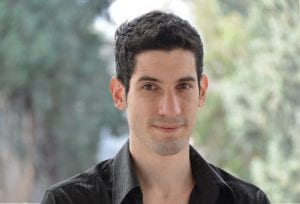 Dor Konforty is the brain behind  Wildspark, an innovative blockchain project that allows "you to share the content you like in a way that rewards both you and its creator using AMP, Synereo's digital currency".
1) Hi, briefly tell us your name and about yourself.
My name is Dor Konforty and I'm the CEO and co-founder of Synereo. As CEO, I'm responsible for the concept and vision, the underlying attention model and information flow engine, as well as our language, strategy, product, and team management.
What drives me is my passion for facilitating collaborative architectures in networks–between and within humans. With a master's degree in neurobiology, I worked on neural networks and understand what makes distributed economies flow, whether they're based on neurotransmitters or cryptocurrencies.
2) What is Synereo and what is Wildspark?
Synereo is a blockchain-enabled social network designed for an attention economy. The fundamental assumption of Synereo is that users should have full reign over their online social experience. Just as Bitcoin allows anyone to take complete control over their finances, bypassing banks, governments, and any other central entity, Synereo will allow its users to reclaim their social capital and use it as they see fit.
Our first solution, WildSpark, was founded on the axiom that users who create value should be rewarded for their contributions in a multitude of ways – including monetarily.  The platform provides an updated content creation and curation economy for a more free and fair flow of information and value online. WildSpark is a meta-layer that sits on top of existing media hubs and social networks, where users are incentivized to reward both creators and curators directly with AMP (Synereo's cryptocurrency) without the media hub, social networks or Synereo taking a cut.
3) Since the revenue gotten from all content created and curated on Wildspark are distributed among its creators and curators, does this mean that WildSpark is a nonprofit venture?
WildSpark is not a nonprofit venture, even though we are not making a commission via the platform.  As our member base grows, we will explore ways to monetize by providing added-on services without compromising our belief in a decentralized, free, and fair Attention Economy.
4) As a new WildSpark user, What is AMP and how do I have access to the initial AMPs?
There are three different ways to receive your initial AMPs: First is by verifying your account, second converting other cryptocurrencies on supported exchanges and third by purchasing AMPs with a credit card through the live app itself. Once signed-up, users may receive AMPs through active participation, for example, topping leadership board or receiving AMPs through shared content.
5) Considering the fact that 33% of AMPs will be burned, what happens in the instance where the number of WildSpark users supersedes the number of AMPs available? Or is this scenario impossible?
Superseding the number of AMPs available is not a concern as AMPs are divisible.
6) Can content creators share links to their content themselves without curators' involvement?
Absolutely. WildSpark is designed so that creators can share links and raise their visibility through promotions, not relying solely on curators. Every WildSpark user can send AMPs ("Amplify") any content on the web, with funds going directly to its creator.
7) A statement in the release implies that the generated AMPs can be used for real-life services. What services are being implied?
This function is slotted for development. Stay tuned.
8) How easy is it to convert AMPs to conventional cash?
The most common way is to convert it into Bitcoin and cash-in Bitcoin for fiat money. There are also a few exchanges where you can convert your AMPs directly.
9) Can links from other social media platforms be pasted on WildSpark? If yes, can these links also generate AMPs?
WildSpark is a meta-layer that sits on top of existing media hubs and social networks. Currently, it is available on YouTube, Medium and Imgur. Others platforms will gradually be added.
10) Apart from monetization of content, are there any other benefits to be accrued from using WildSpark?
For sure. WildSpark also has a social aspect part to it. Via WildSpark you can share like interests with other members and have lively discussions rather than simply commenting. We see a lot of activity like this and will be enhancing this aspect of WildSpark regularly.
11) The reward doesn't state how end content users/viewers get rewarded. Or don't they?
Content viewers are rewarded when they share content to appreciating audiences. The better they are at matching content to new audiences, the more AMPs they'll receive for their efforts.
12) How easy is it to maneuver through and understand the workings of the platform? Especially for someone who has had no pre-cryptocurrency exposure.
There is absolutely no need to be well versed in the world of cryptocurrency/blockchain in order to use and enjoy the platform; we design our software on the principle of providing the user with all the benefit of these novel technologies without encumbering them with their complexities. With its ease of use, WildSpark is a great way to step into the world of decentralization.
Think of our currency, AMPs, as if they were "Likes" or "Thumbs up", only worth more – monetarily. It's a way to incentivize our members and stand out in the peer-to-peer market.
13) Do you have more information to share with our readers today?
Our goal is to create a fully sustainable, online, decentralized economy for content creation, curation, and distribution. We're committed to providing our users with the best service possible in their journey towards a free and fair Attention Economy.
Find out more on: https://wildspark.me/