HarnessWealth offers one of the best financial planning and advisory services, by blending deep expertise, sophisticated technology, and personal service to identify strategies that help you get the best out of your finances. The CEO David Snider will be sharing more details with us in this interview.
Please tell us your name and about yourself?
My name is David Snider and I am the founder & CEO of Harness Wealth. I started the company, in part because of my own financial missteps. Despite having been a professional private equity investor and the CFO of a large technology business I still found that I was not capturing all of the financial, tax and trust opportunities to optimize my own situation. Harness Wealth was built to help enable people to reach their best financial future. 
What is HarnessWealth?
Harness Wealth is a WealthTech business that delivers a high-touch and tech enabled solution for people who want to optimize their financial well-being. We are distinctive in taking a holistic approach that combines financial planning, tax and trust and estate law and develops bespoke solutions for clients through a network of best-in-class advisers around the country.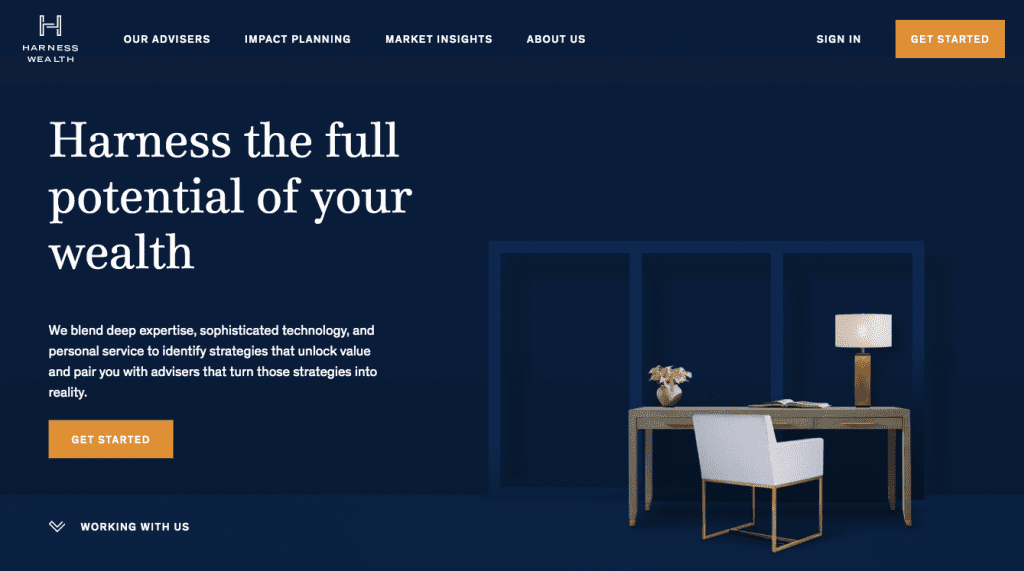 What problems are you solving and what specific solutions are you bringing to the fintech market?
Managing your finances is getting increasingly complex. In fact, a recent survey we conducted found that 72% of individuals felt their financial planning was moderate to extremely complex. We have built hybrid digital experience and expert network to help individuals solve that complexity such that they are fully capturing all financial opportunities and avoiding missteps. 
What is the global market size of the wealth management markets and why do we need professional financial advisory services like yours today?
The global market for wealth management generates hundreds of billions in revenue. Our core addressable market are the 20M households in the United States with $250k – $10M of investable assets and who spend $80BN annually on financial, tax and legal professional services. 
We target a Gen X individual who has increased complexity in their financial planning and wants a tech/human hybrid advice solution. The increased complexity is due to a number of factors including increasingly complex tax codes, individuals caring for both aging parents and children, individuals reaching peak earnings and starting to get closer to thinking about retirement, and the most significant wealth transfer ever, which will take place over the next decade. 
Who are your services for, who are your customers, could you give us a walkthrough of how it works?
We target ambitious mid-career professional who seek excellence and transparency in their professional relationships and are digitally savvy.
The product works in two steps. First we capture various pieces of information from customers about life events and personal position to identify where they may have untapped financial opportunities. We outline those opportunities in detail for the customer to determine what they should be considering on an on-going and a one-off basis. Then if a customer determines that they need help from an adviser for their financial, tax and/or estate planning, either based on those identified needs or for any other reason, we will capture some addition preferences from them before inputting all of that information into our algorithm which will pair the client with 2-3 highly vetted advisers from our platform. From there we schedule meetings with the client and advisers before the client ultimately selects the right one for them. 
Tell us more about your team of sophisticated advisers, what makes you special?
A distinctive characteristic of our offering is the caliber and the breadth of expertise of the advisers on our platform. Our advisers are highly vetted and at the top of their respective industries. 
In collaboration with our Advisory Council of former CEOs, policy-makers and ultra-high-net-worth family office executives, we've developed an extensive diligence process for advisers who work with us. The vetting process is different for each area of expertise (tax, legal and financial). Each process includes gathering 120+ attributes for adviser and their firm. Across the three verticals, our advisors typically have at least 15 years of experience, hold advanced degrees (MBA, JD, MST, etc.), and have a variety of speciality certifications (CFP, CFA, CPA, EA, etc.)
Would you like to share some of your success stories with us?
Anytime we can help a client find the right adviser, it's a success story for us. Two recent examples come to mind that I can share. The first was a client who had a unique legal need. We were able to find the right solution for that person and are now helping them complete their "family office" by finding a financial adviser and CPA for them. Another is an individual who had just been through a liquidity event. It was an incredibly exciting time for them, but along with that came a lot of decisions around how best to manage their finances, tax and estate. We were able to help them find the best advisers to support them in that. 
Do you have any open opportunities available at HarnessWealth?
We are always looking for talented people excited about building the future of financial services. We are currently looking for talent across design, client support and growth marketing. 
For more information, visit: https://www.harnesswealth.com/