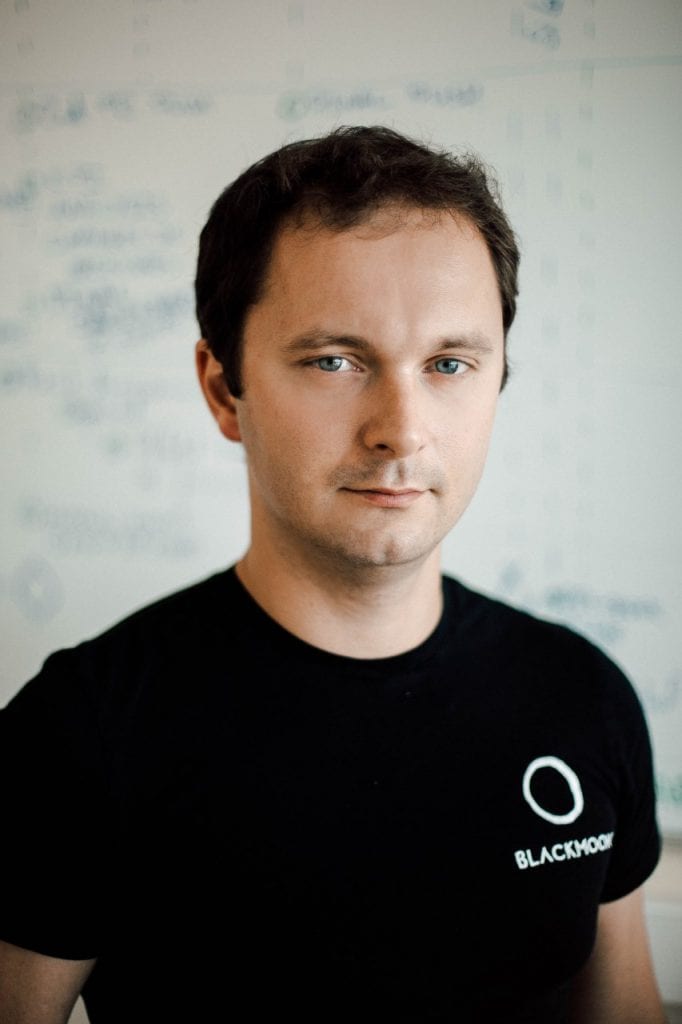 Oleg Seydak is the CEO of Blackmoon, the latest operational blockchain investment platform, that helps you invest in crypto tokens linked to real-world assets. 
1) Could you please tell us about yourself?
Between 2012 and 2013 I was Managing Director at one of the most prestigious and largest Russian PE firms in the IT sphere – FINAM GLOBAL.  
In 2014, I partnered with Ilya Perekopsky, former Vice President of VK.com (largest social network of Europe) to found Blackmoon FG, a fintech platform for continuous securitization of Loan portfolios. Between  June 2015 to July 2017 Blackmoon FG processed more than $100 mil. in deals volume and started operations in 9 countries.
In 2017 I founded the blockchain project/company Blackmoon Platform which in on September 12th, 2017 at the start of its token sale raised $30M in less than 20 hours with over 9000 accounts created in more than 130 countries.
2) What is Blackmoon?
At Blackmoon (blockchain project), our mission is to make innovative investments easily tradable for all.
Our investors can get access to investment opportunities that were inaccessible in the past – from hedge funds and thematic portfolios to algorithmic trading in cryptocurrencies – in any currency.
Our platform facilitates liquidity for these investments. The tradability in the secondary market improves price discovery, transparency and mitigates the overall risk in the financial system.
With compliance at our heart we strive to offer our services to a wider range of investors. We understand the importance of regulation. That's why we already apply strict KYC and AML procedures and applied for a licence in Malta.
For the asset managers Blackmoon is a turnkey solution to increase their assets under management with a reliable distribution channel like our platform.
3) What inspired you to build a platform for crypto funds, stock and hedge funds investment opportunities?
We are developing the platform for any fund type with the understanding of the main pain points of the industry. First of all, fundraising is an expensive and long project. To make things worse, it's not scalable. Traditionally, when setting up a new fund, the asset manager would have to endure the same ordeal. Once the fundraising is done, the asset manager has to deal with all the paperwork with fragmented investors: reporting, redemptions, creations, ongoing KYC and ad-hoc requests.
Similarly, investors do not find it any easier. Becoming an investor is a long and a painful process, and again, not a scalable one.
We at Blackmoon are addressing these issues by building an "Amazon for the financial products", if you wish. And just like Amazon, we are very careful with the products that we offer. Investors with Blackmoon gain access to a wide variety of investment opportunities. Asset Managers benefit from not having to deal with multiple investors and, most importantly, from the secondary market liquidity provided by our platform. Too often, liquidity is the main reason for the investors to invest. Our solution dramatically improves the value proposition of the asset managers.
4) Blackmoon's Crypto Strategies allow newcomers and traders to generate an average of 22% return, could you tell us more about this?
Among other investment opportunities, such as a US based hedge fund asset manager with $700 million in assets under management or S&P 500 ETF, Crypto Strategies definitely stand out in terms of returns and associated volatility.
As of early September there are three Crypto Strategies available on the platform. These are fully automated strategies and the underlying investment thesis is quite easily explainable.
The investment universe is defined by the liquidity of the assets, that is the strategies don't invest in tokens with low liquidity, nor on questionable exchanges.
The first investment strategy follows the tokens that showed the highest volatility in the last 24 hours. BMx1DV token posted 19% USD return in the last month, outperforming BTC by 16% and ETH by 44%.
The second strategy provides holders with a cost-efficient exposure to the performance of top-20 coins by market capitalization. BMxT20 delivered 6% USD return over the same period, while BTC increased by 3% and ETH plummeted by 26%.
The last one allocates between top-6 coins by market capitalization and USD depending on the market trend. In bullish market, it invests in cryptos; in bearish, it stays in cash. This one showed negative return of 15%, which is worse than BTC, but better than ETH.
This performance shows that, unlike the majority of the other crypto investment funds, which essentially buy and hold bitcoin, the Crypto Strategies available on the Blackmoon platform provide different exposure to the market. Also algorithms never sleep, have bad days or hold onto their losses because of cognitive biases as human traders do.
The important fact is that investors can buy and sell back their tokens at any time thanks to full automation and the use of smart contracts.
5) Blackmoon offers a fully automated algorithmic trading that seeks to deliver alpha to ethereum, how does this work?
Blackmoon offers the platform for investments. Crypto Strategies are just three out of seven tokens available on the platform, including the first token in history linked to the performance of an IPO (BMxXMI token that provided exposure to the Xiaomi IPO in July).
The Crypto Strategies seek to outperform Ethereum and the broader crypto market thanks to the investment rules that differ from naive investment strategies employed by the majority of other crypto funds. Our research shows that the majority of proprietary strategies boil down to holding most of the assets in Bitcoin.
Unlike these investment options, the Crypto Strategies available on the Blackmoon platform neither capture volatility or rebalance between cash and crypto, nor do they provide diversification in the broader cryptocurrency market.
As with any investment consistency trumps luck. Crypto Strategies are not guesswork, they are based on strict rules which are not subject to change, and were rigorously backtested. As the investment thesis comes first, it could not be overfitted during the backtest as deep learning or AI-driven strategies could be.
6) The volatility of the Crypto market is turning away new investors, what is Blackmoon doing to address these challenges?
Blackmoon anticipates approval of our Category 3 Investment Services Licence issued by the Malta Financial Services Authority (MFSA). This will enable us to broaden the addressable market by including investors from the world of traditional currencies like dollar and euro.
Our platform offers a wide range of investment options. For instance, Prime Meridian Real Estate Lending, which provides exposure to the US housing market and has historically delivered 8% net USD return, attracts investors seeking uncorrelated products with low volatility. While Crypto Strategies satisfy the needs of the more risk seeking investors, we develop Blackmoon to be an inclusive platform where every investor can find innovative investment opportunities that fit her/his portfolio preferences.
7) Apart from crypto funds, stock and hedge funds, What other Services do you provide at Blackmoon?
Blackmoon platform also supports equity offerings also known as Security Token Offerings (STO). Leveraging our existing technology and legal infrastructure, Blackmoon is ready to offer selected companies with technology and platform to perform fundraising for their companies.
The STO process grants companies and investment funds the ability to raise capital from investors in a traditionally compliant manner, while benefiting from the advantages provided by blockchain ecosystems, including:  transferability and tradability of tokens; increased liquidity on equity; simplified, global access to capital; access to both fiat and crypto investors; market valuation of the company; increased transparency and security; proof of ownership for stakeholders; direct access to the investor base; simplified investors' management, etc.
Today, Blackmoon is the only working solution that offers its partners this full scope of services.
8) How will blockchain technology help Blackmoon manage this Investment platform?
Blackmoon, as a technology provider,uses the blockchain technology to manage the flow of tokenized financial instruments. This life cycle includes: Asset Tokens creation, distributed custody and clearing, verification and trade as well as Asset Token redemption.
Blockchain enables value transfer between participants while keeping the ecosystem open. This means that a Token issued in one place can travel across different sales channels between the counterparties involved in circulation of rights on assets. The technology is easy to use, customizable and failure-resistant due to the distributed ledger. Most importantly, it creates unparalleled opportunities for Asset Owners to get access to a wider user base via multiple Brokers or other sales channels.   Blackmoon provides a turn-key solution for Asset Owners and Issuers, including technological and legal framework for emission of Asset Tokens, and to facilitate its transferability and tradability.
9) Can you tell us more about the technology and components of the Blackmoon platform and how it works?
The following three dimensions define Blackmoon's platform: Issuer, Technology Provider and Sales Channel.  
As an Issuer we issue our own investment products and provide tokenization infrastructure for third party Asset Owners. As a Technological Provider we apply blockchain technology to manage the flow of tokenized financial instruments. Finally, as a Sales Channel, we distribute tokens to verified investors and provide secondary liquidity on issued instruments.
The Issuer utilises technologies and legal practices to issue derivative investment products under MiFiD II rules along with records in the Ethereum blockchain – the Asset Tokens. The Issuer hedges its position by buying the underlying assets to match the amount of tokens in circulation. The underlying assets could range from common stocks, to units in a hedge funds to real estate objects.  Issued Asset Tokens are packaged as Investment Certificates for a subsequent distribution to the investors through a Sales Channel.
The Technology Provider then applies the blockchain technology.
The Sales Channel function allows distribution and trading of Asset Tokens to retail and professional clients, in compliance with applicable local jurisdictions.  Most importantly, Sales Channel is designed to be inclusive and open to collaboration with other Brokers and other sales channels. Blackmoon is ready to act as a venue to distribute the products of independent Asset Owners and provide its own products for resale by other Brokers. All this is possible thanks to blockchain technology.
10) Do you have any competitors in the market, what are some of the problems you see with other similar platforms you want to solve?
There are several blockchain-based products that develop comparable services. Some are exclusively technology providers as Polymath or Securitize, whereas some are solely sales channels as t0 for instance.
Still, blockchain technology offers a very interesting angle to the market dynamics. For the first time in modern history, the financial system could switch from copy-your-competitor mode to the sharing of common resources and capitalizing on that. Today, financial institutions could offer their clients products issued by other sellers. Blockchain simply provides the underlying technology, as a shared database, to scale and distribute the required standardizations for industry associations.
11) What do you have next on the Blackmoon roadmap and where do you see the business in 5 years?
The next big milestones on our roadmap are the public launch of the secondary market and the first completed STO on the platform. In the meantime Blackmoon will keep adding new investment opportunities to the platform.
For example, this October we are going to introduce three more Crypto Strategies as this type of investment options were well-received by the market.
In five years from now I see Blackmoon as the go-to solution for investors to get access to the innovative investment opportunities, just like Amazon is the go-to solution for online shopping today.
12) Do you have any marketing and sales strategies or strategic partnerships to help you achieve this goal?
Our strategy is to develop an end-to-end platform for innovative financial instruments that makes investments easy, accessible and liquid to all. Our platform enables investors to diversify their portfolios with innovative investment products featuring various risk and return profiles. It allows asset managers and companies to raise funds from the global network of professional and retail investors, and financial ecosystems to prosper through enhanced liquidity, transferability and transparency.
Legal compliance, security and user experience are the pillars of our business. Having said this, our marketing strategy will evolve along with our offerings (Issuer, Technology Provider and Sales Channel mentioned before) – specifically, we will market to those specific target audiences in those dimensions. Without revealing too much, we can tell you that our Sales strategy will be segregated into retail and institutional. For the retail sales, we plan to have team to serve as Personal Account Managers for our client base and to have a more support/assistant role rather than the traditional boiler room tactics adopted by similar industries.
Institutional sales is a more long term strategy. We have already set this division up and have made significant progress.
Blackmoon is open for cooperation with new and existing companies to make the promise of the blockchain to investment world a reality. There are customizable solutions for every business line in the ecosystem from the asset owners to service providers and from tech vendors to the sales channels.
13) Any other information you will like to share with our readers today?
In the end, seeing is believing. So we invite your readers to visit our website, www.blackmoonplatform.com, and sign up for access to our platform to see and experience for themselves all that I have mentioned. This is the beginning of a very exciting time and if you have any questions let us know, we have a very active community so look us up on your preferred social media channel.
Risk warning:
Due to the fact that cryptocurrency markets are unregulated and decentralized, the provision of our services is not governed by any specific regulatory framework or investor protection rules. Investment in cryptocurrencies carries high degree of risk and volatility and is not suitable for every investor; therefore, you should not risk the capital you cannot afford to lose. Please consult an independent professional financial or legal advisor to ensure the product meets your objectives before you decide to invest. Under no circumstances shall Blackmoon have any liability to any person or entity for (a) any loss or damage in whole or part caused by, resulting from, or relating to any transactions related to the asset tokens or (b) any direct, indirect, special, consequential or incidental damages whatsoever. Please consider our Risk Disclosure and our Terms of Use before using our products. Social media posts about Blackmoon platform are generated by members of Blackmoon community and do not contain advice, recommendations or solicitation on behalf of Blackmoon. You are not permitted to use, alter or reproduce or distribute any of Blackmoon images and/or content, including but not limited to text, graphics, video, audio, software code, interface design or logos without our prior written consent. All rights reserved © – Blackmoon Financial Group 2018.