APIS Platform allows users to set up a number of masternodes, including one for APIS. On The APIS Platform, users can select a coin of their choice within the platform based on ROI, time of return, and personal preferences. Learn more about APIS in this interview with Ronny JooYoung Yoo.
1) What is APIS Platform?
APIS platform presents and encourages people to actually 'use' Blockchain and cryptocurrency which may be strange to most of them but certainly innovative and contains infinite potential. It is structured to make transfer/management of cryptocurrency and Masternode participation as easy and safe can be. Furthermore, on APIS platform, anyone can deploy or update a new code so simply joining APIS platform could lead users to enrich their lives and contribute to expanding Blockchain's area. We APIS will keep lowering the barriers as described and commercialize Blockchain which many are curious about and wait for but only feels distant.
2) What kind of service does APIS platform provide?
Let me present our service for Masternode participation and other technologies that enhance access to cryptocurrency and Blockchain.
Users who are not familiar to cryptocurrency often face difficulties with a simple transfer. To ease the inconvenience of a complex address, in particular, we provide service that put a mask on each address and makes them more 'legible'. (ex. John@me) therefore users would get to grasp their transfer record and they won't have to feel insecure about this simple cryptocurrency transfer anymore.
Cryptocurrency management (Masternode participation)
To participate in existing Masternode, not only substantial capital was required also users had to set up and manage the Masternode themselves. Because of these technical and economical barrier, the benefit of Masternode's periodic rewards has been quite out of reach to most of cryptocurrency investors.
However, on APIS Masternode platform, even users without any knowledge about cryptocurrency, can participate in Masternode just with a few clicks. We are aiming to lessen the investors' confusion that can arise in cryptocurrency market and bring them the periodic reward.
In 'Address Masking' technology mentioned above, the process of comparing set aliases is also included and therefore prevent the sender's mistake and hacking. Other than this, APIS platform provides two-factor signing method with a private key(possession) and user's own password(knowledge) for each transaction. With this authentication method, users can keep all the assets secure in case of private key exposure.
The fee being imposed for every transaction is another burden for cryptocurrency transfer. This can be seemed more unreasonable compared to current banks' fee exemption service. Users can pay transaction fee by 'Mineral' on APIS platform. Mineral is a kind of a reward for users' contribute to platform and it is being distributed in accordance with APIS balance and
etc. Minerals, which functions as transaction fee payment exclusively in our platform and with its element designed for token economy, encourages users to create more transaction and lift the burden of transaction fees.
Additionally, through Smart Contract on Canvas(SCC) which helps people use Smart contract and Blockchain technology, individuals can enhance reliability and efficiency of their own business or contract. If SCC is a technology designed based on users' UI, 'Smart Contract Binary Updater & Freezer' is the one for developers who will use APIS platform. With this technology, unlike the older method, updating code after Smart contract deployment will be available.
Though I have categorized as I present our technologies for better understanding, they are not mutually exclusive but compatible with each other and make APIS ecosystem grow. Each technology enhances security while fulfilling conveniency and contribute to the ecosystem's prosperity while delivering easier transfer.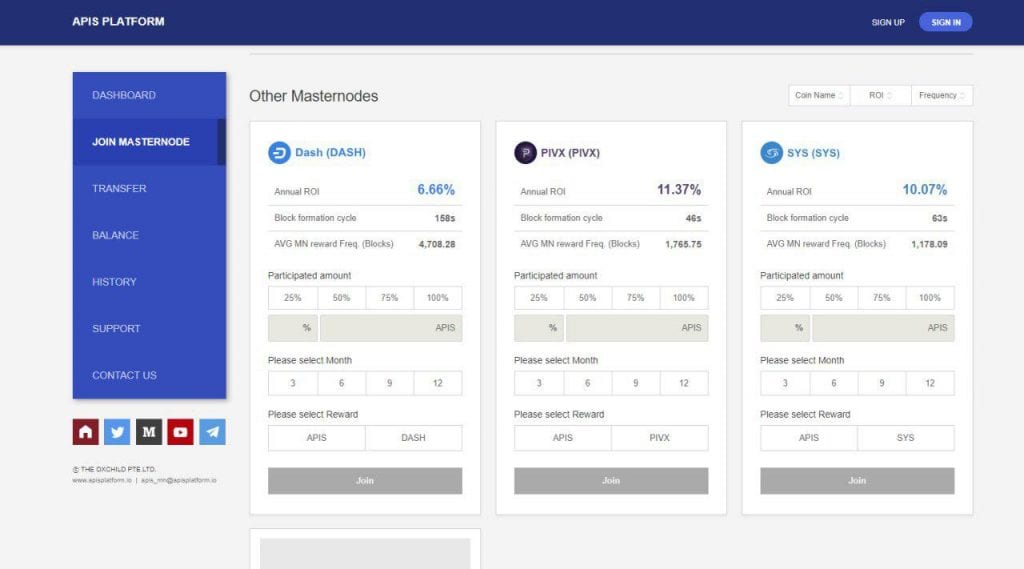 3) What unique services is APIS Platform bringing to the blockchain market?
For the first time in this industry, users would be able to manage and participate in Masternode. We will overcome the shortcomings of the existing plain Masternode sharing service with transparency and irreversible system and provide highly reliable service. On APIS platform, every Masternode join and reward history is recorded with TXID so users can check our substantive and periodic reward distribution with ease. Furthermore, with our most intuitive and user-friendly UI, we will attract users who aren't familiar with cryptocurrency and Blockchain technology.
4) What is the demand for Masternode Mediation blockchain platform like APIS and where do you see the progress of this market by 2020 and beyond?
APIS platform provides service that is attractive to both new users who find Masternode participation rather tuff and those who already aware of its concept but still got needs for more simple setup, close and management. By 2020, dApps and ECO will be constructed and activated so we'd meet needs of not only users who are interested in Masternode but also individuals, firms, institutions who aim to implement stable dApp service. Also, other than Masternode participation, we have developed technologies to bring commercialization of cryptocurrency and Blockchain and new business models will be constantly added on our platform based on this.
5) You have announced a major update for APIS platform recently. could you tell us more about this update and the benefits for APIS?
For more convenient exploring, we have arranged our website's dashboard with cards and matched with various information to guide new users to the concept of Masternode and APIS. Also, we have newly arranged a 'user guide' and FAQ for more detailed instructions. Additionally, since we are committed to constructing more stable system, we have obtained COMODO certification to enhance the security of our website.
6) What is next on your roadmap, do you have any investment and partnership opportunities you will like to share with us from APIS?
We are launching the platform and mainnet by the end of this year and PC, mobile, web Wallets will be released as well. We have completed PC Wallet development and you can see the demo video on Youtube. https://www.youtube.com/watch?v=IN6JpgetmdM&t=7s As you might notice after watching the video, our service described above is designed, solely, for users' convenience and the function of our Wallet, APIS core is beyond a Masternode participation and help users find Blockchain technology rather friendly. So we are bound to open the new era by collaborating with other projects which contribute to the commercialization of Blockchain and we are considering expanding APIS into payment business sector as well.
7) Where do you see the adoption of blockchain technology and cryptocurrencies by 2020 and beyond and what type of projects will thrive the most?
Blockchain technology can be applied to a wide variety of areas. Currently, there are numerous research papers on finance, e-voting systems, logistics, e-commerce, real estate, security, etc. Although it is premature to conclude that Blockchain will be applied to all of them, Blockchain technology will be very attractive for industries that need reliability and seek stability through enhanced security.
8) How much will APIS platform deliver on the promises of blockchain security, could you tell us about your compliance and security measures at APIS?
Blockchain can build high reliability by blocking the potential for forging/falsifying a ledger through decentralized source technology and irreversible system, which means increased efficiency in management. APIS makes the most of such Blockchain's strength and record every detail of users' Masteronde participation on chains to obtain reliability and transparency. And at the same time, we have adopted COMODO certification and provide web security level as high as major exchanges' and we have taken it to a higher level by adopting 2FA.
9) Do you have more information for our readers today?
Anyone can transfer cryptocurrency, mine, and get rewards through APIS platform. Currently through https://apis.mn/, users can participate in SYS, DASH, PIVX Masternodes with 50,000 APIS(test amount) and see for themselves rewards being accumulated. The test amount will be retrieved with the mainnet launch but users will get to keep those accumulated APIS during Beta test participation. It is a chance to experience our platform and you'll see it is optimized for the most simple Masternode join. Also, don't miss our mainnet launch. When it is launched and APIS Masteronde setup is activated, we'd provide more options to customers and so the Blockchain's commercialization will be advanced as well.
For more information, visit https://apis.mn/