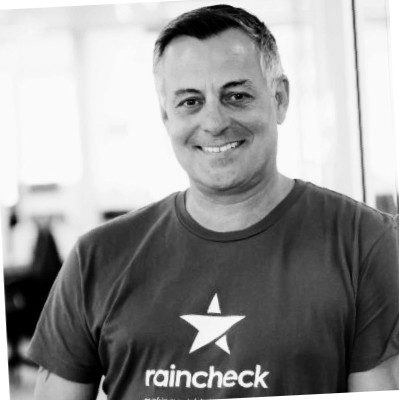 RainCheck brings to the blockchain and cryptocurrency markets, a global loyalty & rewards points exchange aggregator based on the Stellar blockchain. Cameron Wall, Co-founder of Raincheck will be discussing the project with us in this interview.
1) Could you please tell us about yourself?
I started out in the ICT industry the year after I left school in 1984 when the Macintosh PC was released. I have seen the birth of network computing and the Internet, and the Blockchain will eclipse them all. I have founded six tech startups along the way and RainCheck is my current venture and is really exciting as it opens up O2O Commerce for the first time.
2) What is RainCheck?
The RainCheck platform allows retail brands to both track and influence online product discovery to in-store sales. We also offer card-linking (debit & credit), where people can add offers, loyalty points or cash-back to any debit or credit payment card. The main difference is that we can do this at SKU-level not just at the merchant level.
We are extending the platform capability now using the Stellar DLT to decentralize loyalty reward points on a global scale. The Stellar open-protocol is the only network that can handle ultrafast transactions at almost zero cost which makes it perfect for retail brand loyalty rewards.
3) What inspired you to start building a loyalty and rewards exchange aggregator?
The sheer frustration of earning rewards points in siloed programs and never having enough points in and single program to earn a valid reward. I thought why can't loyalty points be more like actual currency and be traded cross-border and cross-program? The Blockchain can allow this to be realized and we started building the solution.
4) The loyalty and rewards niche is one of the crowded and competitive niches in the cryptocurrency space. What makes RainCheck different from all your competitors out?
We have the only solution that uses and underlying open-protocol that can handle the transaction speed and cost needed to be successful. Other solutions built on the Ethereum chain (ERC-20) will simply not be able to handle the transaction flow at a cost that is sustainable to work correctly, in fact, any project built on Ethereum will struggle to be successful in its current state.
5) What are some of the problems you see with existing crypto and non-crypto based loyalty and rewards programs.
As I have just stated, the chain that a loyalty and rewards solution is built on will be critical and will be the source of failure. Existing non-crypto programs have a huge issue with the value of rewards that are owed to people sitting on balance sheets as a liability, sometimes in the hundreds of millions of dollars. Also, payment card interchange fees are being reduced which means that many programs are under pressure to offer real value.
6) How will RainCheck change how the rewards are received and used?
Firstly, a majority of retail brands do not have a loyalty program as the CapEx cost is a barrier, and existing reward offers are based on maybe your birthday or some other customer factor. RainCheck will allow a simple cloud-based solution where onboarding is simple and fast for a retail brand, they can be up and running in a matter of days. The RainCheck solution utilizes peoples existing payment cards as the unified loyalty card and rewards, offers and even cash-back is seamless and requires no action from either the loyalty member of the actual store associate.
All reward points will be backed onto the RAIN Token which is a digital currency meaning they can be transferred between all participating programs. As the ecosystem builds and expands then larger loyalty coalitions can join their programs as well.
7) How will Blockchain technology help the RainCheck accomplish these things?
All retail brands hold a set value on the quality of their products and that value is set in the value of their reward point value. For example, 1 point from brand x could equal $0.05c yet 1 point from brand y is $0.1c by using Smart Contracts we can aggregate this points together and make the stored value transferrable. It is a bit like the way fiat currency is remitted cross-border. The Stellar Blockchain is the only true decentralized network that can handle that solution at scale within a few seconds at almost zero cost.
8) Can you tell us more about the technology and components of the RainCheck that makes it function?
The entire RainCheck Platform has been built from the ground up to be open and fully scalable with all instances running on the AWS Cloud Environment. The platform is broken into a couple of modules that all interconnect and can be run at multiple instances, or individually, depending on the services required at the time.
– Product Feed (Online)
– Inventory Feed (Stores)
– O2O Wishlist
– Payments/Wallets
   – Stripe payment gateway
   – Stellar based digital currency wallet
– Location/Proximity
   – Geofence and Beacon technology
– Connected POS & Card-Linked Offers
   – POS integration
   – Tokenization card
– Push Notifications
– Data Analytics
– Loyalty
   – Loyalty as a service to integrate loyalty into payment
   – DLT based loyalty reward points system
9) What are some of the detractors associated with your platform and how do you intend to remedy it?
We are still building the SKU-level Card-Linked Offers, which requires POS software integration. We are working with POS/Payment Terminal vendors like Ingenico to streamline this process.
We are still building the Stellar based wallet to check the balance of their digital currency, track digital currency transactions, check loyalty points from different merchants, manage loyalty points with RAIN Tokens etc.
10) How does RainCheck's token offer integral and functional value to your ecosystem? Why is it necessary?
The current payment technology and infrastructure cannot support the payment and reward point aggregation requirement of RainCheck the ecosystem. We need to leverage the Stellar based RAIN token to achieve an integrated payment service based on DLT. The RAIN token can also link all features across the O2O shopping, overseas commerce, loyalty ledger and digital currency wallet in the whole RainCheck ecosystem.
11) How much do you intend to raise in the RainCheckToken Sale and what are the steps for contributing?
We want to raise $28M which is the mark for the hard cap, with a soft-cap of $6M. We will use the funds to build and deploy the DLT based components globally. A large portion of the funds will be used to promote the O2O shopping, overseas commerce and the DLT based loyalty program globally. We will also invest in some technology and/or companies, which are closely related to our eco-system.
We are currently in Pre-sale phase and interested supporters can register with the project from the ICO website https://www.raintoken.org/.
12) What's going to happen to the RainCheck after the token sale concludes and what where do you see things in 5 years?
As the business is well established already and a large part of the tech is completed we will execute our go-to-market strategy. The RAIN Token project will bind a lot of what we are doing in the O2O space together. In 5 years from now we see the RainCheck ecosystem working globally with many brands and offering cross boarder loyalty and rewards aggregation build into existing payment networks.
13) RainCheck has a fair bit of competition in the loyalty and rewards niche. Can you give some details on your sales and marketing strategy to get market share? How do you intend to beat your competitors here?
First of all, as I have mentioned above we are launching on the Stellar open-protocol which can handle the transaction speeds and almost no cost that any loyalty and rewards system will need to survive. Most of the other solutions are based on Ethereum and the chain cannot handle what is required to be successful at this point.
Also via our global strategic partnerships such as IBM we plan to attract the right retail brands at the right time. This also allows us to enter new markets quite easily.
14) Do you have more information for our readers?
Please visit of ICO site – https://www.raintoken.org/ or our main site – https://www.getraincheck.com/ and follow our social and comms channels.