Elchin Suleimanov is the CEO of Bloomzed, a high-tech Financial Software with Open API, built on Blockchain Technology. Please read through this, Elchin has an amazing project to share with us, plus the Bloomzed token sale and the opportunities it has to offer;
1) Can you please tell us a bit about yourself?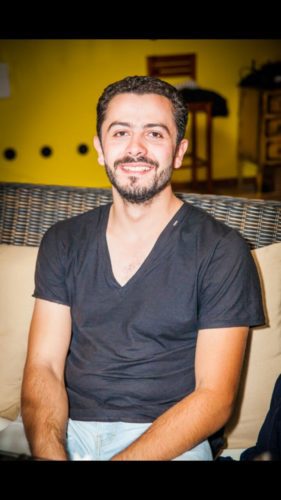 Elchin : My name is Elchin Suleimanov, I'm an independent entrepreneur from Kazakhstan. I am engaged in private business for more than 10 years, and have got a profile of so-called serial entrepreneur as the businesses I develop perform in different sectors. These include insurance agency services, credit financing, software development, e-commerce, financial and marketing services.
In 2013 I established Rocket-A Lab company to create and implement various software and technological solutions. After a while, the key activity of the company has shaped into the search, development, integration and implementation of software solutions in different business directions and sectors.
As a result of our four-year activity, my team has managed to create a unique product, which now is the key project of our company, named Bloomzed. Bloomzed represents a universal financial software solution for individuals and legal entities. In 2017 we decided to change the company's name to Bloomzed.
Currently Bloomzed comprises of more than 19 business solutions designed to function and assist in the following directions: payment technologies, insurance services, lending, e-commerce, loyalty systems, online services, business automation and management, medical services, tourism, blockchain and others. The list of technologies applied in the project, as well as the array of features provided by Bloomzed is growing from day to day, as we constantly continue our search and implementation.
We plan to launch Bloomzed app in full-scope mode for the use by individuals in the market of Kazakhstan and Russia already in 1 quarter of 2018. In 3-4 quarter of 2018 the project shall commence in Turkey and Georgia. Within 5 years we plan to achieve a leadership position in the sector of financial software solutions in the world.
2) What is the Meaning of Bloomzed?
Elchin : The phrase "Bloomzed" consists of two parts:
Bloom (read as "bluːm") – from English it is translated as "color, blossom, flowering, blooming, blossoming";
Z (English letter "zed") – indicates a generation Z (Generation Z, Homelanders, New Silent Generation or Homeland Generation). According to the Theory of Generations, developed by Neil Howe and William Strauss, it is a term used for people who were born since 2000.
Modern young people actively use tablets, 3D- and VR-reality, therefore, often the "generation Z" is synonymous with the concept of "digital man". The young generation is interested in technology and science; it is assumed that many of its representatives will be engaged in robotic engineering, biomedicine, engineering and technical issues. Scientists consider that people of generation Z will also tend to a healthy lifestyle, appreciate art, be able to economically and rationally dispose of available resources.
Representatives of generation Z are children of the people of the borderline generation Y-Millennium, less often – X. For generation Z, what their parents called as "technologies of the future" or "new technologies" has already become a reality. In fact, this is the first true digital generation. Their parents are called "digital immigrants", because such technologies were not in their childhood. Now the Internet has become universally available, which is facilitated by the proliferation of smartphones, tablets and other similar gadgets.
Generation Z was the first to be born completely in the era of postmodernism and globalization. Therefore, the meaning of the word "Bloomzed" stands for "the blossom of generation Z".
3) What inspired you to launch a Blockchain and Cryptocurrency business with Bloomzed?
Elchin : The underlying idea was to create a multifunctional universal AI-assistant available at various gadgets and devices (tablets, terminals, web-devices, smartphones, ATMs, computers). Bloomzed is always ready at hand and will help you with:
Management of all financial flows (income, expenses, transfers, payments);

Planning, investment, earning, saving, credit and financing arrangement.
Bloomzed is compatible with all financial instruments that are currently available: payment cards, bank accounts, electronic wallets, international money transfer systems, fiat money, etc. This is a single system which:
Integrates all your funds, thereby increasing the convenience and efficiency of their management;

Is reliably protected with most up-to-date technologies, thereby improving the financial security;

Is user-friendly, thereby one can easily switch to apply it.
As part of our constant development strategy we could not walk past the cryptocurrency business and miss the opportunity to enhance our system with one more attractive and promising direction. Moreover, it is rather complicated for a common user to start using cryptocurrencies in daily life, and our purpose is to ease-up such complications.
We succeeded to develop an exceptional payment ecosystem, which would uncover limitless opportunities for businesses and individuals. Our service Bloomzed represents a universal payment solution that is able to function almost with any currency due to an open API technology. Now it is the right time to enhance the existing solutions in cryptocurrency business by presenting the Bloomzed capabilities to the crypto universe.
4) What makes Bloomzed crypto ICO different from the others?
Elchin : I would comment that our Bloomzed crypto event is different from the others in almost every respect ☺
Firstly, we do not conduct an ICO. Rather, it is a Token Generation Event (TGE).
Secondly, as I understand from open sources, major part of all ICOs, ITOs is based on the presentation of an idea without a ready-to-go solution/product, or a product is a very early-stage.
In our case, we present a readily available solution and business, which is currently in the stage of license acquisition as a payment organization in Kazakhstan and Russia. By the end of 2018 we plan to obtain a similar license in Turkey and Georgia.
Thirdly, most of all ICOs, ITOs projects depend on their soft cap-hard cap gather, whereas we have not defined any soft cap-hard cap, because we will realize our project in any scenario and volume of sold BZT Tokens.
At fourth, BZT Token is not simply another cryptocurrency that is unrelated to its issuer upon emission or serves solely payment, investment or speculation purposes. Our Token is a key to join Bloomzed project with additional features which will be implemented in 2-3 quarter of 2018. In fact, to become a member of the global project and enjoy its private benefits, the one would need to own a BZT Token. In other words, we have issued our Tokens with a purpose to realize a new feature in the framework of Bloomzed project that is currently planned for commencement. Not simply raise the money.
As a fifth distinction, we would like to notice that we do not give promises as most ICOs, ITOs teams do. We simply perform and demonstrate our performance.
These are key points that come up in mind when we talk about our distinctive features from a conventional ICO event. I presume we may identify more, if we continue the comparison.
5) How much do you intend to raise in the BZT Token Sale?
Elchin : As I mentioned earlier, we do not have any soft cap-hard cap targets. We will implement our project roadmap at any volume of the Tokens sold. However, the maximum amount of sale is 100,000 ETH.
6) Why would Bloomzed increase in Equity and Value and how can BZT Token holders Profit if they invest now?
Elchin : We do not say that BZT Tokens will increase in value and give profits as most ICOs, ITOs promise. By the way, this is our additional distinction from a traditional crypto event ☺ The customers who purchase BZT Tokens are not investors. Instead, they are buyers of the membership tokens, and via BZT acquisition become the participants of our private club, thereby receiving the access to the club's special benefits and opportunities. But above all, they will be the first to use a new product of the Bloomzed project, which is planned for implementation in 2-3 quarter of 2018 as I mentioned earlier.
The acquisition of BZT Tokens represents an entry membership fee that is not refundable. Currently a minimum package of BZT purchase during Token Generation Event is 250 BZT. To participate in the project a user needs to own just 1 BZT Token, the remaining 249 tokens, or total 250 BZT Tokens purchased during TGE, could be sold, transferred, gifted to any other individual who is willing to join our project. The Tokens could be sold via exchanges where we will be listed.
7) What are the steps for investing in BZT Token ?
Elchin : I would define this as BZT Token "acquisition" to join our project, rather than "investment". To acquire BZT Token, a customer needs (1) to register at bloomzed.io; (2) open a crypto wallet supporting tokens of ERC 20 standard (we recommend MetaMask, MyEtherWallet, imToken, Parity); (3) send cryptocurrency from the crypto wallet to the address indicated in private account at bloomzed.io. BZT Token will be issued to this crypto wallet.
8) Would you like to share the exchanges where BZT Token will be traded?
Elchin : In the meantime, I cannot comment regarding exchanges where BZT Token will be traded. This information will be posted later at bloomzed.io. However, getting ahead, we plan exit at 20 exchanges, as well as start our own exchange.
9) What were some of the biggest challenges you encountered while working to launch your ICO?
Elchin : Due to a very high number of various ICOs, ITOs going on, the market is currently facing chaotic trends, with many scam cases. Such cases arise not only from the sponsors side, but also due to accompanying parties' activity. I mean certain promotion and marketing agencies, legal companies and private legal practitioners, different consultants and advisers. The cost of such services usually grows in leaps when it becomes known that your request is associated with crypto tokens issue.
Before taking a decision on running our Token Generation Event, we studied plenty of various projects, their teams, consultants and advisers. We had lots of questions to the projects' essence, roadmaps, etc. One of key questions related to team members – it appeared that several unconnected projects had the same people in their teams. We understood this issue upon commencement of our own TGE – we received several proposals from various organizations which were offering CVs of different professionals to be indicated as part of our advisory team during the TGE. In other words, they offered to make some kind of window-dressing for our white paper and promotional campaign of our TGE with these consultants' CVs. That is an expensive service I would say.
As a result of such experience, I took a decision to omit the section of "team" and "advisers" at our site, in order to avoid the risks to our business reputation. I believe such risks are not affordable to any business. We aim to preserve high ethics standards while implementing our project and conducting our Token Generation Event. This, in my opinion, would also differentiate us from the majority of other ICO and ITO events.
Among other issues I would like to mention a poor "connection" of the fiat money universe with the crypto universe – there is very few banks and payment organizations which deal with cryptocurrencies and initial token issuance. But from the other side, we were encouraged with this issue, as we clearly evidenced the high need of our product for the crypto universe.
10) Where do you see Bloomzed after ICO and in the next 5 years?
Elchin : We develop our project in two directions: first one relates to our own penetration in the countries and regions where we plan to obtain licenses, account registration, and accomplish other required legal procedures, followed by product implementation in the market. Using this model, we plan to launch the project in Kazakhstan, Russia and Turkey in 2018. In 2019-2020 we plan to exit the markets of South-East Asia, Latin America and Africa.
The second direction relates to the project development via a franchise model. We sell our franchise product in the countries that are not included in our own development model within the following 3-5 years. We are currently negotiating the terms with several potential franchise partners from Switzerland, Germany, Spain, Georgia, Kyrgyzstan, UAE, Moldova, Tajikistan and Uzbekistan.
Our long-term goal for future 5 years is to take a leading position in the field of implementing modern payment systems and technologies in the global market.
11) What are your marketing and sales strategies to achieve that?
Elchin : We apply conventional marketing and promotion tools currently available in the market, such as Internet and other mass-media. In addition, we are in process of developing a promotion instrument tailored specifically to the needs of our project, but I cannot disclose all details so far.
12) Could you tell us a little about your team and customer support?
Elchin : As I mentioned earlier, it was my principal decision relating to the team disclosure. What I can comment on, is that Bloomzed project required more than 4 years to crystallize, over 300 professionals participated in its development. Also, the project's technological partners included more than 10 companies with over 1,500 professionals possessing cumulative experience of c.100 years.
13) Do you have more information for our readers?
Elchin : First of all, I would like to congratulate all your readers with the New Year, and wish them successful transactions and other happenings. May all your wishes come true.
Also, I would like to kindly invite you to participate in our Token Generation Event. For detailed information please visit bloomzed.io and the section with our White Paper.
Please checkout the Bloomzed Website  for more information.