After graduating from UPenn with a background in cognitive science and decision theory, Andrew Green started his career at Deloitte Consulting before joining Anheuser-Busch to head up the U.S. Trade Marketing Innovation team.  The team's goal is to identify new ways to get beer into consumers' hands and improve the consumer experience.  From new hardware and IoT products to digital platforms and software solutions, if it's "a cool new way to sell more beer" they're on it.
1) What is the Office Bud-e and what inspired you to launch it?
The Office "Bud-e" Fridge is Anheuser Busch's latest creation in ultimate smart technology.  Designed to support office managers, this commercial-size smart fridge is the perfect tool for making sure ice cold beer is always available for team meetings, happy hours, and Fridays at 5 p.m.
There has been a recent shift in attitude towards cultivating a positive and more relaxed workplace environment across the nation. Anheuser-Busch is embracing this progressive movement with the Office "Bud-e" to address the increasing demand for in-office perks and team engagement.
2) Why do you think the Office Bud-e is one of the innovations everyone should be keeping their eyes on?
The Office Bud-e changes the way our brands can interact with consumers in the office environment.  We've created a product that offers innovative companies a path to incentivizing and motivating employees with opportunities for in-office happy hours. The Office "Bud-e" can bring co-workers together to celebrate team successes and boost company morale.
3) Anheuser-Busch's offer for the Office Bud-e currently only extends within the Chicago and New York regions. Why did you choose these two locations for your launch?
NYC and Chicago gave us the quickest avenue to a concentrated number of offices for launch.
4) How many offices are already using the Office Bud-e and have you been receiving any feedback from your customers?
After launch we delivered over 100 fridges in NYC and Chicago, and so far the feedback has been great. The Confluence team has a great video that interviews offices!
5) Office Bud-e invites any interested partners to test out Office Bud-e tech for free.  For how long have you be offering the Office Bud-e for free? What types of company qualify to get the offer?
The Office Bud-e has been offered with a 5 year lease at $0 to offices in NYC and Chicago since the beginning of the program.  Any companies within Manhattan and downtown Chicago are eligible as long as they don't have a liquor license and distribute the beer for free.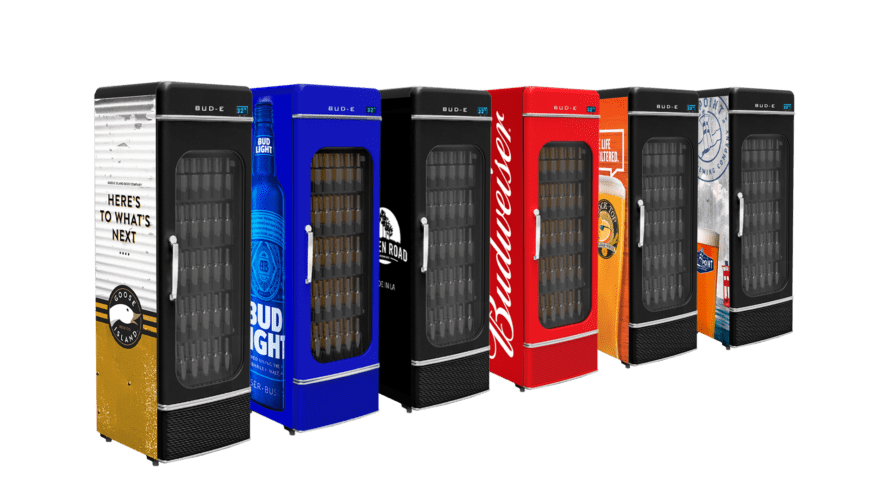 6) As far as offering the Office Bud-e is concerned, who do you think are your biggest competitors?
Our biggest competitor is the analyst who has been sent to the corner store to pick up beer for the rest of the office.  We have yet to see a beer-centric platform out there that offers the variety and flexibility of the Office Bud-e.
7) What challenges are you currently facing?
Truthfully, our biggest challenge has been communicating that leasing the fridge doesn't cost anything.  Everyone always expects a catch!  For Anheuser-Busch, it's an opportunity for our brands to participate in the evolving office environment and support responsible consumption through the transparency provided by real time inventory management.  We take our role of being an industry advocate for alcohol responsibility very seriously.
8) Where do you see the Office Bud-e in five years?
Regulation of alcohol in the e-commerce space is still evolving, but our goal is to eventually be an office icon, the new "water cooler" if you will, for offices in all major cities across the U.S.
9) Is there any other important message you would like to pass across to readers?
Get yours today! Cheers! http://order.officebud-e.com/