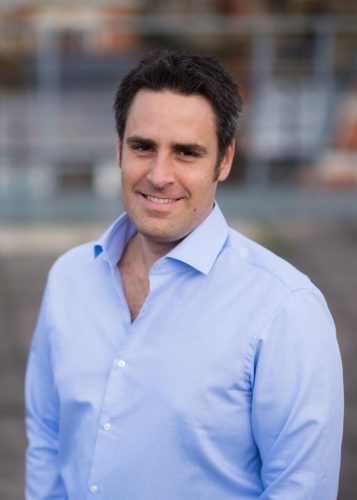 Alex Howard is the CEO of  GiftCoin, a cryptocurrency for charitable giving and good causes. Alex and his team aim to create absolute transparency and confidence in Charitable giving with Blockchain Technology through Giftcoin. He will be sharing this good cause with us in this interview and the opportunities for us in the GIFT Token Sale;
1) Hi Alex, could you please tell us a bit about yourself?
Alex : Hi!  I'm a 37-year-old entrepreneur based in London.  Giftcoin is my third company and ties together everything I have learnt to date and more!  I started my first business age 23, which was an integrative medicine clinic treating people with chronic illnesses such as ME/CFS.  Having been very ill in my teenage years I felt compelled to create the organization I had dreamed existed in the years I was ill and this went on to become The Optimum Health Clinic (OHC).
I grew OHC for a decade as a private business, building it to become one of the largest and most successful integrative medicine clinics in the world, with patients in 40 countries and research published in leading academic journals such as Medical Hypotheses and the British Medical Journal.  Having felt I had taken OHC as far as I could as a private business, with the help of a philanthropist I gifted it to a registered charity I had also founded, and it continues to be an industry leader to this day.
My second company was Conscious Life, a video platform for mindfulness, yoga and conscious living.  Having worked with 150 world leading teachers, including some of the biggest names in the industry, Conscious Life has 500 hours of life changing content and is a highly respected company in the field.  We've also created some very cool documentary series, including the 6-part series 'How I Created A Cult.'
Giftcoin brings together everything I have learnt about charity, leadership, tackling complex problems and using technology to make the world better.  It's also great fun to be working with some of my closest friends on the project, including my co-founder Tim who was the best man at my wedding!
2) What is GiftCoin?
Alex : What if, when donating money to charity you had absolute transparency and confidence in how the money is being spent?  That is the promise of Giftcoin.  Utilizing the power of the blockchainwe are building a groundbreaking new system that we believe has the potential to bring an extra $250 billion to charities globally each year (based on research showing donors would give 49% more if they could see how funds are spent).
3) What inspired you to launch a Blockchain and Cryptocurrency venture withGiftCoin?
Alex : The first six months of 2017 was a difficult time globally.  Between the Syrian refugee crises, Grenfell Tower fire in London, natural disasters in the US… never had it felt that good causes needed more support.  And yet, I could feel the resistance in myself to give money.  Despite the fact I have founded a major charity and deeply believe in the potential of charity to make the world better, I could feel my own questions around how that money would be used.  It then struck me,blockchain provides a hugely powerful solution to an age old problem.  It's been a rollercoaster since that day to build the dream team and bring this project to life!
4) What makes the GIFTcryptocurrency unique?
Alex : There are a few others looking at using blockchain to transform the charitable sector.  However, we are the only organization we know of looking to build a dedicated permissioned blockchain for the not-for-profit sector, maintained by the not-for-profit sector.  Not only will this allow us to offer truly fee-less giving within the Giftcoin eco-system, it will also create the trust and confidence for charities whichis necessary to drive mass adoption in an industry notoriously fearful of change.
5) How will Giftcoin reshape the charities and how individuals contribute to charities?
Alex : The dream ofGiftcoin is end-to-end giving.  This means that the blockchain would give absolute transparency of how a charity uses and spends funds.  This obviously depends upon being able to pay those at the end of the supply change in Giftcoin which is not going to be the starting point (although this will become possible as cryptocurrency adoption develops).  The stepping-stone towards this is having miletones in projects and the smart contract only releases the next section of funds when Giftcoin users have validated they are happy that the milestone has been reached.  For donors this will create a much more engaging experience, and for charities it will be a powerful way of communicating the impact of donations.
6) How will giftcoin increase transparency and reduce fraud among charities?
Alex : By putting the whole thing on the blockchain.  This will force charities to be more transparent and so rebuild trust.  Something that has been a surprise has been just how keen charities are to embrace our vision.  The vast majority of charities do fantastic work and they are very keen to create a deeper relationship with their donors and to communicate the impact of how funds are used.
7) How much do you intend to raise in the GiftCoin Token Sale and what are the steps for contributing?
Alex : We are doing two ICO's this year.  The first is restricted to sophisticated investors and high networth individuals and starts on the 20th March.  The second ICO will run in October when we have a beta product available and will be open to everyone.  All participants have to pass KYC and AML checks.  Those in the US need to upload documents to prove they are a sophisticated investor or high net-worth individual, those outside of the US can self-certify by clicking the relevant boxes.  We are aiming to raise $2.5 million to $10 million dollars in ICO 1 to build our beta version.  We will aim to raise at least $50 million in ICO 2 later in the year.
8) Do you know which exchanges the GiftCoin token will be traded on at this time?
Alex : Not yet no.  But, due to our paying great attention to the legal and compliance issues, along with having a fantastic project, we expect to be working with the best.
9) What were some of the biggest challenges you encountered while working to launch your ICO?
Alex : Lets just say that running an ICO is not as easy as it looks!  Each day presents another mountain to climb, but that's also what we love about it.  Definitely navigating the regulatory and compliance elements was a big learning curve at the start, and more recently just keeping up with this rockets ship presents its demands!
10) What's going to happen to GiftCoin after token sale concludes and what where do you see things in 5 years?
Alex : Once the token sale is over the real fun starts.  Then we get to go and build the product we've spent so many late nights talking about and planning.  We are incredibly excited to work with the fantastic charities we already have on board and to start working with a lot more.  
In 5 years, we aim to be the worlds leading charity payment platform, and by providing such a revolution to the donation experience, we hope to being dramatically more money to good causes globally.
11) What are your marketing and sales strategies to achieve that?
Alex : Right now we are heavily focused on cultivating close relationships with the amazing folk in the cryptocurrency community.  We love being surrounded by forwarded thinking and visionary people and we've made some fantastic new friends.  As Giftcoin reaches wider adoption, we are excited to broaden our relationships and we hope that Giftcoin can be one of the powerful ways the blockchain crosses over to general society.  If we can get people using Giftcoin for giving to charity, what else can become possible?!
12) Could you tell us a little about your team and customer support?
Alex : We are all seasoned entrepreneurs, with each of the founders having built and sold companies before.  Our CTO was the chief performance architect at Morgan Stanley bank when they had their IPO, before becoming chief architect at Deutsche Bank.  One of our senior advisors was involved in creating the Ice Bucket Challenge for ALS which raised over $150 million, so we like to think he knows a thing or two about the sector.  This interview on Giftcoin with the BBC gives a good background: https://www.youtube.com/watch?v=ZfqL3HyLpIM&t=4s
Our telegram group is being run by the fantastic people at Amazix so anyone that has questions is very well looked after!
13) Would you like to talk about your legal and security measures?
Alex : Yes, we have paid considerable attention to this area, because we believe ICO's that do not are going to be have some real problems as things unfold.  As outlined above, to participate in our ICO you need to pass KYC and AML checks, as well as sophisticated investor/high net-worth individual checks (self-certified outside the US).  One of our co-founders recently sold a company to Avast so knows a thing or two around security.  We have also worked with one of the worlds top penetration testing companies.
14) Do you have more information for our readers?
Alex : With our vision of bringing transparency and trust to the charitable sector, we wanted to walk our talk in our own sector which itself can be quite secretive.  We have therefore been filming our behind the scenes story as we go along and are releasing episodes in real time.  You can watch the trailer here: https://www.youtube.com/watch?v=c3cML7LwJao
The best way to keep up to date with Giftcoin is by joining our Telegram group at https://t.me/GiftcoinCrypto  We'd love to chat with you on there.  Thanks for reading!