A mobile wallet is a way of carrying digital card information in a digital form on a mobile device. To make purchases, people can pay with their tablet, smartwatch, or smartphone.  In the past few year, the UK mobile market has exploded, an exponential growth expected to continue. Major players in the UK mobile wallet market are Apple Pay, Google Wallet, and PayPal.
 According to the State of Mobile Wallet Marketing Report by Urban Airship, the UK consumers want to use mobile wallets to communicate with businesses about sales, coupons, offers, loyalty programmes and more. The report says that mobile wallets are among the leading ways consumers prefer to stay updated. Adoption of mobile wallet, the report says, is high for young Brits, a group where mobile wallets surpassed websites as the second preferred commutation channel.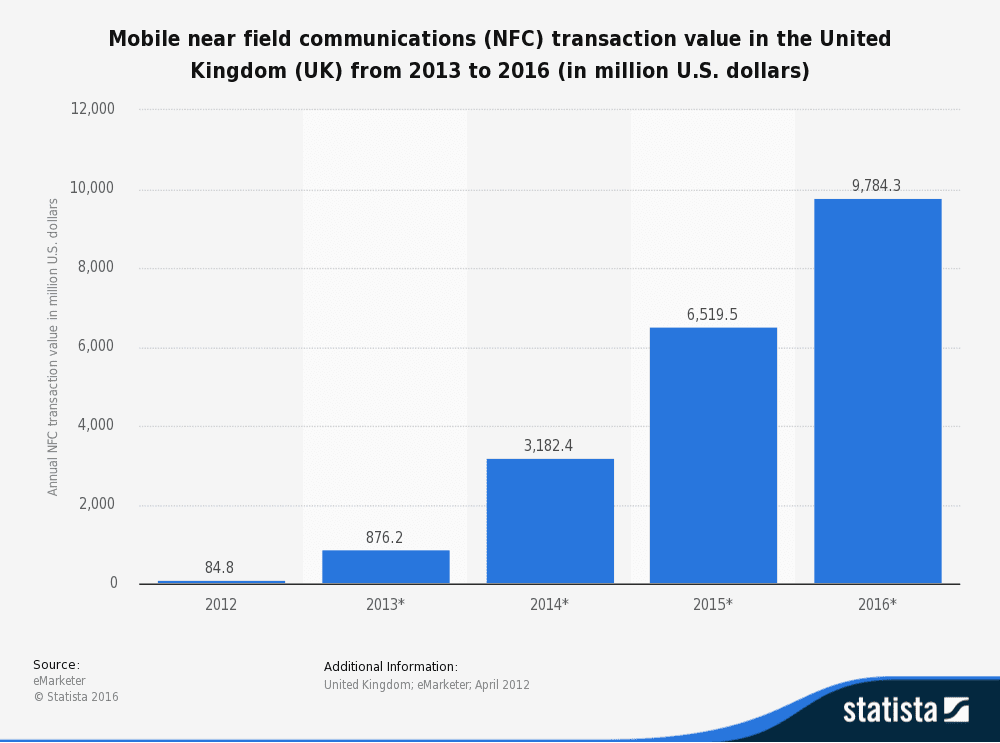 There are many incentives for using mobile wallets in the UK. According to a survey carried out by Statista in 2015, 44% of smartphone owners said they used mobile wallets to collect loyalty, 36% to redeem vouchers, 25% to make payments up to £20, 21 and 17% use it as travel card.
According to DIBS survey that was published in September 2012, the UK consumers were making the largest purchase via mobile phone in Europe.  Although Near field communications (NFC) payments were trivial between 2010 and 2012, the transactions grew rapidly between 2012 and 2016.  The Statista  provides information on the NFC transaction value in the UK from 2012 to 2016. In 2012 near field communications generated 84.8 million U.S dollars in transaction value; in 2013, it generated 876. 2 million U.S dollars in transaction value; in 2015, it generated 6.519 billion U.S dollars in transaction value; and in 2016 it is expected to generate 9.784 billion U.S. dollars in transaction value.
 According to the UK Card Association, contactless card purchases in the UK reached 1 billion in 2015. The value of those transactions was more than double the previous seven years combined. In addition, about 12.5 percent of all transactions were a contactless payment in December last year, proving that NFC technology is not only convenient but also popular.
 The broad penetration of mobile phones in the UK is an indication that the country is a fertile field for mobile wallet market. Smartphones are becoming the hub of Brits daily lives and are now in the pockets of more than 66 percent of UK adults, up from 39 percent in 2012. The majority (90 percent) of 16-24 year olds have smartphones. Last year, 70 percent of Brits who were above 15 years were using a smartphone. In 2012, this portion was just 51%. Now, about 65% of British adults have both a smartphone and a tablet. This is an indication that UK mobile wallet market is growing very fast.
It will also be nice to see this forecast. Statista presents the general smartphone user penetration rate in the United Kingdom and a forecast from 2012 to 2017. According to the forecast, the smartphone penetration rate will reach about 80.9 percent by 2017. Which means the higher the number of mobile users, the higher the probability of more mobile wallet penetration.