Soldo is an innovative Fintech solution that helps manage every aspect of your business spending. The CEO Carlo Gualandri, will be discussing Soldo with us in this interview.
1) Please tell us your name and about yourself?
My name is Carlo Gualandri and I am the CEO and founder of Soldo. I have dedicated my career to building companies in regulated industries which are going through transformation. Before Soldo, I founded Gioco Digitale, a company that became the leader in online gaming in Italy and as founder of Matrix, I launched Virgilio, the first web portal in Italy; Active Advertising, the online advertising network; and participated in the founding of Fineco, a leading digital bank.
2) What is Soldo?
Soldo is the smart expense account that gives you real-time control over who's spending what, and where. Give your people and departments their own Soldo Mastercard® cards, with predetermined budgets and rules. Simplify expenses with the handy mobile app. And automate your admin by seamlessly connecting Soldo to your accounting software. Say goodbye to expense reports and get back to the business that matters.
3) How does Soldo work and what specific products and services do you provide?
Soldo shaves hours off the purchasing, payments and expense processes, freeing companies to focus on their core business and putting them in control of their expense payments. Unlike the fragmented and labour-intensive status quo, which requires costly manual labour to track, connect and analyse data from disconnected sources and denies companies the ability to set rules or manage emergencies when they happen. Soldo unifies every piece of the business spending jigsaw into one intuitive future-ready platform. Soldo comes with integrated prepaid Soldo Mastercard® cards for staff and departments, a web-based admin console and a mobile app.
4) The corporate card market we know is huge, what is the market size and domain for the Spending Management services for businesses?
With almost 6 million business in the UK and almost 30 million in Europe, the demand for debit and credit cards for business spending is huge. Currently, companies are seeing themselves being overwhelmed with having to manage corporate cards, receipts, expense reports, reimbursements, budgets and analysis. From overspending and missing receipts, to remnants of travel budgets not being returned to businesses, and the writing off of unfathomable purchases. There is a significant opportunity for businesses to utilise spend management services to streamline spending and expenses and in doing so save considerable time and money.
5) Please tell us specifically how Soldo works for Business owners Finance teams?
With Soldo, finance teams can empower employees to buy what they need to do their jobs, while addressing the limitations of corporate cards, employee reimbursements, petty cash and more. Soldo automates the whole expense management process, and allows finance teams to achieve greater control of the bottom line with real-time visibility over company-wide spend.
Soldo allows business owners to focus on growing their business and not waste time on managing expenses. Soldo Mastercard® cards connect directly to the Soldo app. In-app receipt capture makes it easy for cardholders to upload paperwork, as well as categorise expenses and append notes or files from anywhere. Advanced spend analysis and automated reporting gives your business owners invaluable insights into their business spending.
6) Could you tell us more about Soldo Mastercard cards​?
Prepaid debit cards have a huge advantage for use in corporate spending with the inability to spend beyond the value loaded into each account associated with the card. The disadvantage of corporate credit cards is the ability for staff to spend vast amounts, increasing the possibility and risk of overspend. The disadvantage of employee reimbursement is the inability to control or monitor spend in addition to the frustration of employees who are often left out of pocket for expenses for considerable periods of time.
With Soldo, companies can provide every employee with their own Soldo Mastercard to transfer funds in real time or set up periodic and automatic transfers. It is possible to set budgets and spending rules for each card and all transactions can be viewed in real time. Both plastic and virtual card are available, and all are accepted by over 41 million merchants across in the world.
7) Is Soldo currently available for use, where do we see the business by 2020?
Yes, Soldo was launched in the UK and Italy in early 2017, with strong early results and customer validation. Within just the last year the number of registered accounts has grown seven-fold. Soldo is planning for rapid expansion throughout the remainder of 2018 and beyond. With Soldo being of use to business of ever size in every industry registered within Europe, the potential for future growth is huge.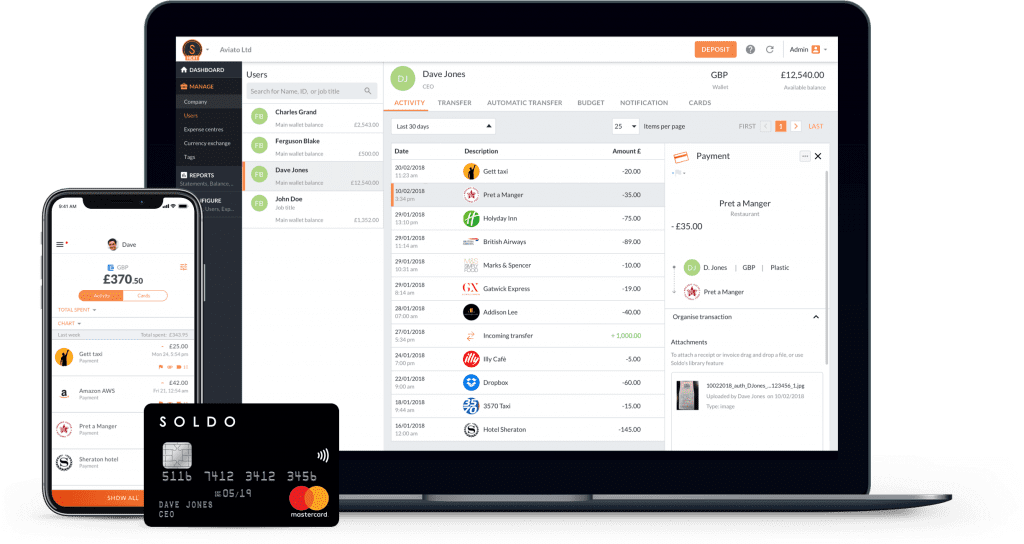 8) Do you have any current investment and partnership opportunities available at Soldo?
Soldo are launching a new partner programme in November for accountants and bookkeepers to coincide with the launch of the integration with Xero. Joining the partner programme will be free of charge, and enable accountants to provision and manage Soldo accounts for their clients. Accountants joining the programme will get access to exclusive partner products to offer to their client base.
9) Tell us about your team and customer support?
Soldo was founded in 2015 by entrepreneurs and banking experts united by the search for a simple and effective way to manage money within organisations. With over 20 years of experience in payment services and developing transactional systems, the team has harnessed the latest financial technology to provide the smartest corporate payments and expenses solution. Soldo invested heavily in experienced tech and customer services team, enabling Soldo to create and bring to market features at speed. This is of direct benefit to customers who can request features, see them live in a matter of weeks and have ongoing support from the customer service team.
Soldo's talented team has attracted in excess of $20 million in both Seed and Series A funding. Soldo's Series A round was completed in June 2017 and led by Accel Partners, who have successfully invested in companies such as Facebook, Dropbox, Funding Circle, Braintree, Venmo and Circle.
10) How Safe is Soldo, would you like to talk about your legal and security measures?
Soldo is authorised and regulated as an e-money institution to hold our customers money and to execute payment services and we follow strict compliance processes. ​Soldo is fully PCI DSS 3.2 compliant as a Level 1 Service Provider – the key security standard within the payments industry.
Visit the Soldo website for more information.