One of the biggest issues faced by people who wish to delve into trading of stocks and assets is the uncertainty and lack of knowledge. With a significant amount of money involved and trading always at a risk, people are reluctant to step into this area. New traders, especially ones with limited money to spend or spare, are the most hesitant ones. Lack of trading or information on stocks can mean all the investment is lost. With one of the highest levels of profit gains in today's market, there are people who are willing to invest. Yet, that sentiment is countered by the equally large risk.
Blockium: Trading Made Easy
Blockium is an asset trading platform that is designed to make buying and selling of assets easy. The Blockium platform gives traders a chance to transact their assets against other traders. Even after a decade of cryptocurrency and dedicated exchanges, cryptos are something of a mystery for beginners. Not unlike traditional trading, the digital assets (with their volatility and other characteristics) are yet, a lot different to trade.
Blockium is a platform that allows traders of all ages and background to learn the tips and tricks of crypto trading with the help of gaming. The platform holds daily competitions in which traders can compete with others in a mock competition. The tournaments run around traders selecting three stocks or cryptos that they can buy and sell during the course of the competition. Based on the value of stocks at the end of the session, winners are given prizes.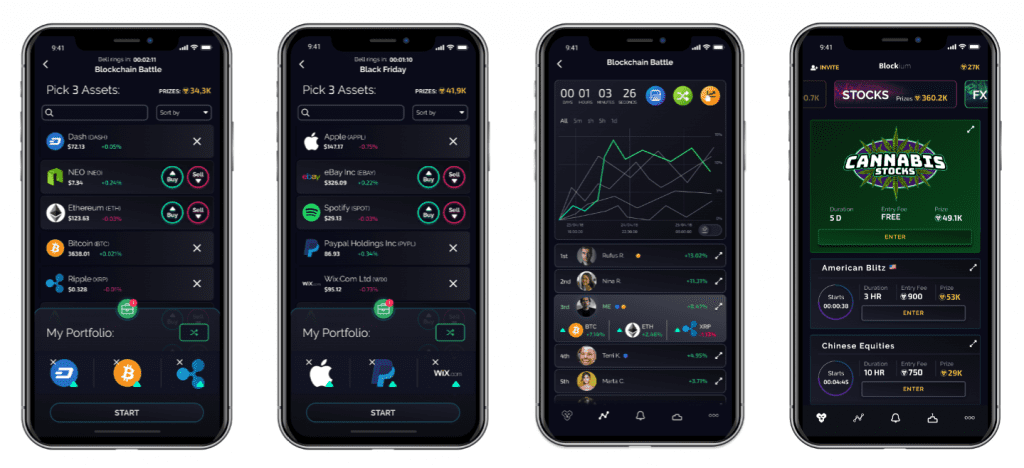 Blockium IEO
Blockium, as a trading competition platform, is holding its token generation event. A unique growth in the crypto industry, the platform will not be offering its tokens to the public through a smart contract or other means. Instead, the platform will be using what is called Initial Exchange Offering, or IEO. The offering will be held with the partnership of Coineal, a crypto exchange platform.
The sale of Blockium tokens, BOK, will be run through Coineal, where the exchange traded tokens will be used to raise funding for the Blockium platform. The offering will not only help the platform, but allow users to invest in tokens that will rise in value, since they will form the monetization backbone of the Blockium platform. Through the IEO, Blockium offers its users to be a part of its ecosystem and take ever more part in the competitions for more monetary rewards.
FoKoya
FoKoya is the parent company of Blockium.  A market leader in the peer to peer platform development systems, the firm brings innovative concepts and marries them with cryptocurrencies. CEO of Fokoya, Gilad Raz, said, "An IEO through Coineal is the perfect approach for Blockium to take as we begin an outreach strategy that penetrates the Asian market through the exchange's branches in China, Japan, Korea, and Vietnam," and, "Fundraising via IEO will allow Blockium to consistently develop company activities, as well as the platform's token economy, with an optimized product that acts as a gaming competition resource to anyone the trading world. Tokenization is key, as it will create b2b opportunities for us in the future, while meeting the needs of our crypto community immediately".
Each project of FoKoya is unique and individually, they bring new kinds of social ways for crypto users to not only interact, but learn more about cryptocurrencies.  FoKoya offers a wide range of services, including development of trading engines, cyber security, accessibility to users and advanced analytics to track behavior of users and optimize services as such.
About Coineal
The IEO partnership of Blockium with Coineal is a strategic move that will help Blockium reach out to a vast number of backers and investors than any other project can.  Coineal is a leading crypto trading platform that believes on itself being a "Global exchange" with a "Local presence".  Developed by the leading experts in trading and blockchain in the start of 2018, the trading platform has managed to have a global user base. Completing its vision of being local at the same time, it has offices in China, Japan, South Korean, Vietnam and other countries.

Through its international presence, the exchange offers a round the clock trading service to its users that puts emphasis on user centered design strategy and operations. As of March this year, the exchange has more than 2 million users from more than 40 countries worldwide.  Such is its services that it is ranked in the top ten crypto exchanges globally.
Blockium Tokenomics.
The Blockium platform will be powered by its native token, the BOK. Available to backers through the crypto exchange Coineal, there will be 650,000,000 BOK tokens available for sale, representing around 8% of the total supply. The IEO has a hardcap of USD 1.2 million with one BOK token available for USD 0.023.