In short, a tradable NFT with the content of the staked tokens is minted when users commit to the Liquidity Pool.
Yield farming is no stranger to DeFi veterans. However, current platforms only allow a very limited range of instruments such as tokens and coins. To the developers of DeFiFarms, this represents an opportunity to introduce a new layer to yield farming, powered by NFT.
By using NFT, DeFiFarms allows stakes to be more dynamic. Instead of a stake being tied to a user's wallet address, it is linked to a transferable NFT. Meaning, when you become a Liquidity Provider and stake your tokens, you do not only earn rewards but also receive an NFT of equivalent value. This is called NFT Farming.
In detail, DeFiFarms adds a new layer of possibility for Liquidity Providers and Yield Farmers to earn more by letting them "move around" locked values of Liquidity Providers Token (LP Token). When you stake a certain amount of DEFIY/BNB liquidity tokens in the DeFiFarms platform, the tokens are locked in the staking contract, but their value is not. At the time of staking, the system will mint a new NFT, wrapping the content you have locked. The content of your stake will be stored on-chain in the metadata of this NFT. You can then go on the market and trade that NFT for the market value of the LP tokens along with the accrued rewards. When you or the end-user unstake, by using the NFT as proof of ownership, the NFT is burned and staked funds plus unredeemed rewards will be transferred back to your wallet.
"We want to make the DeFi space even more interesting than the traditional Financial Market. This is only the beginning. DeFi is already more secure, more transparent and once our NFT Farming catches wind, it will change the game completely", Caesar Deandre, CEO of DeFiFarms, said in a live ask-me-anything session on Telegram.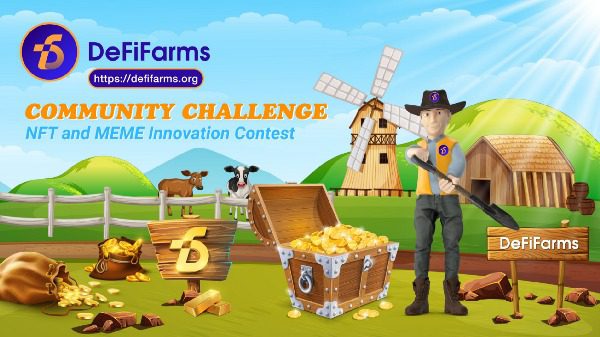 DeFi of the people, by the people, for the people
DeFiFarms aims to become the people's go-to place for all-things DeFi. To achieve this, 5 unique functions are applied to ensure the democracy and decentralization of the platform: Automated Burning, Massive Incentives for Liquidity Providers and Hodlers, DefiFactories, Anti-Whale, and Harvest Lockup. 
For every transfer made with DEFIY, an 8% transfer tax will be applied. 2% of this will be automatically burned, i.e. sent to the Black Hole Address. 6% of this will be added to the DEFIY-BNB liquidity pool through the contract. This tax will automatically and continuously raise the price floor of DEFIY and encourage participation in Liquidity Providing. To further incentivize people to hold DEFIY, a 5% deposit fee will be charged when users enter staking on DeFiFarms, of which 4/5 will go straight back to Hodlers in DefiFactories. Defi Factories are farming pools that allow DEFIY holders to stake their DEFIY to earn other tokens. Two Defi Factories (BUSD & BNB) will be created by the dev team after the launch.
Next, to limit Pump and Dump schemes initiated by Whales, transfers of more than 0.5% (current ratio here) of the total supply will be rejected. As the total supply grows, this ratio will be reduced. This will limit Whales wallet. However, depositing or withdrawing tokens from the farms will not be subject to this restriction. 
The last of the five functions is Harvest Lockup. Harvest Lockup is a unique and creative farming rewards lockup mechanism. It will limit the frequency of harvest to prevent farming arbitrage bots from constantly harvesting and dumping. For example, if the harvest lockup of the DEFIY-BUSD farm is 4 hours, farmers who stake in the DEFIY-BUSD farm can only harvest (claim their rewards from farming) every 4 hours. To clarify, the harvest lockup mechanism only locks users' farming rewards. The tokens and LP tokens staked in farms can be withdrawn anytime.
3…2…1…0… All engines running. Lift Off. 
The platform – scheduled to launch in the third quarter of 2021 – will live on Binance Smart Chain to benefit from its low gas fee. However, plans to expand on other chains are imminent. 
BSCPad will help launch DeFiFarms. The DeFiFarms Non-Fungible Yearn Token (DEFIY) will be the native utility token of the platform. Holders of DEFIY will have governance rights, i.e. they can vote on upcoming changes and upgrades of the platform.
Currently, DeFiFarms is opening the Whitelist Lottery Registration for the Private Sale Round. The Whitelist will be announced from July 10th until July 15th. 
Anyone can join the Whitelist Lottery by registering via the link: http://bit.ly/defifarms
The development team of DeFiFarms cannot wait to bring all of these amazing features to users.
DeFiFarms Ltd
Zackhary Brown
(CMO & Co-Founder)
34 Park Walk, London, United Kingdom, SW10 0NQ
contact@defifarms.org
https://defifarms.org/