According to Persistence Market Research, the global construction aggregates market will witness a CAGR of 6.8% between 2021 and 2031.
The construction aggregates market is catalyzed by introducing BIM (Building Information Modeling), which ushers digital transformation all across the construction sector. The services provided include time management, sustainability concerning the usage of raw materials, cost planning, enhancement in the overall performance of the project, and reduced waste.
Also, manufactured sand is being looked upon as an excellent alternative to natural sand. This would save the riverbeds from depletion. To add to that, strict regulations are being laid down regarding the extraction of natural sand.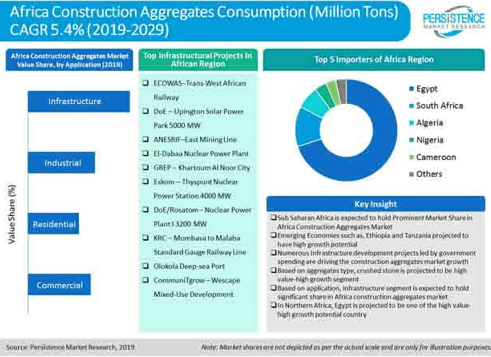 How is the Construction Aggregates market divided?
The global construction aggregates market, by type, spans manufactured sand, crushed stones, natural sand, gravel, recycled, and others. Application-wise, it's residential, commercial, infrastructure, and industrial. Out of these, the residential sector holds the largest market share
Region-wise Snapshot
North America and Europe are already at the saturation stage of the construction aggregates market. The future will see the Asia-Pacific witnessing urbanization at the fastest pace, thereby driving the demand for construction aggregates. The US Department of Agriculture (USDA) does assist rural citizens with repair, ownership, and renovation programs. It also makes way for financing elder, low-income, and disabled residents along with helping them with the management of rent payments. The USDA manages this with public and private organizations.
The US Census Bureau did record expenditure of US$ 751.7 Bn In the residential sector in May 2021.
The Competitive Competence
The key participants in the construction aggregates market include LSR Group, Martin Marietta Materials Inc., Heidelberg Cement AG, Cemex SAB de CV ADR, and Lafarge Holcim Ltd. As far as developments are concerned, LafargeHolcim, in July 2021, did announce a cooperative agreement research project with Geocycle, its subsidiary, with the objective of mineral cycling. The research project is scheduled to be conducted in collaboration with the US Army Corps of Engineers Research and Development Center (ERDC) for studying the way construction demolition material could be used for producing construction aggregates and energy recovery. Also, HeidelbergCement AG, in June 2021, did announce plans of building a carbon-neutral plant in Sweden. This plant would be holding the distinction of being the very first carbon-neutral cement plant that would supposedly lessen carbon emissions by 1.8 Mn metric tons of CO2 every single year.
What Next?
The demand for recycled construction aggregate suppliers will continue to increase in the upcoming period, which would, in turn, keep the cash registers ringing for the construction aggregates market.