Industrial lighting has made a foray into the world with Industry 4.0. As such, smart and sustainable products are, and expected to continue to create ripples in the years to come.
Industrial Lighting Market Gets Trendy
With the proven fact that LEDs are energy-efficient, the objective of reduction in emission of carbon dioxide gets served. So, it could be inferred that LEDs would be the face of industrial lighting market in the next 10 years. Plus, digital connectivity has made inroads to industrial lighting. This trend of controlled lighting is likely to render precision to the industrial lighting market.
Another trend is that of manufacturers opting for built-in lighting sources (LEDs in particular, as they are devoid of frequent replacements). Plus, LiFi technology (analogous to Wi-Fi technology wherein a light communication system is created using indoor LED luminaires) is transforming museums, shops, and various indoor spaces into the efficient places (wherein transformation of data could be done using lighting sources that are available).
Segmental Skeleton of Industrial Lighting Market
Persistence Market Research states that the global industrial lighting market, by type, spans HID (High Intensity Discharge) lighting, LED industrial lighting, and fluorescent industrial lighting. Application-wise, it's industrial spot lighting, industrial linear lighting, industrial high bay lighting, and industrial flood lighting/area lighting. Installation-wise, it's retrofit installation, replacement installation, and new installation. By end-user, it's factory & production lines, warehouses & cold storages, outer premises, parking areas, hazardous locations, and others.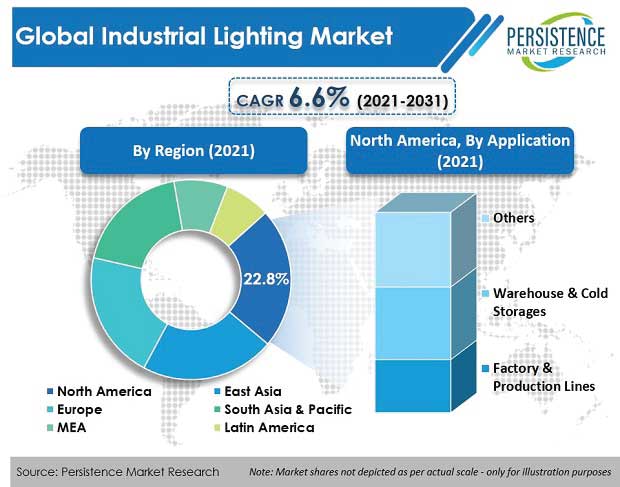 Out of these, new installation is dominating the market in developing countries, whereas replacement installation takes the centre-stage in the European economies – Persistence Market Research
How about Region-wise Analysis?
Persistence Market Research presses on the fact that The European Commission has prohibited the usage of mercury lamps, so as to reduce CO2 emissions by over 40 Megatons, thereby curtailing usage of electricity to 138 TWh by the year 2030. As such, the demand for LEDs has risen beyond imagination. This will, in turn, propel the industrial lighting market in Europe in the forecast period. North America is growing herein on the basis of fact that the US is home to small-to-medium producers, along with reachability in terms of aftersales benefit.
Coming to the Asia-Pacific, it's Japan holding the baton, followed by India and China. This could be attributed to Japan housing players like Iwasaki Electric, Panasonic, and likewise. Persistence Market Research has left no stone unturned in giving a detailed analysis of the same.
From the Competitors' basket
The competitors in the industrial lighting market include Emerson, Hubbell Lighting, Inc., Philips Lighting Holding B.V., Acuity Brands Lighting, Inc., Legrand, Toyoda Gosei Co., Ltd., Zumtobel Group, Osram Licht AG, GE, and Cree, Inc.
GAIN COMPLETE ACCESS TO THE REPORT – https://www.persistencemarketresearch.com/checkout/32444
Cree, Inc. has its FLEX GEN II series abreast with 3 lenses, inner optics, and multiple lumen as well as control options for proper illumination of space. Osram offers its LEDs catering to a plethora of applications, right from single work units to giant hall. There are OSLON and DURIS ranges, when it comes to high efficiency and light's uniform distribution. Persistence Market Research has walked through the intricacies on the part of competitors and their foresightedness regarding the direction in which the market would head.
How would the Scene unfold in the near Future?
Industrial automation is not more into the linear transition mode. The exponential curve that it is moving through calls for an ever-increasing demand for industrial lighting. Persistence Market Research is all set to keep a tab on the happenings and put forth the insights in conjunction with the culture (s) breathed by the key stakeholders.