The In Silico Drug Discovery Market is expected to be valued at USD 6.34 Billion in 2027 from USD 2.38 Billion in 2019, registering a CAGR of 13.0% through the forecast period. The escalating patient pool suffering from chronic illnesses and the growing investment from the pharmaceutical firms to expand the scope for research and development pertaining to numerous drugs to cater to unmet medical needs are heavily influencing the market expansion. The in silico drug discovery technology helps in the design and development of novel drug products.
The in silico market is observing exponential growth due to the increasing focus of biotechnology and pharmaceutical firms on the development of drugs using computer-aided technologies. The pharma companies are leveraging the technology to discover drugs for complex and rare diseases to meet the unmet clinical demand. The in silico drug discovery process is extensively deployed in the preclinical stage of small molecule drugs research and development and clinical candidates in various clinical development stages. The escalating advancement in information technology and the advent of breakthrough innovation in computational chemistry have made the discovery of novel drug compounds easier.
The availability of various other options to perform standard operations such as customization capabilities and data mining on A.I. platforms is another factor driving the demand for in silico drug discovery market. However, the scarcity of data sets in drug discovery and the absence of skilled professionals is projected to impede the market growth over the estimated timeframe.
Grab Your Free Sample PDF Copy Now
Key Highlights from Report:
The in silico molecular techniques are gaining traction for the engineering of antibodies. The technology is extensively used to design antibodies, including structure modeling, stability evaluation of antibody, antigen-antibody complex prediction, and allosteric effects in antibodies.
Computer-aided drug methodologies play a critical role in the discovery of novel drug compounds. The method is also used to limit the usage of animal models in biopharmaceutical research, assist in the designing of innovative, safe, and efficient drug candidates, and provide extensive support to pharmacologists and medical chemists.
The application of information technology in drug discovery procedures is observing an exponential growth in the Asia Pacific region owing to the escalating R&D activities and expansion of the pharmaceutical and biotechnology sectors. Moreover, the presence of prominent industry players, escalating patient pool, and the emergence of better healthcare facilities are augmenting the regional growth.
Major companies of the industry include Certara USA, Inc., Chemical Computing Group ULC, Charles River, Albany Molecular Research Inc., Dassault System (Biovia), Evotec A.G., ICAGEN, Inc., Novo Informatics Pvt. Ltd., Collaborative Drug Discovery Inc., and GVK Biosciences Private Limited, among others.
Lead Pharma, in November 2020, collaborated and signed a license agreement with Swiss pharmaceutical firm Roche AG for the developing oral small molecule drugs for the treatment of a broad spectrum of immune-mediated illnesses. Lead Pharma is leveraging in silico lab for computation chemistry, data mining, and bioinformatics activities.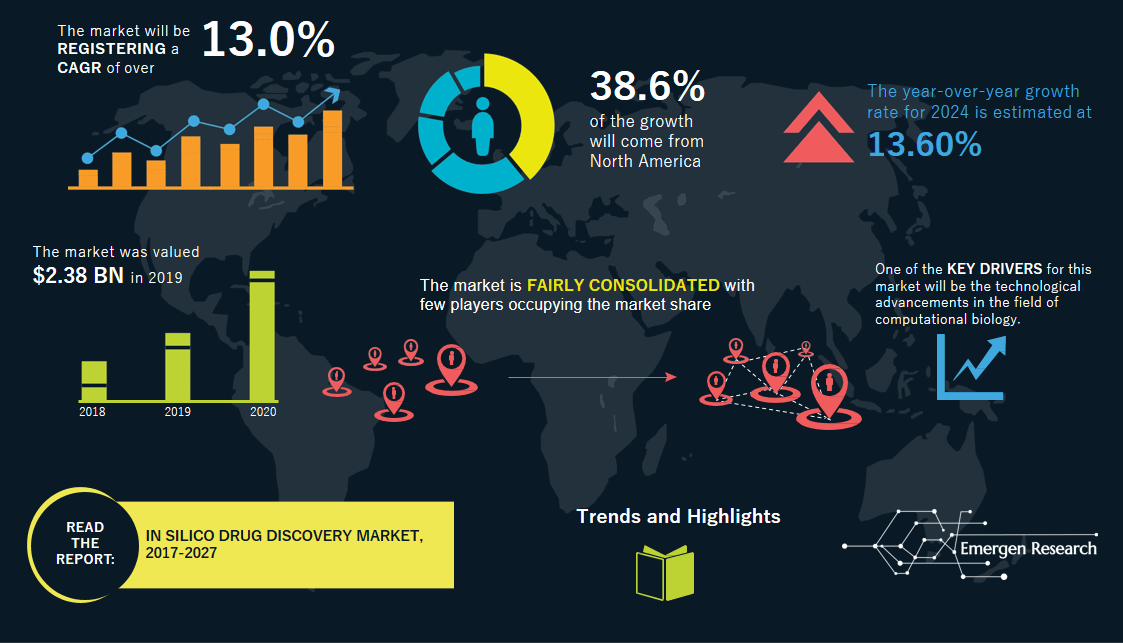 For the purpose of this report, Emergen Research has segmented the Global In Silico Drug Discovery Market on the basis of workflow, product, type of large molecule, end-user, and region:
Workflow Outlook (Revenue, USD Billion; 2017-2027)
Discovery

Target Identification

Reverse Docking
Bioinformatics
Protein Structure Prediction

Target Validation
Lead Discovery

Pharmacophore
Library Design

Preclinical Tests
Clinical Trials
Product Outlook (Revenue, USD Billion; 2017-2027)
Consultancy as a Service
Software
Software as a Service (Cloud)
Type of Large Molecule Outlook (Revenue, USD Billion; 2017-2027)
Proteins
Nucleic Acids
Antibodies
Vectors
Peptides
End-User Outlook (Revenue, USD Billion; 2017-2027)
Contract Research Organizations
Academic and Research Institutes
Pharmaceutical Industry
Others
Regional Outlook (Revenue, USD Billion; 2017-2027)
North America
Europe

Germany
U.K.
France
BENELUX
Rest of Europe

Asia Pacific

China
Japan
South Korea
Rest of APAC

Latin America
Middle East & Africa

Saudi Arabia
U.A.E.
Rest of MEA
To get leading market solutions, visit the link below: 
https://www.emergenresearch.com/industry-report/in-silico-drug-discovery-market