Earlier this month, the U.S. Department of Homeland Security honored 'Safer Internet Day 2020', a worldwide event held every February that is aimed at promoting the safe and positive use of digital technology for all users—but most importantly, for our children. 
What began as an initiative by the European Union (EU) in 2004, which has now grown to unite millions of people from around 150 countries worldwide. And in today's era of media and journalism, advocating for good, digital hygiene couldn't me more necessary—especially with online trolling and bullying becoming unfortunately, more prevalent by the hour.
What we haven't seen much of (if at all), are media companies taking an active stand to rise above poor online behavior and spreading fake news. And that's where The Cybersmile Foundation and live-journalism technology publisher, Grit Daily come into the picture.
Headquartered in the U.K. and operating its U.S. operations out of Palo Alto, California, the Cybersmile Foundation is a multi-award-winning anti-cyberbullying non-profit that provides 24/7 support for victims of cyberbullying and online hate crimes—delivering advice and educational programs to those affected and their families. 
Just a few weeks back, Cybersmile recently announced its U.S. partnership with Grit Daily to help Cybersmile promote its mission for a "truly inclusive internet for everybody," as it shared excitingly on its website. 
Reaching over 5.2 million internet users each year and based in New York, Grit Daily is not just an editorial news outlet, but is known for its live-journalism division, Grit Daily Live!—creating pop-up events throughout every major city in the U.S., including New York City (Microsoft Reactor), Miami (Miami Art Summit at Art Basel), Los Angeles, Park City, Utah (Park City Summit at Sundance) and soon to be Austin, Texas (Grit Daily House at SXSW).
Grit Daily Live! has created "pop-up" events which include breakfast roundtables, mixers, and panels on today's biggest stories, covering up-and-coming established brands, women entrepreneurs, pop-culture, and technology across the social media, fashion, and consumer technology sectors. 
Its most recent event happened to be this week at Microsoft Reactor in Times Square, at Grit Daily's 'Zero Waste Summit' which explored why the U.S. produces over 250 million tons of trash per year, and the scary psychology behind our everyday consumables. The event was moderated by Brendan Sullivan, a contributor to Esquire Magazine and an old friend and former DJ to Lady Gaga. 
 Back in January, Grit Daily held its "Park City Summit," in Park City, Utah during Sundance Film Festival, where Sundance's enigmatic side of content was brought to life by moderators including, Naomi Grossman (American Horror Story) and KJ Smith (Sistas).
In its announcement, Cybersmile's Head of Engagement, Iain Alexander, emphasized Grit Daily's ability to provide a new perspective to what he considers to be an engaged and influential audience eager to learn more about technological developments and educational initiatives across the board.
I spoke with Grit Daily's founders, who also happen to be attorneys, Jordan French and Andrew Rossow, about the impact this partnership will bring to the media and journalism space:
"It's encouraging to see Cybersmile proactively putting up the fight to tackle one of the Internet's biggest viruses—and our mission is to bring a cure to that virus," French told me. French was recently recognized by Innovation & Tech Today for he and Grit Daily's efforts in bridging the gap of media coverage of women in technology.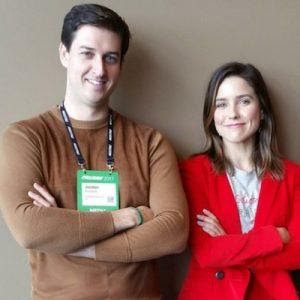 "The fight for equality must be constant," French told Innovation & Tech, "and you have to be all in, all the time. You can't fight for equality on Monday but forget about the struggle come Friday. It's going to take a lot of GRIT to put an end to inequality."
As for Rossow, who is also a practicing internet and technology attorney, his mission to reduce online bullying goes beyond just media journalism, with his globally trademarked anti-bullying movement, #CYBERBYTE. 
"We at Grit Daily are excited to partner with The Cybersmile Foundation because it emphasizes the importance of how fragile our media and journalism space is at this moment," Rossow added. "Social media is our newest digital weapon, and we need to reduce its ammo—bad actors who feel that it's okay to target people online with almost no factual support or reason for doing so. 'Sticks and stones' may be dead—but words do hurt and now they are immortalized…online."