When a customer enters the sales funnel, we don't want them to leave before converting. Many brands aim to constantly engage with people till the time they don't become paying customers. By automating email workflows brands can engage with customers easily and quickly. They don't need to keep professionals on edge to actively go and communicate with customers. You can create automated emails for different actions and behavior of people. As per the statistics, automated email workflows have higher click-through rates and conversion rates. The reason is the timeliness and relevance of these emails. 
For instance, when a website visitor subscribes to the Newsletter, you can send them a Welcome email. This way they are more likely to open and check their email. As per the Campaign Monitor report, automated emails can generate 320% more revenue than non-automated emails. This means if you are not doing the email workflow automation then you might be missing out on a tremendous opportunity. Most people think that email automation is easy and can be done with a few clicks. Well, that's true but not completely. 
Setting up an automated email workflow is not as easy as it might seem. You need to do it in an effective manner to achieve results through it. First, you need to start by selecting the right online email automation workflow software. Here, in this blog, we will provide you with complete information about email marketing workflow, email workflow examples, and how to automate email workflows. 
What is email marketing automation? 
Email marketing automation enables you to send personalized email marketing messages based on the customers' actions and activities. For example, a customer who abandoned the cart on the payment page, you can send them an automated email with a discount coupon to complete the purchase. 
Another example of automated email is when you purchase a product, you get a thank you email from the brand. Email workflows can help you to lead a prospect from the awareness stage to finally making a purchase. 
Email marketing automation can help you automate email campaigns and improve accuracy & save time. It also involves segmenting customers based on their behavior and traits to target these groups through email campaigns. 
Why you should use automated email workflows? 
Automated email workflows can help reduce the time required for preparing individual emails, creating generic messages, and scheduling them manually. An automated workflow can save the valuable time of marketers and professionals which they can invest in other important tasks. 
Automated email workflows are a predetermined, triggered set of actions that you set on automation software to take for you. Now, we will give you some interesting facts about email marketing automation. 
According to Epsilon, triggered emails have a 70.5% higher open rate and 152% higher click-through rate than generic email newsletters. 

75% of email revenue is generated from triggered personalized campaigns rather than one size fit all campaigns. 

65% of marketers are using email marketing automation to target their audience.

71% of B2B marketers say they use automation in their email marketing efforts. 
Advantages of email workflow automation 
Email workflow automation can help you to retain your customers for a long time. Here, we will discuss some of the best advantages of implementing email workflow automation. 
Email workflow automation can help you send emails to your customers quickly and efficiently. This will save your time that you can utilize in performing other important tasks. As per the statistics, 49% of sales and marketing professionals have listed time-saving of repetitive tasks as their top advantage of email automation. 45% of them said email workflow automation has improved their efficiency and ROI. 
Enhanced customer experience 
Email workflows can help you enhance your customer experience as you can constantly keep in touch with them. Through emails, you can send automated email response, ongoing offers, and incentives that delight your customers. 
43% of marketers say that improving customer experience is the best advantage of email workflow automation. Email workflows can help you build a strong relationship with customers and boost customer retention. 
With automated email workflows, you can easily segment your customers based on their traits, attributes, activity, and behavioral patterns. By targeting your customers like this, you can improve your open rate, click-through rate, and conversion rate. 
When you're copying and pasting email templates, there are still chances of errors. However, email automation has the capability to place the individual user variables into the relevant places of templates. This leaves little to no room for errors. 
10 Automation Email Workflows examples to get started 
According to the statistics, retaining a customer is 70% easier than converting a new one. By automating your email workflows you can improve the experience of your existing customers. You can automate email workflows for lead nurturing, customer engagement & retention, and re-engagement. Here, we will also provide you with examples of email workflow template that you can use. 
You must have seen when you go to a website and sign-up for the newsletter or email, you immediately receive their welcome email. As per the report by Mailerlite, welcome emails receive 4X the open rate and 5X the click-through rate than a regular email campaign.
You can start engaging with your prospect, the moment they sign-up and download your whitepaper or ebook. This is the perfect time to start your welcome series emails. You can gather more information about them and know if they're interested or not. 
Lead nurturing sequence with segmentation 
This step is ahead of the welcome email series. Here, you learn more about your customers and target them effectively. For example, when someone fills out a contact form, you can send them a thank you email. But to get more information about your prospects, you can add some questions. 
Let's take the example of Ariel Lim Consulting and how they created their lead nurturing sequence with segmentation. They asked the users to fill out a form to download the free first-time pet parent guide. Once the user fills out the form, they receive a thank you email with a downloadable guide. Additionally, there's a follow-up question, "Do you have a dog or cat?". By selecting an option, your prospects are segmenting themselves into two categories. 
Now, you know which prospects have a dog or cat as a pet. Send them targeted content and create an automated email workflow for both of these segments. For example, for dog owners, you can create content like how to train your first dog and everything you need to know about dogs. This way your content will be more relevant and lead to bringing in more customers.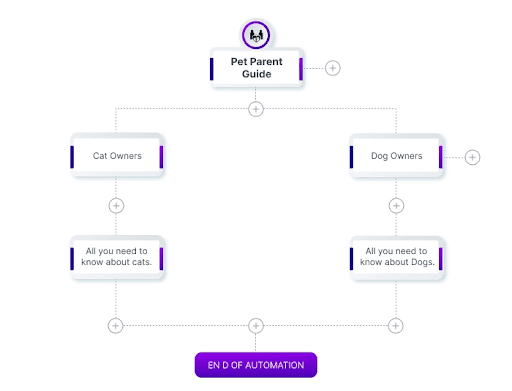 Account-based marketing workflow 
Account-based marketing can help you target your potential prospects effectively and boost sales. ABM is the strategy that targets the key accounts of the organization. These accounts can be categorized based on the industry type, size, business, and other factors. You must choose the right automation software that allows you to segment data and create lists. 
By sending personalized emails you can carry out ABM effectively. For example, create a series of personalized emails based on specific roles in a company. This way you can include the challenges and objectives of that specific role. This will increase the chances of driving high-quality leads in the funnel. 
People who sign-up for your free trial are more likely to become a customer. However, it's not necessary that they end up becoming your paying customer. You should create an automated email workflow for thanking them and offering them onboarding information in case they want to become a customer. Keep them engaged so that they think of your product or service even after the trial has ended. 
Engaged contact workflow is a  top rated email automation workflow. It involves reaching out to the customers who are most engaging with your brand like through frequent site visits, form submissions, email clicks, and social media engagement. These prospects have already shown through their actions that they like your content. You can create an email workflow for these contacts to encourage them to take the last step and become your customer. 
If you have an eCommerce business, then you must be aware that most of the potential customers abandon their cart just before the purchase. It can be due to any reason like they find the items expensive, they lost interest or they found better options. Cart abandonment is a major issue for most of the eCommerce businesses. By creating an automated abandoned cart email workflow, you can bring back customers to your website. 
For example, when a customer leaves your website without making a purchase, you can send them an automated email response. If they still don't come back, you can send them free shipping, offers and discount emails after a certain time period. This way you can entice them to come back and continue their journey. 

You must have seen after buying an item, you start receiving emails that highlight other items that you might like based on what you just purchase. (For example, you liked this, check out similar items.) Upselling is a great way to strengthen your relationship with the existing customers. If you offer a wide range of products or services, then upselling can help you to boost your sales. 
You can create a list of contacts that purchased a specific product. Set up product-specific automated email workflows that are meant to upsell or cross-sell. With WebMaxy eGrowth, you can keep track of all your customers, their past purchases, and how often they interact with your brand. From this information, you can segment your customers based on their interest in products or services and make upselling easy. 
Product lifecycle workflow
Many products have a limited lifecycle, they get finished or the subscription needs to be renewed (For example: Netflix). You can create automated email workflows to remind your customers when it's time to make a purchase or renew their subscription. Add a link to the product so that customers can be redirected to the product page directly. You can create automated email workflows for many situations like when your products are perishable with expiration dates, and subscription renewal is needed.  
This is among the automated email workflows that are created to bring back previous customers. It can include customers who haven't purchased for a long time, people who took  a free trial but never got converted, or someone who hasn't opened any of your emails. For re-engaging these prospects you can create different types of workflows triggered by the time length of their last purchase, website visit, or free trial. 
Set up a series of automated email workflows with relevant messaging like highlighting the new product features, offering discounts, and taking feedback on why they didn't continue. Put some interesting content and offers that entice them to come back to your business. 
Lost opportunity nurture workflow 
A lead might not purchase from you due to different reasons like budget, better alternative options, time constraints, or product availability. You should try to find out the reason why some people didn't purchase from you and what made them drop your brand. You can send feedback emails with different multiple-choice answers. 
Based on those answers, you can create automated email workflows. For example, if someone didn't purchase due to budget constraints, you can send them a series of emails with free shipping, discount offers, and low-priced products or services. 
In the next section, we will discuss how to set up an automated email campaign. Additionally, by doing competitor analysis, you can improve your marketing strategy further. 
How to implement successful email automation workflows?
You can implement successful email workflows with one of the best email marketing automation tools, WebMaxy eGrowth. It is an email marketing software that can help you to conduct email campaigns easily and quickly. Follow the steps given below to set up an email campaign. 
Sign-up for WebMaxy eGrowth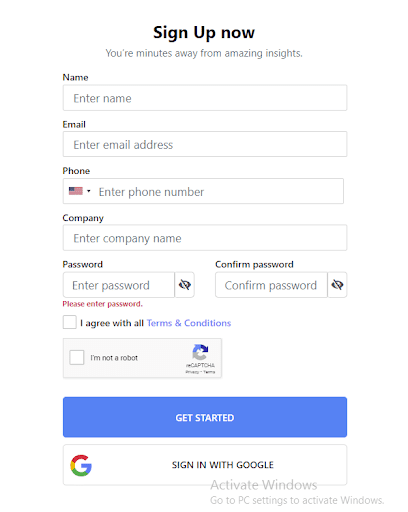 Create a WebMaxy eGrowth account and fill in all the necessary details of your brand. Integrate the snippet of WebMaxy eGrowth code to the back end of your website. 
Click on Email Campaigns in the WebMaxy Dashboard. 
In the WebMaxy Dashboard, you'll find the fourth option as the Email Campaigns. Click on Email Campaigns and there you'll see options like Dashboard, Manage Campaign, Manage Sender, and Email templates.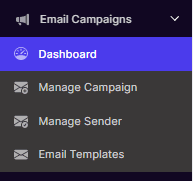 Dashboard: In the Email dashboard, you can see all your campaigns' data like total campaigns, emails sent, open rate, bounce rate, clicked rate, and unsubscribed. 
Manage campaign: Here, you can create campaigns and see information related to different campaigns like the avg order and revenue generated from them.
Manage sender: You can manage the sender name and sender emails for your distinct email marketing campaigns. 
Email templates: You can create email templates or customize the pre-designed templates for your email marketing campaigns. 
Go to Manage Campaigns and click on Add 
Go to Manage Campaigns and click on the Add+ icon appearing at the top right of the screen. You can create an email template from scratch or choose any of the pre-designed email templates. Add the required information like title, subject line, sender, audience, and campaign date & time.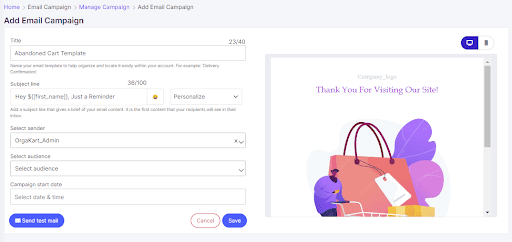 Run a test and save your Email Campaign 
Send a test email and check how the email would appear to your customers. If it seems alright then save it, your email campaign is scheduled. You can analyze the email campaign's performance by clicking on the campaign name in the Manage Campaign option. 
Example of  WebMaxy email campaign report. 

Marketing Automation 
With WebMaxy eGrowth, you can automate your marketing workflows. You can create workflows for abandoned product browsing, abandoned cart reminders, first purchase upsell, abandoned checkout, and customer win-back. You can automate your email, Whatsapp, and SMS for different customer activities.
WebMaxy eGrowth audience segmentation feature allows you to target specific segments of customers based on their activity. You can create custom workflows with simple graphical charts. Below, we have given an example of a customer win-back marketing workflow created in WebMaxy eGrowth. 
The Bottom Line 
Email marketing automation can help you boost your marketing strategy and increase efficiency. It can save up your marketing team's time which they can utilize in other important tasks. Email workflows can help you in many different ways i.e. in nurturing leads, driving prospects to the end of the funnel, bringing back previous customers, and improving customer experience. 
In the above blog, we have given 10 email marketing automation workflow examples that you can implement. WebMaxy eGrowth is an all-in-one eCommerce customer management platform. This tool comes with a wide range of features like a KPI dashboard, marketing insights, conversion dashboard, audience segmentation, email campaigns, social campaigns, WhatsApp campaigns, marketing automation, customer loyalty, and a help desk. 
Schedule a call with our experts to learn more about WebMaxy eGrowth, or email us at info@webmaxy.co. 
Author Bio: 
Author: Adam Wilson
Adam Wilson comes with an experience of 12+ years in the IT industry. As a Customer Success Manager, he has been researching and trying to understand the customers' behavior in different scenarios. 
Email: info@webmaxy.co
Contact no.: +91 20 2970 1664‍