Everyone relies on oil and gas. After all, this source of energy allows us to operate our vehicles and various types of machinery. For this reason, it is no secret that the Oil and Gas industry is at the top of some of the most profitable industries in the global economy. The future of this company solely relies on how effective and sustainable it can become, since the competition is higher than ever before, with a lot of pressure coming from the direction of renewable energy companies. The most important factor that influences the success in the O&G industry comes from regular maintenance and equipment repair. This has several benefits, some of them are more or less obvious. The most obvious one is that it allows companies to extend the life expectancy of their machines which are extremely expensive. However, by regularly maintaining the equipment they are able to unlock a few more benefits such as workplace safety and efficiency, which is also a good step towards sustainability. In order to fully understand the significance of regular maintenance of the equipment it is important to take a closer look at several key points. 
Optimizing operational efficiency 
The most important thing in this industry is performance. This involves every little detail in the entire operational process, where every step matters. Things might be working out for your company just fine, but that is never the case for too long, since the nature of the market is more and more demanding and there is always something you could do to improve your operational efficiency. Therefore, it is important to understand how there is also a huge opportunity cost associated with not properly maintaining your equipment. For instance, using efficient drilling fluid solutions can maximize your operational efficiency by improving your drilling technique alone. This is what addressing the source of the problem looks like. Essentially, you will hit two birds with one stone. Not only will you be able to drill more efficiently, but also extend the durability of the drills as well. 
Reducing the risk of injuries
One often easily overlooked aspect in this industry is worker safety. Your machinery is only as important as the people who are operating the entire drilling process. Their hard work really matters, since they are directly responsible for the operations. The innate danger of this industry shouldn't be such a limiting factor, given that it is now possible to maximally protect your workers by investing in regular equipment maintenance. This solves a lot of the issues that may pop out during work. For instance, a faulty control panel could cause the operator to lose control of the machinery potentially putting them and their colleagues in great danger. The aftermath is terrible since it can range from minor injuries to severe ones or even fatalities. This sets a bad example for the rest of your workers and it can significantly decrease worker satisfaction. In the long run, you can prevent all of that and even present yourself as a reliable and safety-first company to many of your stakeholders and potential employees.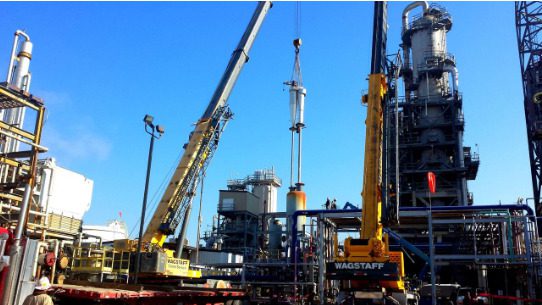 Warranty coverage benefits
One thing is for certain, pushing small problems under the rug is a surefire way to engender bigger problems. This rings especially true for equipment maintenance and repair in the O&G industry. This is usually because it might seem intimidating to invest in maintenance, since there is no immediate threat at hand. However, the risk is still there, and the saying "the sooner the better" is more important than ever before. Luckily, many new industrial equipment parts come with warranty coverage, which is quite a relief. This means that there is no reason to avoid investing into repair and maintenance, since it is almost by definition a true money-saver. 
Cutting costs
When looking at statistical details of performing urgent and unexpected repairs; things are not looking good at all. The costs are up to ten times more than what they would be by scheduling periodic maintenance aimed at preventing rather than fixing. This is great news for your workers as well, since it is estimated that without implementing regular maintenance, technicians have to spend 80% of their time running around and fixing urgent issues. Not to mention, that faulty equipment uses more resources. This is a vicious cycle of accumulating inefficiency and financial risks. Regular repairs can drop the costs of human labor and reduce these risks. 
More profit potential
With all these things in mind, it is possible to imagine a more profitable and sustainable future for your company as well. Everything comes nicely together to open up more opportunities for profit. This is done by minimizing wasted work hours, improving employee satisfaction and safety while lowering resource waste. 
There are powerful principles that you can leverage in order to unleash the untapped potential of your company. Some of the benefits of implementing periodic regular maintenance are: improving operational efficiency, reducing injury risks, leveraging warranty coverage, cutting costs and leaving more room for future financial growth.