Fintech has garnered significant attention from banks and consumers; their potentially disrupting propositions causing anxiety as well as providing opportunities for banks. As we approach the end of 2016, it seems like a good moment to pause and think about the impacts of fintech on UK banks.
UK banks are losing their customers to fintech companies. According to a study by Personetics, the leading provider of personalised digital guidance solutions for the financial industry, almost 45 percent of traditional UK bank customers might switch their current account to an alternative financial institution. The survey found that about 30% of the respondents use a financial product provided by an AltFI.  There are many reasons why consumers are preferring fintech to banks. Fintech companies are cutting cost and improving the quality of financial services and products. They are unburdened by branch networks, legacy IT systems, and regulators
Top reasons for using fintech, according to EY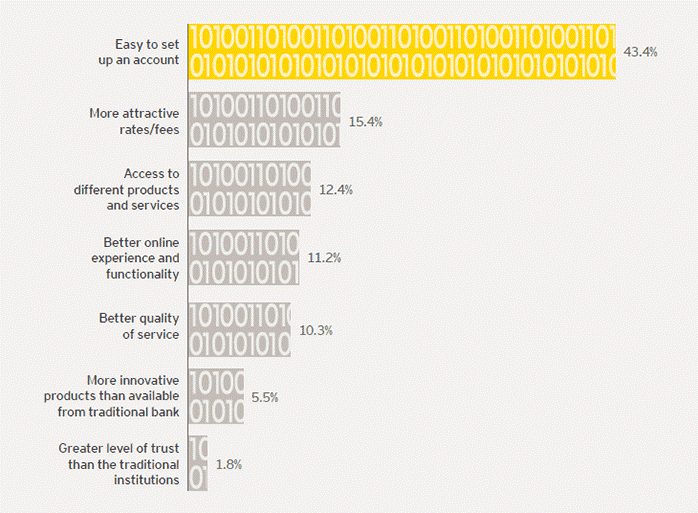 Fintech has brought competition in the banking sector. Banks are investing heavily in order to compete with fintech and we are seeing the narrowing of the gap including equity finance, asset management, lending, payments, and insurance. For instance, in 2014, Barclays launched a start-up accelerator programme to find fintech solutions. Last year, Visa Europe launched an accelerator known as Collab. This year, Santander InnoVentures secured USD 100 million for fintech investment. These commitments highlight banks' goal of remaining at the forefront of innovation in the financial services industry.
In addition, banks are turning to fintech companies who are tech experts to show them the way. They are starting to partner with fintech firms in order to incorporate new platform/technology into their services.  Early this year, Santander UK teamed up with Kabbage to provide fast loans to SMEs. The move came amid growing competition from P2P lenders as small and medium enterprises look for ways to get a loan quickly.
It seems that fintech is driving and reminding UK banks to become more customers centric. While it comes to technology and customer experience, banks are traditionally lame. On the other hand, fintech start-ups are all about consumer centricity and using technology to make finance cheaper and easier for people. Fintech firms are pushing banks to enhance customers experience and use technology to offer services.
Generally, banks are now accepting that they must put customers first and enable their products and services to fit into their customers technologically advanced and busy lives (Banking from anywhere, at any time).  Challenger banks that are using technology to provide customers with fast, efficient and cheap services include Atom Bank and Monzo. Atom Bank is a digital bank that was launched earlier this year. The bank has no branches or big call centres. All contacts are through the app. It was ranked 8 in KPMG's Global FinTech Innovators 100. Monzo is a digital-only bank that creates a user-friendly, data-driven approach to personal finance with its mobile banking app.