Until 2017, crypto projects would launch and sell their tokens on their websites at a set price in the form of an Initial Coin Offering (ICO) . Despite the fact that many ICO projects turned out to be scams, several investors stopped investing because they were afraid of losing their money. Most investors did not fully comprehend the crypto markets and instead simply followed the hype without thoroughly analyzing the crypto projects in which they invested. They simply put their money into whatever seems interesting; it may have worked for some, but hundreds of millions of dollars have been lost as a result of investing in scam projects with no potential.
There have been several attempts to address this issue, but the Initial DEX Offering(IDO) has proven to be the most effective. Cryptocurrency exchanges began analyzing new projects for their users and, based on the findings, collaborating with those projects to host a token sale on their decentralized exchange platform. Decentralized exchanges (DEXs) serve as a "trust" factor in the overall process because users are comfortable and familiar with those platforms and would invest in the vetted projects presented by the DEXs. The process of obtaining capital for new and potential crypto projects using decentralized exchanges is known as Initial DEX Offering (IDO), and the platforms that facilitate the fundraising are known as IDO Launchpads.
IDO launchpads have a thorough vetting and screening process in place to help avoid scams and rug pulls. Investors prefer IDOs to IEOs for several reasons, including the certainty of security and accessibility. Before the official launch, investors can purchase tokens at a discounted price. IDO platforms aid in investing in promising DeFi projects and assisting those projects in obtaining safe and secure funding. Despite the innovative approach of IDO launchpads, we've seen unique promising projects fail due to a lack of support at crucial stages. Sometimes we see promising projects that receive incredible support prior to the IDO but do not receive adequate support following the IDO, causing the project to fail. It is critical for crypto projects to seek guidance in order to grow and navigate the "Wild Wild West" of the cryptocurrency space. Innovative IDO launchpads, such as SkyLaunch, are rising to the challenge by providing a structure that supports promising projects before and after IDOs. Let's talk about Skylaunch and their unique approach to providing the best IDO launchpad services to innovative projects. Let's dive in!
Introducing the innovative Skylaunch IDO launchpad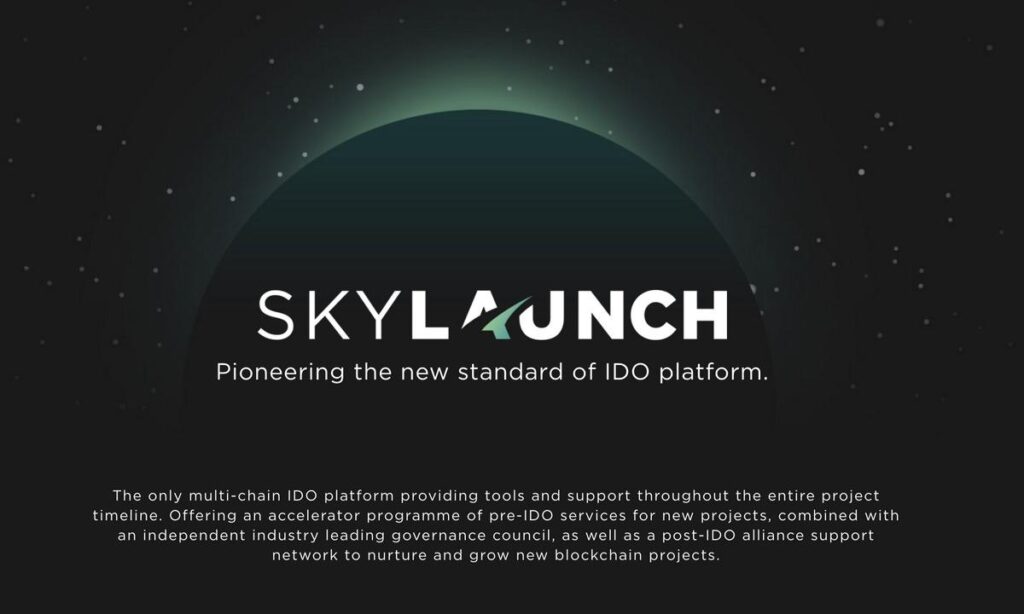 SkyLaunch is a Multichain IDO platform that aims to go beyond the traditional concept of IDO launchpads as a fundraising model by providing all necessary support, tools, and resources Pre IDO and Post IDO for projects listed on its website. SkyLaunch's business model, on the other hand, is more akin to that of an IDO accelerator, as it was created to ensure that projects are successful in the long run after completing their IDO round. SkyLaunch is a multi-chain launchpad platform that uses EVM compatible chains. SkyLaunch's initial launch would be on Ethereum, Polygon, and Binance Smart Chain.
SkyLaunch would also form a governance council to conduct due diligence and thoroughly vet projects that would be listed on its platform. The Governance Council would be composed of independent blockchain experts who would protect investors from harmful projects and serve as an additional line of defense.
SkyLaunch also employs a transparent on-chain score mining algorithm to ensure more equitable token allocations and to reward investors. Another tool, known as the auto-pilot feature, was also put in place to ensure that investors did not miss out on exciting projects. Following a success of an IDO, SkyLaunch grants projects on its platform access to its extensive alliance network, which includes a number of cryptocurrency partners. Projects listed on the platform can benefit from SkyLaunch by gaining access to opportunities such as exchange listing, market-making services, security protocols, treasury management, liquidity provision, and secondary OTC swaps.
Notably, Synergia Capital VC Fund has invested in SkyLaunch. This reputable investment fund contributes to the funding of high-quality projects with the best chance of success on the platform.
What Next For IDO Launchpads?
IDO launchpads have changed the way crypto fundraising works by assisting promising projects in growing and realizing their visions. Innovative launchpads, such as Skylaunch, appear to be well positioned to givr guidance and funding to the next generation of crypto projects by providing complete project timeline support, as well as a number of ground-breaking proprietary tools.