Blockchain technology has now been applied in a wider range of fields since it was invented. Quick trivia question, do you know what is the most expensive cat? It's Nyan Cat. The original GIF of the cat was sold for about $580,000. Crazy, right? It's a kind of digital art, combined into whats called NFT (Non-fungible-tokens). Nowadays, more game characters are becoming NFT's to enrich the NFT world. In this article, the meaning of NFT games and the highest paid potential play to earn NFT games will be introduced. 
What are NFT's and Play to Earn NFT Games?
The full name of NFT's, as mentioned, is Non-Fungible Token. It doesn't matter if you don't understand it. The most important thing is the features of those so called NFT's. Each NFT has its own unique code, so it cannot be tampered with, divided or replaced. With the support of blockchain technology, an NFT can be used as a certificate of rights on the chain of digital goods such as digital artwork and tickets. The future is a digital world where everything is on the chain. The applications of NFT are no longer limited to artworks and collections, but will be extended to digital identities, copyright license agreements, brand authorization, etc.
Nowadays, NFT games have become one of the most popular ways to entertain and make money. NFT games allow players to collect and trade characters as NFTs. Like traditional games, players also need to battle to win rewards. Some NFT games offer super attractive rewards, such as Idle Mystic, offering play to earn rewards with more than 20 ETH up for grabs – for the winner of their in-game tournament called Arena.
What is Idle Mystic – The Highest Potential Play to Earn NFT Game 2021
Idle Mystic is the first 3D play to earn NFT Game, made by PTE Game. Since it was first launched on August 26, 2021, many players have shown their love for Idle Mystic because they can make money while playing games. Now, Idle Mystic has more than 50,000 players. With ongoing development, including the Idle Mystic Player vs Player Tournament Arena release, and more functions opening, the number of players will surely continue to surge.
You may ask why Idle Mystic received so much attention. Idle Mystic's popularity is rooted in its in-game currency called MST that can be converted into real cash. At the same time, new game modes that are constantly being launched are also favored by players. To bring a better experience to players, Idle Mystic Team uses Unity Engine to build the game. It is a multiplayer strategic incremental RPG game that combines idle and clicking. There are nine types of heroes generated by smart contract algorithm and they are different in stats, body parts, and abilities. Players need to choose different combinations according to the opposing heroes. 
The second token in the ecosystem, called Idle Mystic Token (IMT) is the governance token in Idle Mystic. IMT is planned to be launched by IDO in October and the Idle Mystic team is moving to list IMT on top centralized exchanges in Q4 this year. To build an open, and harmonious community, Idle Mystic Team decides to give players 51% of IMTs in various ways, for game development and to follow the votes made by IMT holders, to improve the game. 
Tips: How to play to earn with Idle Mystic
1) Enter the official website: idlemystic.io
2) Click on the log-in button to log in or register. If you register with your email, you need to wake up your wallet. If you register with the wallet, you need to bind your email.
3) Get at least 3 heroes from the Idle Mystic marketplace or buy keys to start your adventure
4) Click Profile to check your inventory and click Play Now to download the game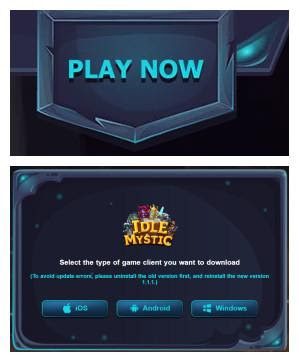 Come and join the communities!
Idle Mystic Twitter: https://twitter.com/Idle_Mystic
Idle Mystic Telegram: https://t.me/IdleMystic_official
Idle Mystic Play to Earn Bottom Line
As players,continue to earn crypto through major games such as Axie Infinity which has become one of the most popular NFT games. Idle Mystic offer something new in the NFT game genre, offering even better Play to Earn potential, with major game updates released often to improve gameplay . 
In the NFT area, more updates means more chances to make money. The earlier you can play Idle Mystic, the more you can earn.
Start your hero journey and play to earn here!