ICZOOM Group Inc. (NASDAQ: IZM), known as a leader in the electronics components sector, has made a significant impact in the industry with its innovative approach and extensive services. The company, headquartered in Shenzhen, China, was founded in 2012 and initially operated as Horizon Business Intelligence Co., Limited before rebranding to ICZOOM Group Inc. in May 2018.
ICZOOM specializes in selling a wide range of electronic component products, including semiconductor products, integrated circuits, discretes, passive components, optoelectronics, as well as various electronic equipment, tools, and other products. These products cater to small and medium-sized enterprises (SMEs) in segments like consumer electronics, the Internet of Things (IoT), automotive electronics, and industry control.
The company also provides value-added services such as customs clearance, temporary warehousing, logistics, shipping, and software customization, positioning itself as a comprehensive solution provider in the sector.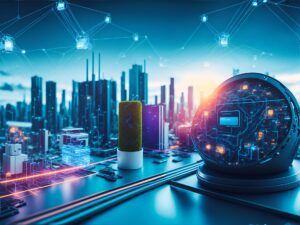 Understanding The ICZOOM Business Model
The company's business model is primarily centered around its B2B online platform, www.iczoomex.com, which has been instrumental in its growth. In fiscal year 2022, ICZOOM reported a net income of $2.57 million on a revenue of $290.38 million. This significant revenue demonstrates the company's successful penetration and dominance in the market. The first half of 2023 saw revenues of $120.2 million, a gross profit of $3.2 million, and a net income of $927.0K, indicating a strong financial position.
ICZOOM made its entry into the public market with its IPO on March 15, 2023, under the ticker symbol IZM on the NASDAQ exchange. The IPO was priced at $4.00 per share, at the lower end of the $4.00-to-$5.00 range, raising $6.0 million through the sale of 1.5 million shares. This move was significant for the company's growth and market expansion strategies.
ICZOOM Opportunity Within Semiconductor Industry
Looking at the broader market, ICZOOM operates within an industry that has a massive potential for growth. The semiconductor industry, in particular, has seen explosive global market growth. ICZOOM's CEO, Lei Xia, emphasized the company's unique position in serving SMEs in China's large and growing electronic component market. The company's focus on digital transformation and its unique transaction-matching platform provide SMEs with capabilities previously available only to larger companies. This approach has created a scalable and asset-light business model, which continues to attract a growing customer base.
The electronic components market, especially in China, presents a huge opportunity for ICZOOM. With more than 3 million small, medium, and microelectronic companies in China, ICZOOM's current customer base of over 1,000 companies represents just a fraction of the potential market. The company's flexible platform, which charges a commission only upon the completion of a transaction, has been a key factor in increasing transaction volumes and customer engagement.
In 2022, the global semiconductor industry recorded its highest-ever annual total, with sales reaching $574.1 billion, a 3.3% increase from 2021's $555.9 billion. This growth trajectory presents significant opportunities for ICZOOM Group (Nasdaq: IZM), a key player in the semiconductor sector.
China, a pivotal market for ICZOOM Group, imported integrated circuits (ICs) worth $415.6 billion in 2022. This substantial figure underlines the country's robust demand for semiconductors, fueling prospects for ICZOOM Group. The company can capitalize on this demand, leveraging its expertise and market position.
The landscape of electronic enterprises in China further accentuates these opportunities. In 2013, China housed about 3 million electronic enterprises, including 3,000 large companies with revenues surpassing CNY400 million (approximately $61.9 million). The remaining 99% comprised small, medium, and micro-size companies. This diverse ecosystem offers ICZOOM Group a wide range of potential collaborations and partnerships.
Shenzhen Huaqiang North electronic component market, a significant hub in this sector, hosts 51,000 small and micro enterprises, along with 27,500 self-employed traders as of January 2023. ICZOOM Group, operating in such a dynamic environment, can leverage these connections to expand its supply chain, enhance its product offerings, and strengthen its market presence.
The combination of a growing global semiconductor market, China's substantial IC import volume, and the vast network of electronic enterprises presents a landscape ripe with opportunities for ICZOOM Group. The company is well-positioned to enhance its operational efficiencies, expand its customer base, and explore new markets. With strategic planning and innovation, ICZOOM Group can significantly contribute to and benefit from the burgeoning semiconductor industry.
In summary, ICZOOM Group Inc. stands as a pioneering force in the electronic components industry. With its recent IPO, comprehensive product and service offerings, innovative platform, and a focus on an underserved market segment, the company is well-positioned for continued growth and expansion in the rapidly evolving electronics industry.