HyperBC Group has acquired a Lithuanian financial license no. 305790868 to expedite its global compliance operations. The company has obtained a license that will enable it to provide crypto custody asset solutions within a regulatory framework. As a pioneering asset custody solution provider, HyperBC facilitates businesses to securely store their crypto assets with risk control technology and custom and scalable solutions.
Since its inception in 2017, HyperBC has managed crypto assets amounting to USD 10B for more than 100 businesses worldwide, remarking its authentic position in the Blockchain industry. The leading crypto custody solution provider enables the safe circulation of crypto assets while offering complete security for blockchain-based companies.
Speaking about the new development, Sebastian Zhao, the General Manager of HyperBC, said:
HyperBC made a breakthrough in the compliance process and obtained the Lithuanian license for crypto asset custody. Meanwhile, HyperBC will actively continue to apply for licenses in other countries in the future to provide users with more compliant, professional, safe, and efficient custody solutions for crypto assets under the supervision of financial institutions.
In a market where blockchain technology is expanding the realms of digital assets, HyperBC intends to solve the needs of institutional investors by providing a compliant investment platform. 
Operationally, HyperBC provides multiple products to its users. However, the three outstanding products drawing the global market attention are HyperCard (Crypto credit card), HyperPay (digital wallet), and HyperMate (hardware wallet). 
HyperCard
HyperBC issues the first cryptocurrency credit card HyperCard for its consumers to help smooth cross-border payments, secure digital asset management, and consumption in daily life. The card comes in virtual and physical versions integrating VISA, MasterCard, and UnionPay with the fastest-approval process. It also offers several other features that provide users with functional benefits.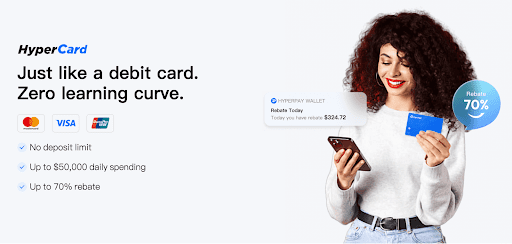 HyperCard is the first in its line to offer Zero interest credit payment which is lucrative and convenient for users from any country or region (available in over 176 countries) to apply in one click. In addition, the card lets businesses open a company's account and accept crypto payments and withdrawals in banks, whereas it supports major crypto assets for transactions. 
Above all, it is a low-cost card that charges a 2% exchange fee with a monthly credit limit of up to USD 200,000 and a daily withdrawal consumption limit of up to USD 50,000. Also, HyperCard's users benefit from having a hassle-free application process, zero-delay transactions, easy recharge options, and quick deposits/withdrawals.
HyperPay
HyperPay is the multi-ecosystem, custodial, and Web3 wallet launched in 2017 with the mission to improve the crypto holders' experiences while offering all-in-one solutions to secure, store, transfer, and manage trending digital assets from the single App.
The wallet connects Built-in exchange CoinW and major investment platforms such BitEarn, BitLoan to ensure the users could have the best availability in both the world, trading, and investment simultaneously. Users can also manage assets preferentially on On-chain, Off-chain, or connect Hardware wallet (HyperMate), bringing extensive options for accessibility.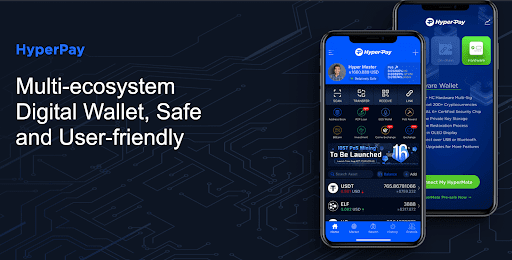 Currently, The wallet supports ETH, TRON, EOS, BNB chain, OEC, HSC, Polygon, AVAX, Fantom, SOL, Optimism, Arbitrum, and other public chains, including top Defi and DApp. Due to its multi-functioning features, HyperPay sharply gained traction with over 1 million global crypto users, managing over a billion dollar funds.
HyperMate 
HyperBC launched the hardware wallet HyperMate, one of the best competitors for renowned Ledger, giving an option for crypto traders to have accessibility to the most secured alternative. The device is available in two versions, HyperMate PRO and HyperMate G, with the preferential price of USD 229 and USD 129, respectively.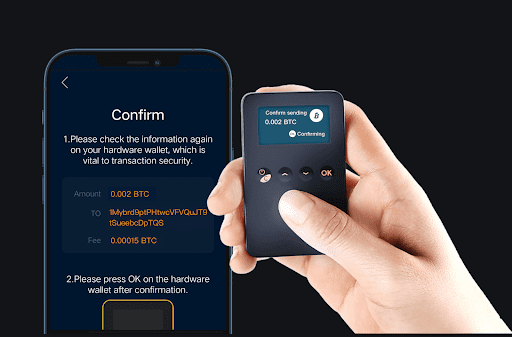 The underlying innovative CC EAL6+ security chip, dual-core CPU, built-in OLED screen, advanced fingerprint authorization, multi-signature support, double and FCC authentication, BIP32/BIP39/BIP44/BIP45 compliances, and other military-grade security ensure the private key of users go impenetrable during rigorous-cyber attacks.
Also, the wallet supports a variety of tokens, including BTC, ETH, BNB, OEC, Polygon, BCH, LTC, EOS, QTUM, TRX, and FIL, among other ERC20 TRC20 and QRC format tokens. Notably, the wallet uses an open firmware security code, which could also traceably eliminate the backdoor risk, making it far ahead of its competitors. 
What is HyperBC?
The leading custodial crypto asset solution provides the bandwidth to store and manage digital business assets for businesses on Blockchain. The platform offers a fully managed cutting-edge security solution, MPC (multi-party computation), which allows data owners to collaborate anonymously, whereas TEE (Trusted execution environment) protects the data operation at the hardware level.