MediBloc is a Healthcare information blockchain platform, optimizing the healthcare ecosystem. MediBloc is a unique decentralized platform for the medical field and upon which relevant medical applications are supported! Hence, other medical focused companies like Humanscape join the platform as third-party application.
In a recent announcement on the 27th of July, Humanscape, a blockchain powered patient network has publicly announced that it will be partnering with MediBloc as a third party application. This decision taken by Humanscape has been properly reviewed by its team of experts before reaching this conclusion. What this partnership means is that Humanscape will be using the decentralized PHR platform for its activities. Both platforms being set up to ensure the world is launched into a new era of healthcare characterized by efficiency, speed, and security; deem this collaboration a vital step to achieving this new era of a more active medical sector.
It is no doubt that both MediBloc and Humanscape have been able to set an impressive pace for many other startups in the field of medicine to build upon. They both have shown the world that a healthcare sector operation on blockchain is not just possible but can be very helpful to help enhance the medical field as a whole, while also providing to the doctors, researchers, and patients numerous investment opportunities that can boost their finances. It is in line with the dedication and commitment of both platforms that they have received the support, sponsorship, and partnership with various companies from within and outside the medical field globally.
Present at the ceremony where this announcement was made, were individuals from the working team of both MediBloc and Humanscape who gave further insights as to what the outcome of this collaboration will be. From these representatives, we were made to understand that the Humanscape partnership with MediBloc would produce a third party application that will make use of the MediBloc platform to further enhance the healthcare sector by constantly developing new business models to provide health-related skills, also give doctors and researchers an opportunity to share technical and medical knowledge making use of the application. This way, there is going to be better interaction between medical experts, researchers and patients alike in the most effective and accessible way possible.
MediBloc's Self Designed Blockchain and Humanscape
Prior to this announcement made by Humanscape, MediBloc recently announced to the public its preparation to build a self-designed blockchain that will be tasked with the sole aim of ensuring transparency, effectiveness as well as security in the collection, storage and availability of medical data of patients, medical doctors and researchers. When this project is completed, patients will have more access to their medical records, and also be able to keep tabs on visits, medical checkup analysis, and prescription; while doctors and researchers can also track their medical records and researches as well.
Now, a careful analysis into the Humanscape's collaboration with MediBloc will show that if Humanscape can successfully build itself as a patient network on the decentralized and transparent healthcare platform of MediBloc, the network as a whole is sure to experience high productivity as more users begin to affirm its credibility and a more interactive healthcare sector is created while the network continues to expand.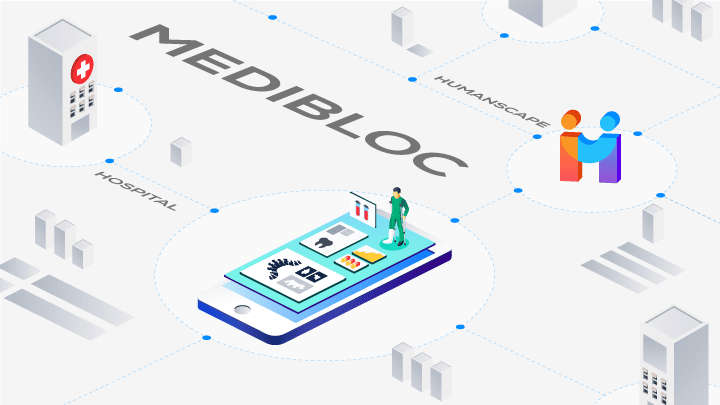 The Benefits, Vision, and Credibility of the Platforms.
Looking at the credibility and vision of both platforms individually, one can be right to say they share some aims together. One of the similarities that exist between these two platforms is that they both aim at an enhanced, more secured, effective and transparent healthcare sector. So this collaboration comes with many benefits for the medical doctors, patients and researchers alike.
1) Humanscape joining MediBloc will provide an opportunity for patients and provide to the global community cure to several diseases, thus strengthening the MediBloc community and widening its reach.
2) It will also provide a wider framework for researchers to present their researches to the community for appreciation and further suggestion to help better the healthcare sector as a whole.
3) This collaboration will also bring about healthy competition to the ecosystem both for existing healthcare platforms as well as upcoming ones as this will set a worthy pace to model after.
4) Also on the issue of medical data, this collaboration will help Humanscape as a patient network, operate with the medically-generated data system by having access to medical records made available on the MediBloc platform.
5) Asides from giving patients the opportunity to find and provide cure to rare diseases making them available on the platform, this collaboration will make use of Humanscape's ability to develop successful CRM solution to provide cure to seemingly incurable diseases.
Is This Collaboration A Sign That MediBloc Is Expanding Its Ecosystem?
While Humanscape is not the first company joining MediBloc, this is the first of its kind to be witnessed in the healthcare sector. It is clear that MediBloc is just getting started as this shows that more companies joining MediBloc is to be expected. Allen Wookyun Kho who is one of the founders of MediBloc said at the ceremony that the platform will continue to ensure it encourages other platforms in the healthcare sector to join the MediBloc platform in the same manner as Humanscape to further help in driving its vision of a new era in the healthcare sector. This collaboration will also enhance competition between these platforms as well as other healthcare platforms and no doubt be a collaboration that will remain relevant in the medical ecosystem, serving as a model to many other platforms.
In conclusion, this collaboration of Humanscape and MediBloc will no doubt bring about positive change to the healthcare sector as a whole. It also will be the start of a positive partnership as MediBloc aims at having more medical networks join them. Efficiency will also be introduced into the sector as this partnership will bring about competition into the sector. With this, we are almost certain that we are at the edge of the desired healthcare sector where all activities are carried out on the blockchain, and individuals not only have their health secured but can also enjoy the many financial benefits provided by these platforms and their collaborations.
MediBloc Community : http://bit.ly/medibloctelegram
MediBloc Website : http://bit.ly/mediblocwebsite
MediBloc Blog : http://bit.ly/mediblocblog