The Global Human Microbiome Market is expected to be valued at USD 1,689.5 Million in 2027 from USD 376.3 Million in 2019, registering a CAGR of 21.8% through the forecast period. The market is growing substantially, due to the increasing awareness regarding the human microbiome therapy. The industry is also observing an exponential rise because of the rising government's favorable regulations on prebiotics and probiotics. Moreover, the increasing prevalence of several chronic diseases globally is further propelling the industry's growth. Globally, rising incidences of various lifestyle-related diseases is majorly fueling market growth, because of different therapeutic approaches, which offer an effective method for addressing various serious health issues, including autoimmune disorders, obesity, genetic disorders, susceptibility to antibiotics, cancer, metabolic diseases, bowel disorder, and Crohn's disease.
Lack of knowledge regarding prebiotics and probiotics and less research activities in the field of microbiomes is hindering the industry's development.
Grab Your Free Sample PDF Copy Now
Key Highlights from The Report
In January 2020, a leading firm, 4D Pharma PLC, officially launched a trial exploring MRx0518 amongst patients who were suffering from pancreatic cancer added with radiation therapy, enhancing its expertise in R&D activities for treating cancer.
Owing to the growing incidences of gastrointestinal conditions globally and several negative effects associated with drugs, the therapeutics sub-segment accounts for a considerable market size.
Over the projection period, the infectious diseases sub-segment is expected to hold the highest share in the industry. The demand for bacterial-targeted therapy to address different types of infectious diseases has been rising because of the growing awareness regarding the antibiotic application's negative impacts on natural flora.
Due to the rapid growth in the sector of clinical trials and the growing adoption of forefront technology, North America is foreseen to dominate the overall industry over the estimated timeframe.
Leading players in the sector are Synlogic, Inc., Seres Therapeutics, Vedanta Biosciences, Inc., MicroBiome Therapeutics, LLC, Evelo Biosciences, 4D Pharma PLC, MetaboGen AB, Osel Inc, Second Genome Inc., and Symbiotix Biotherapies, Inc.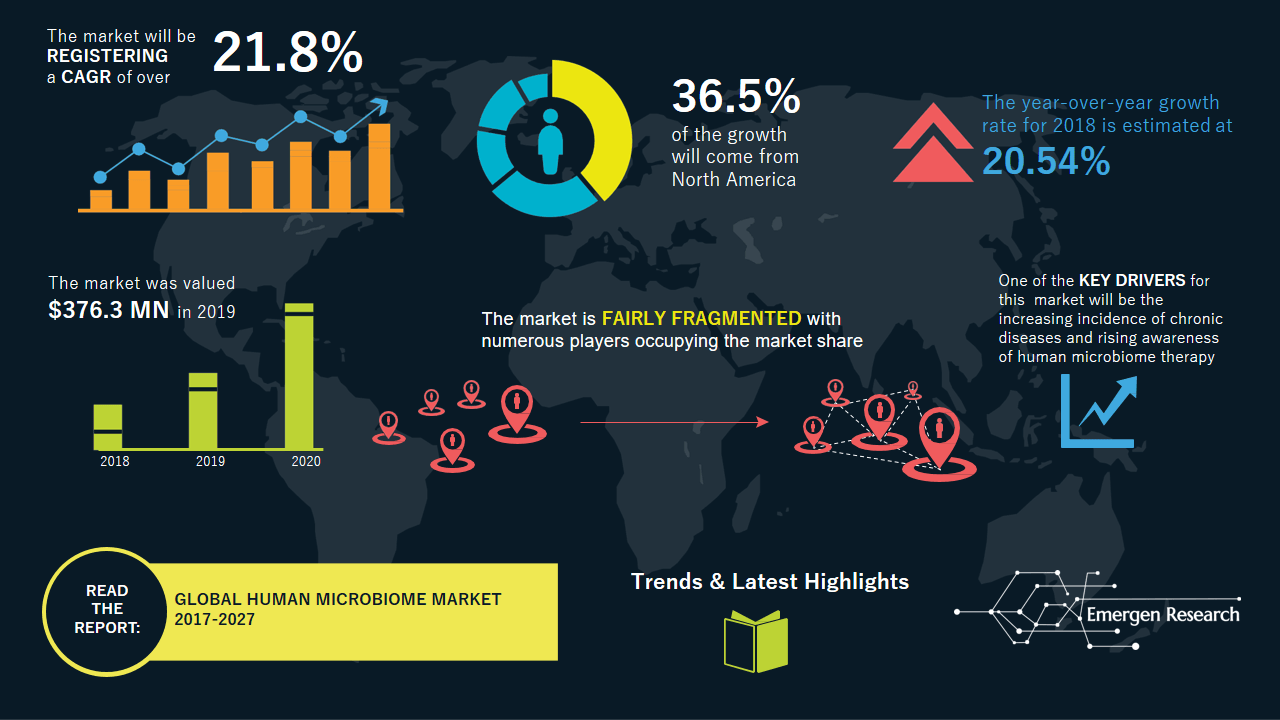 Emergen Research has segmented the Global Human Microbiome Market on the basis of product, type, technology, application, disease, and region:
Product Outlook (Revenue, USD Million; 2017-2027)
Drugs
Foods
Probiotics
Medical Foods
Prebiotics
Diagnostic Tests
Type Outlook (Revenue, USD Million; 2017-2027)
Microbiome Drugs
Fecal Microbiota Transplantation
Technology Outlook (Revenue, USD Million; 2017-2027)
Proteomics
Genomics
Metabolomics
Application Outlook (Revenue, USD Million; 2017-2027)
Disease Outlook (Revenue, USD Million; 2017-2027)
Inflammatory Diseases
Infectious Diseases
Cancer
Metabolic Disorders
Cardiovascular Disease
Irritable Bowel Syndrome
Neurological Disorders
Hematological Disorders
Others
Regional Outlook (Revenue, USD Million; 2017-2027)
North America
U.S.
Canada
Mexico
Europe
Germany
U.K.
France
BENELUX
Rest of Europe
Asia Pacific
China
Japan
South Korea
India
Rest of APAC
Latin America
Brazil
Rest of LATAM
Middle East & Africa
Saudi Arabia
U.A.E.
Rest of MEA
To get leading market solutions, visit the link below: 
https://www.emergenresearch.com/industry-report/human-microbiome-market