It's one thing to offer your customers a product they might want, but it's another to deliver a customer journey that's crafted specifically for them.
Traditional marketing relied on generalizing its customers, but the modern approach to marketing is more personalized, all thanks to the advancement of technology and the growing sophistication of consumers. Customers today expect brands to deliver a seamless, hyper-personalized experience that not only meets their needs but also exceeds their expectations. 
Dialing up the personalization in your marketing is the surest way to win over today's consumers. Here's how you can reap the benefits of hyper-personalization to influence the success of your email marketing campaigns. 
What is hyper-personalization?
Hyper personalization analyzes customer data to create individualized messages for each prospect. This ensures that the message will be relevant for the recipient, producing a better overall experience for them. 
Why Bother with Hyper-Personalization?
Too many brands are still trapped in a bygone era, offering cookie-cutter experiences that are no longer appealing to an increasingly sophisticated customer base. And it's no mystery why they're stuck. Those were simpler times when shoppers had fewer options, and a one-size-fits-all approach sufficed. But things are different now. 
Brands don't just exist to satisfy customers. They exist to delight them. This doesn't mean offering every product or service under the sun. Rather, it means focusing on what you do best and delivering an experience so good that it goes above and beyond customer expectations. And one of the most powerful ways to engage customers is through hyper-personalized experiences. 
Why Hyper-Personalization is Important in Email Marketing?
By building a dynamic hyper-personalized email marketing strategy, companies can: 
tailor their emails' content to what customers would like to receive in their inboxes

live up to their individualized promise

meets customers where they are at the right time with the right item

increase open rates with fewer wasted efforts

keep customers from being bombarded with too many choices and too much messaging

let your customers know that you care about their experience using your product or service
Email hyper-personalization is a time-consuming process, but the return is worth the effort.
How to get started with Hyper-Personalization in Email Marketing?
Every interaction is an opportunity to increase the lifetime value of each user. Here's how you can get started with hyper-personalization in your email marketing campaigns:
Collect Relevant Data
Cut the fat on your opt-in forms. Only ask for the information that you really need to communicate with customers. Too many form fields can create a barrier between you and your contact. If you must collect demographic information beyond an email address, do so later. 
Hyper personalization also involves tracking individual website behavior. Analyze which pages your customers are browsing, the keywords they're using, what time they're usually on your site, and so on.
Use Dynamic Text
Rather than using the same subject line for every customer, try working some personalized data into your email titles. Customers will love feeling like they're receiving a special treat that's all for them. 
A great example of this is Cars.com, which emails users to purchase a product they left in their shopping cart. This email will entice customers to go through with their purchases and come back for more.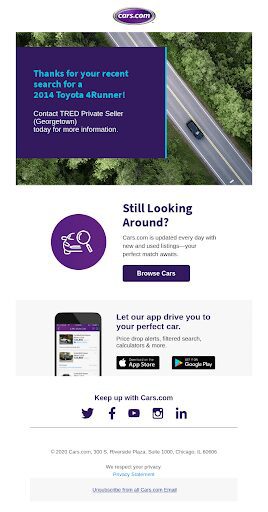 Automate, Automate, Automate
Marketing automation tools allow you to create lead-nurturing workflows. These intelligent pieces of software aim to automate the process of sending emails based on lead behavior.
For example, when someone finishes an online course, you can automatically tag that person as a lead. Then, you can follow up with them with a personal message that encourages dialogue. This may include a request for feedback, a coupon for a future class (or another lead magnet), or a copy of important information from the class. What's most important is that it contains something personally relevant to your contact. The goal is to make them feel invested in opening and responding to the message.
Ways to Hyper-Personalize your Email Campaigns
Now that you've learned about the basics of hyper-personalization, let's put those ideas into practice. Here are a few ways to stand out from the pack and increase the effectiveness of your emails:
Weekly or Annual Insights 
You can use user analytics to spot emerging trends and opportunities in your customer's product usage. Then tailor your campaign for the highest impact.
Grammarly has nailed the concept of providing weekly hyper-personalized insights. In its email digest, the app ranks users based on the quality of their writing, letting them know how they stack up against its other users. This weekly blast contains editing tips and explanations for any mistakes users might have made. 

By referencing a user's product activity, Grammarly builds up a better picture of what users might want to see or what they have been missing out on. This will encourage them to check out the paid features or related content. 
Another impressive example here is Fitbit's year in review newsletter. This email gives users a quick glance at their yearly data. Once users see their progress in numbers, they feel motivated to keep on clocking steps through their Fitbit product.

Win back email
Win-back emails are the best way to recapture the customers who lost interest in your brand and salvage their relationship with your company. These emails usually contain some type of incentive for making a purchase, such as a discount. 
Sometimes, customers just need a gentle nudge to opt back into your service. Avocode, a design tool, used the promise of 20% to lure back lost customers.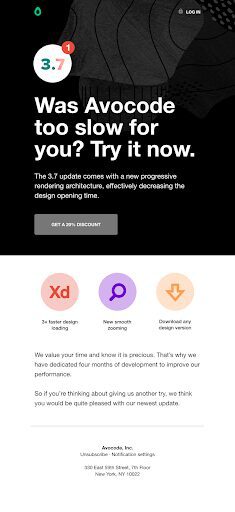 Product Recommendations 
Best Selling items are always the go-to option on e-commerce sites. But these aren't always the most exciting or new for consumers. Knowing consumer purchase history will allow you to score extra points by offering products that suit their tastes, lifestyle, and preferences.
You can also tailor your product recommendation email to fit your customers' unique needs. Just like how Epic does so in their email campaigns. The digital library likely uses past user data to offer picks their customers can't resist.

Getting started with email hyper-personalization
As you continue to test and learn about what works best for your audience, you'll face plenty of challenges. Here are some tips to ensure tips to help you as you continue on your journey of email hyper-personalization: 
Make a resource plan.
Personalization takes time and effort, so make sure you have a dedicated team or person to handle the task of gathering data and creating tailored content. This will also involve proper resource allocation and scheduling to ensure that your team has the capacity to provide personalized emails consistently. So, before diving into the world of personalization, make sure you have a well-thought-out resource plan in place.
Pay attention to your email's content. 
Write a compelling copy that draws readers in, and use images that visually enhance your message. This will make your email stand out among the sea of generic marketing emails that don't offer anything new or exciting. 
Add QR codes. 
QR codes or Quick Response codes are a type of barcode that can be scanned by a smartphone and redirect the user to your website or landing page. Incorporating QR codes allows for quick and easy access for customers on the go, increasing the likelihood of them visiting your site or promotional page. And with so many free QR code generators available online, there's no excuse not to include them in your emails!
Keep your data clean.
This one is crucial. In order for personalization to work, you need accurate and up-to-date data. If you're using outdated or incorrect information, your email will come across as disingenuous, which can damage your relationships with customers. Make sure you have a process in place to keep your data clean, and that everyone on your team is following it.
Set up a calendar.
Just like how a social media calendar helps content creators keep track of what to post and when, setting up an email calendar can help you plan and schedule your email campaigns in advance, ensuring a consistent flow of personalized content. That way, you won't miss out on any potential opportunities to engage with your audience.
Test, analyze and evolve.
You won't know what works best for your audience unless you try out different tactics and see how they perform. Keep track of your email campaigns' open rates, click-through rates, and conversions to see what strategies are most successful. And don't be afraid to try out new personalization techniques or adjust your current ones as needed. 
Are you Ready to Future-proof your Email Marketing Campaigns?
So many emails. So little time. How do you cut through the clutter?
The answer is simple: you become better acquainted with your customers. 
Get to know your customer on an individual level through behavioral analytics. Know what links they click. Find out what type of content they are most likely to share. Take note of what products grab their attention. When customers feel like you're really talking to them, they'll be more receptive to your message.
The future of email marketing lies in the ability to provide customers with a more relevant and personalized experience. This requires deep analysis and understanding of your customers' needs. The better a marketer can engage a reader, the more successful an email campaign will be. Using hyper-personalization, marketers can create a one-on-one experience with every email recipient. This kind of automated engagement nurtures existing customers and increases conversion rates.