There has been a steady increase in the demand for smart mobile devices over the years, with millions of people in different parts of the world seeking to leverage the features and benefits of such gadgets. In a related development, several brands have emerged over the years to offer products to meet the growing and diverse needs of consumers. Apple has undoubtedly stood out in the global smartphone market, with the U.S-based manufacturer leading the way in the multi-billion-dollar industry.
Users of iPhones, like every other gadget, often require their privacy and consequently use passcodes to restrict unauthorized access to the device. Unfortunately, things can get worrisome if the user forgets the passcode and have to unlock the device. This is not an uncommon scenario, especially when users need to unlock iPhone screen password without a passcode for any reason.
Scenarios That Could Lead To Unlocking An iPhone Without Passcode
As stated earlier, there are several reasons that would necessitate unlocking an iPhone without a passcode, with the commonest scenarios briefly highlighted as follows:
Screen Passcode Forgotten
One of the most common reasons that require unlocking an iPhone without a passcode is when the user or owner forgets the screen passcode. In such a situation, the device needs to be unlocked for the user to access information on the iPhone. Unfortunately, with the passcode forgotten, one requires more than just punching in a couple of numbers to get into the phone.
iPhone Disabled Due To Several Failed Attempts
Another scenario that could require users to unlock their iPhone devices without a passcode is several failed attempts to unlock the gadget, leading to it being disabled. This often occurs due to unauthorized persons trying to gain entrance into the device or the owner inexplicably forgetting the passcode. Regardless of the reason, it becomes necessary to unlock an iPhone without a passcode.
Methods Of Unlocking iPhone Without Passcode
Several possible solutions have been proffered to help people unlock their iPhones without using a passcode.
Using Apple's "Find My Phone"
One of the popular solutions is to use Apple's "Find My Phone" service to regain access to their device without a passcode. Users can either use the "Find My iPhone" app on iPhone or visit icloud.com/find on another iPhone or computer. The steps to doing this are briefly highlighted as follows:
Step 1 – Users are required to turn on Find My [device] before it is lost.

Step 2 – Tap Devices, then tap the name of the device you want to erase.

Step 3 – Tap Erase This Device, then tap Erase This [device].

Step 4 – Enter a phone number or message for the lost device.

Step 5 – Tap Erase.

Step 6 – Enter Apple ID password, then tap Erase again.
Drawbacks Of Using Apple's "Find My iPhone"
The method of unlocking an iPhone without a passcode using Find My iPhone comes with a couple of shortcomings. One of the major drawbacks that have made the method not particularly endearing to iPhone users is that the locked iPhone must have a network connection. Consequently, an unconnected device cannot be locked using Apple's Find My iPhone. The method also requires the locked iPhone to be logged in to an Apple account and users must know the passcode to that account.
Another alternative to Apple's Fund My iPhone is using AnyUnlock, a method that has become increasingly popular in recent times due to the features and benefits that stand it out from other methods.
AnyUnlock comes as an all-inclusive solution to help users of iPhone devices access their gadgets in a matter of minutes even without having the passcode. The solution offers users an amazing phone unlocking experience without requiring them to pay technicians exorbitant fees. Particularly designed for personal use, the unlocking tool has an easy-to-navigate interface that enables users to leverage the iPhone Screen unlocker in minutes.
AnyUnlock is particularly unique for its versatility, user-friendliness, and easy accessibility. AnyUnlock is designed to support all types of iPhone locks, including 4-digit or 6-digit numeric code, custom numeric code, custom alphanumeric code, Touch ID, or Face ID, making it one of the most comprehensive in the market.
The unlocking solution has also been identified to have a high success rate, especially for devices running on iOS 7 and later, and is compatible with all restrictions using the "Find My iPhone" service. AnyUnlock is designed to allow iPhone users to unlock their device without passcode in one click as detailed below:
Step 1 – Launch AnyUnlock and choose "Unlock Screen Passcode" on the homepage.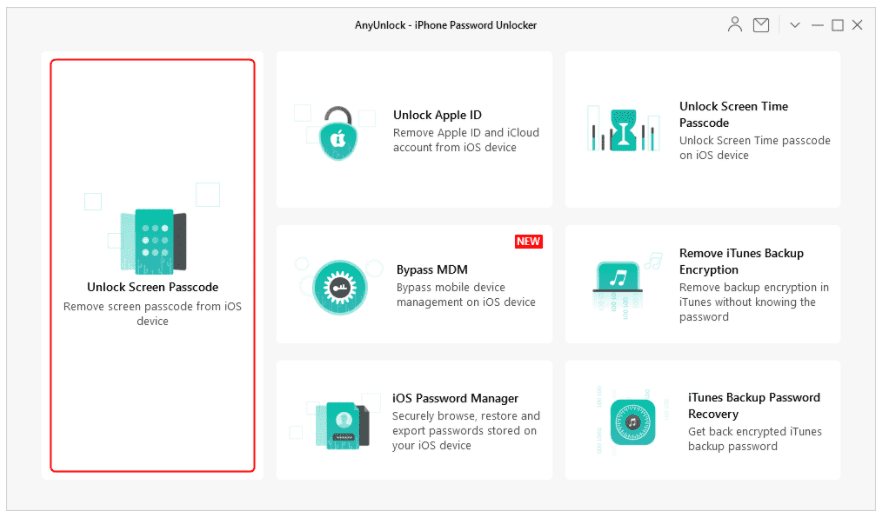 Step 2 – Connect the iOS device to the computer and download iOS firmware.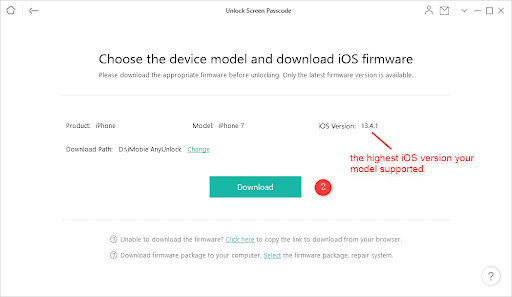 Step 3 – Click "Unlock Now" to unlock the screen passcode easily and instantly.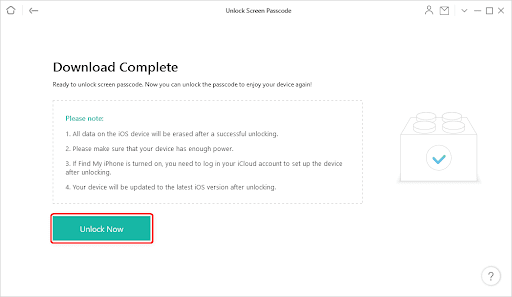 Step 4-Screen Passcode Removed Successfully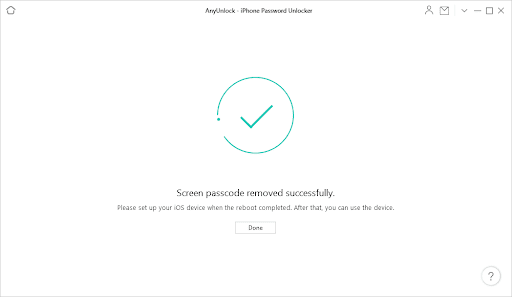 For more information about AnyUnlock and ways of unlocking iPhone screen passcode, watch this video.