How to triple CTV spend and why it is a hot button in 2022: SmartyAds experience
By Nikita Plastomak, the Business Developer at SmartyAds
Today the world changes at a snap of a finger and we all hope that it is not the snap of Thanos's glove. These changes are not usually bad or good, they are just something of a natural order of things. So, for example, COVID-19 was this exact "Thanos snap" for many businesses. 
But for those brands who survived, it opened up new opportunities and made them reconsider their usual approach to running a business. One of these opportunities is CTV advertising, which I would like to talk about today.
1. Why CTV advertising is essential today for any brand and marketing agency?
CTV advertising is the ads we see when we use free services to watch video content. For example, when you come home, make yourself a delicious dinner and turn on the latest video of a YouTuber you recently began watching on your TV. But before it starts playing, an ad for a new product from your favorite cosmetics company pops up on the screen. You can skip the ad, or click on it and buy the product immediately.
Programmatic CTV advertising has become obviously relevant since the beginning of the pandemic. People stay at home, and more and more often they keep videos or streams of their favorite bloggers playing in the background while they do housework, work, or play with their kids.
Statistics show that by 2024 the number of non-pay TV viewers in the U.S. will exceed the number of pay TV viewers.
Isn't it a great opportunity for a brand to mention itself and offer to order something that might be useful to its customer or potential buyer?
2. 5 major "forces" of CTV advertising
Brands that advertise in CTV format can find many advantages in using CTV ads.
Programmatic advertising provides excellent opportunities for targeting audiences that linear TV advertising lacks. Programmatic ensures that the ads shown are relevant, creating a win-win situation where the customer finds the business they want.
Besides, advertisement on CTV is "skipped" less frequently than on mobile, which  ensures much higher completion rates.
So what exactly is so great about CTV ads?
1.Targeting
Since CTV ads are part of digital advertising, it means that all the benefits of this type of advertising are available. The CTV system requires email input, choosing a language and location to fit the content and language for the user. After analyzing this data, the advertiser can tune the ads to a specific audience or adjust them to a specific segment. This system also allows high-quality retargeting and converting more potential customers into real ones.
Targeting on CTV can be set up according to:
Location;

Device type;

Internet and content history;

Age;

Interests.   
2.Advertisement price
Advertising on CTV allows you to spend the ads budget rationally because the settings let you choose when, where and to whom your advertisement will be displayed. For example, you know for sure that your audience is people who work in the office (or during office time) and you know their working day ends at 5-7 p.m., then they go home and turn on the TV. So you can set your ads to run from 6 to 10 p.m., just when your target audience will be in front of the TV. On programmatic CTV platforms, such a function is normally called "dayparting".
And, of course, advertising on CTV is cheaper than advertising on linear TV. By a whole 53%, according to a recent study.
3.Coverage
A growing number of people are choosing CTV services over standard TV. ShowHeroes Group conducted a study that concluded that 80% of European viewers prefer CTV to traditional TV. And another study, conducted in the U.S., showed that about 27% of cable TV viewers intend to cancel their contract with it because it is more profitable to use CTV. 
So it turns out that the audience of CTV grows with cosmic speed, and consequently there are more and more possibilities for advertising every day.
4.Advertising formats
Unlike linear TV, CTV advertising gives marketers space for imagination and a lot of tools for creating an immersive experience with video formats. The right immersive ad experience can play a key role in brand perception.
5.Analytics
It's important for any business to know how effective its advertising is. And advertising on CTV allows you to measure objective indexes of the success of an advertising campaign: 
Campaign Impressions.

The number of times ad content was displayed.

Total Reach.

The total number of unique households exposed to a single or set of campaigns.

Completion Rate.

The number of times a full ad was viewed.
When you analyze the performance of your CTV campaign on a programmatic platform, the stats are accumulated in real-time. It means that advertisers can generate analytical reports in real-time too and understand how their campaigns perform in a timely manner. 
2.1 CTV ads: what industries use them most often?
Many industries have already realized the benefits of CTV advertising. According to statistics from the Statista Research Department in 2021, the travel industry had the highest share of CTV advertising spend (63%). 
The travel industry follows automotive restaurants (60%) and quick-service restaurants (58%).
These industries show the greatest interest in CTV ads, however, the scope of such ads application is increasing every day. Thus, more businesses across various industries are preparing to embrace CTV advertising for the first time. 
2.2 Why running CTV ads is beneficial for publishers?
Along with advertisers, CTV offers a wide targeting tool for publishers. As long as brands are targeting their audiences, publishers connect the audience with the brand. And none of them wants to accidentally advertise something that doesn't fit their audience at all or even discredit their own channel or content.
Advertising on CTV provides publishers with the ability to customize how and where specific ads will be appearing in their content. 
Publishers' interest in using CTV is quite obvious. For example, Hulu, a major provider of movies and TV series, has 28 million viewers, and with that, advertising reaches a huge audience. Advertising on CTV is expected to force a new look at ad buying and overall management of the medium in the near future, thanks to the monetization of content on services like Hulu.
Even a streaming giant like Netflix has begun developing a new rate plan that includes CTV advertising. It's a reaction to the fact that Netflix lost about 200,000 subscribers in the first quarter of 2022 and expects about 2 million more users to leave.
And then there are solutions for publishers like Publica, who work with outside partners that have the ability to manage audiences and create integrations. Publica is a great example of an advertising partner. The platform uses Server-Side Ad Insertion (SSAI) technology. SSAI combines ads into a common stream. It minimizes lag time before ads are shown and prevents content failures. This system allows publishers to build positive connections between customers and brands and ensure a seamless content experience. The systems like Publica usually have higher returns due to more accurate targeting and good analytics. Viewers are more likely to pay attention to ads that are contextually relevant to them than a randomly selected commercial. An IAS study found that 42% of CTV users are more likely to see an ad to the end if it meets their demand.
3. Main difficulties brands face with CTV advertising 
No measurement
39% of marketers are satisfied with the results of their CTV advertising campaigns. But one-third still say they can't clearly measure how using CTV advertising has changed KPIs for their brands. The most important part of any marketer's job is the exact knowledge of how advertising works and how profitable it is.
How to fix it? Your focus determines your reality
68% of advertisers use ad technology companies like DSPs and ad servers. PricewaterhouseCoopers (PwC) recommends using the latest digital advertising algorithms to measure the effectiveness of your advertising campaigns. You can choose a service for advertising and set it up yourself or ask for help from a specialist if you don't know much about "new technologies" yet.
No performance
When some brands hear about the growing popularity of CTV, they rush to run their ads and expect immediate great results. And sometimes they really are great, but occasionally users' reactions are less than predicted.
The most common problem for brands is no performance. That means users can see ads, and even watch them through till the end, but they don't do anything (and it's very frustrating for marketers, I must say).
How to fix it? May the QR be with you 
A great solution is to include a QR code in your promotion or video. It can be a Call to Action on its own, or at least it will catch the user's attention. 
Everybody knows how QR codes work these days, so using them in your ads will be no surprise to anyone.
QR can even be used to spark the interest of the user. Let's suppose, you see a Nike logo, the famous slogan "Just do it", and a QR code on the display. That's it. Wouldn't you want to check out what's in the link? 
Or here's another example: the cryptocurrency exchange Coinbase during Super Bowl 2022 ran an ad where the QR code was moving around the black screen, bouncing off its borders. The ad resembled an old video game and as a result, was so popular that in a few minutes Coinbase got a server overload due to the huge incoming traffic.
Overall, the QR code is a great solution for increasing user engagement in CTV advertising. But it's not the only solution.
Many companies are looking to increase engagement by creating new ways to interact with ads. For example, Roku, a digital media streaming-equipment company, has launched a Television Commerce initiative where customers can purchase products from TV ads with one click, and it's turned out to be very successful.
It's important to remember
Don't forget that your ad may not be as successful as you would like it to be because it is not well placed. Make sure that your ad is not located next to something negative or discrediting the reputation of the brand. To avoid unpleasant situations in this regard, you should use the services of proven advertising platforms.
Watch out for fraudsters
CTV advertising as any other digital advertising is not immune to scams and attempts to steal your money or traffic. There are already companies like Oracle MOAT and DoubleVerify that are dedicated to detecting and shutting down rogue advertising services.
As CTV advertising grows in popularity, it becomes harder to run fraudulent schemes, as programmatic technologies become more sophisticated every day, providing more and more security to all parties involved in the ad exchange.
4. Why the significance of CTV advertising in the next few years will grow
The world has already changed. As much as we would like to deny it, the "Thanos snap" has already happened and nothing will ever be the same. The post-pandemic world is a world of empty offices, work-at-home jobs, and the increasing popularity of free streaming platforms.
According to an eMarketer report, in 2021 Americans spent $14.19 million more on CTV than on traditional linear TV. And that number is projected to rise to $38.83 million by 2026. That means CTV's audience is steadily growing and, as a result, the advertising platform is steadily increasing, which creates a great opportunity to attract new customers for your business.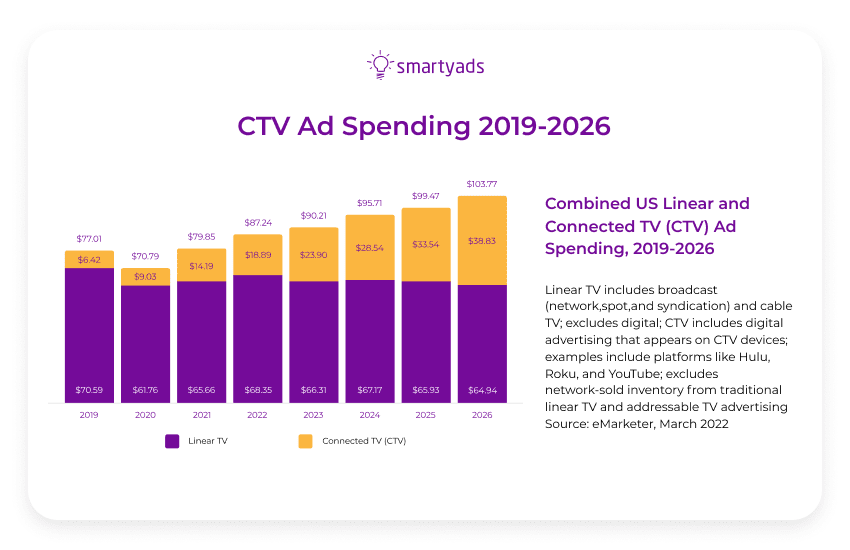 5. SmartyAds experience: how we tripled the CTV spend in Q2 2022
SmartyAds has an example of a good case for boosting CTV advertising. We focused on connecting direct publishers to our platform and that was the key factor that helped us to achieve success. Prior to this, SmartyAds also invested a significant amount of time and resources in attracting the qualified business development team that works on this.
Eventually, we have spent quite a lot of time creating a transparent and favorable marketplace for growing direct publisher relationships. It was very important for us to build an honest and trusted CTV advertising ecosystem. In this way we could attract good quality direct supply with the finest inventory. 
As a result, in the second quarter of 2022, the CTV spend of our advertisers almost tripled compared to the second quarter of last year because we managed to integrate more partners and organize exclusive conditions for CTV media trading.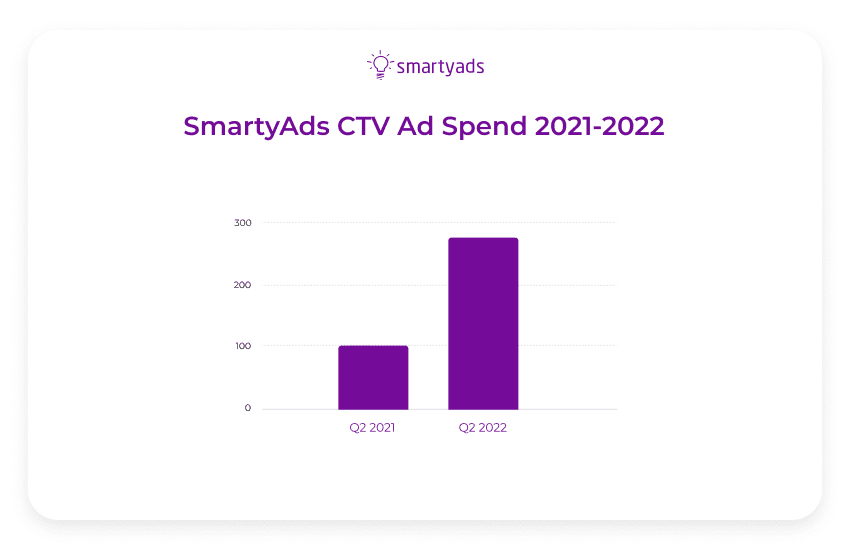 As you can see from the chart above, CTV spending grew by 278% in the second quarter of 2022 compared to the second quarter of 2021.
We achieved this due to selecting the right partners. This is the first factor that will ensure the success of CTV campaigns – CTV supply and demand should be correctly matched.
The second factor is transparency. The credibility factor is very important and determines whether or not advertisers are willing to invest their budgets in ads. No one will invest in advertising unless they are absolutely sure that it will be effective and safe.
Besides, we can give you some more useful tips to make CTV campaigns successful:
Define your advertising goals. To evaluate the effectiveness of your ads, you need to have clear criteria for evaluation at the start of the campaign.

Convert your video ads to the right format for the CTV environment. Pay attention to resolutions CTV platforms require and create ads based on that information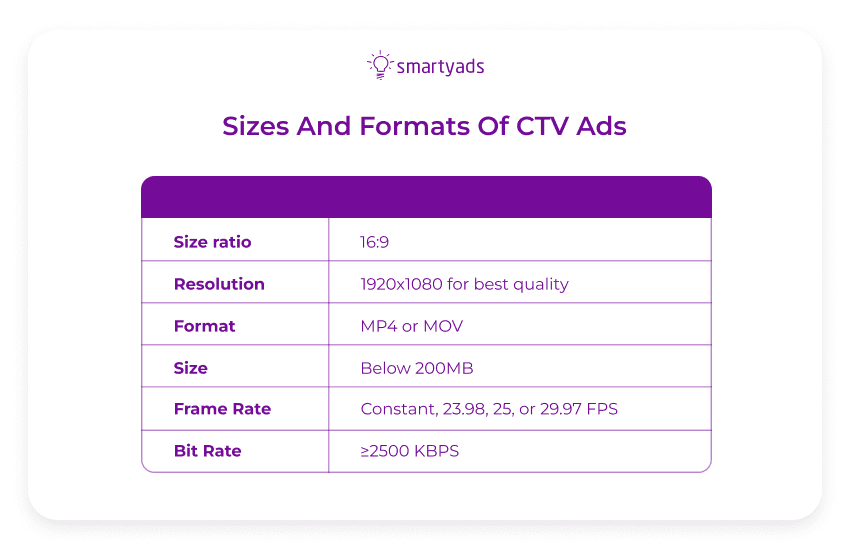 Create ads that are short and vivid. Clip thinking has its part to play, and long ads only irritate users, so it's better to create something short and informative.

Track results. Do not forget to regularly monitor the results of your campaign, so if something goes wrong, quickly adjust everything.

Set a budget. You need to decide what advertising budget limit is acceptable to you. 
Brands come from a variety of industries to run CTV campaigns with SmartyAds. Mainly advertisers come from the travel industry, automotive, retail, and others. So, what's also important – your CTV advertising platform should have access to the verticals you want to advertise in, and you should pay close attention to what the vendor offers.
What's the bottom line?
Considering everything we've discussed here, it's clear that CTV advertising is one of the most promising advertising trends for the next few years or even a decade. 
Therefore, if you still haven't paid close attention to it, we encourage you to do so, because the world does not stand still, and who knows how soon Thanos will snap his glove again?