Smartphones have become an integral part of our life, and it's difficult to tell how much you love your phone until it's no longer in your possession. iPhones are at the forefront of modern technology, but they are still susceptible to various issues like other smartphones. Your iPhone may get misplaced, stolen, or wind up with a broken screen that can't be repaired. In any such situation, you won't be able to recover your vital data from the phone. This is where backing up your phone becomes handy.
Backing up your iPhone or iPad involves transferring specific data and settings from your phone to your computer. If your device gets damaged or lost, it becomes an excellent method to recover your precious data.
WinX MediaTrans is The Best Software for iPhone Data Transfer:
WinX MediaTrans allows you to effectively transfer data and media files from your iPhone to your computer. When you store plenty of high-resolution 4K images or videos on your iPhone, it results in a lack of storage capacity. WinX MediaTrans helps you cope with this dilemma. You can transfer photos, videos, and music from your iPhone to your computer to free up space on your mobile device using WinX MediaTrans.
You have to face various issues while using iTunes software on your PC. WinX MediaTrans, on the other hand, is considerably easier to use and works flawlessly on Windows PCs without crashing.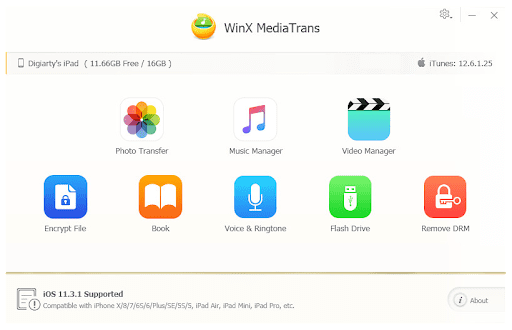 Prominent features of WinX MediaTrans In iPhone photo transfer:
Fastest speed in photo transfer: a hundred 4K pics take 8 sec only!

Add JPG/PNG/GIF/BMP/TIFF to iPhone iPad and delete photos.

Preview HEIC photos and export/convert HEIC to JPG.

Export any photos in iOS Camera Roll and third-party apps.
How to Transfer iPhone Photos to a Computer with WinX MediaTrans:
It is better to store your photos on a computer to manage them properly. As mentioned above, WinX MediaTrans makes it extremely easy to transfer photos from an iPhone to a computer. Following these easy steps, you can transfer your iPhone photos to your computer without any hassle.
Step 1: Open WinX MediaTrans on your computer.
Step 2: Click on Photo Transfer.
Step 3: Check the sidebar to see the types of pictures you wish to transfer. You can go through all of your selfies , screenshots and other images stored in your device. Choose the photographs you want to move to your computer.
Step 4: Finally, click on Export.
In the traditional way, you have to transfer the photos to iCloud first and manually download photo to your PC. This process can be very time-consuming. Let alone the trouble of not having enough iCloud space for iPhone photo storage.
WinX MediaTrans offers you a much more convenient way to backup and transfer your iPhone photos. You can get it now with the special holiday discount.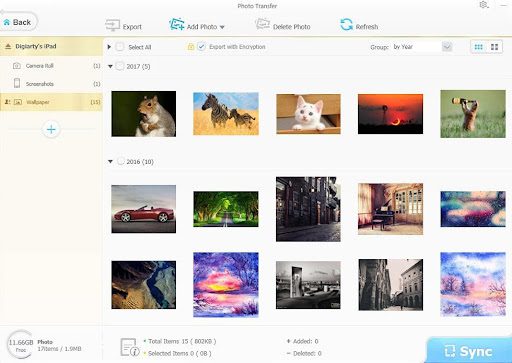 Benefits of using WinX MediaTransfor Back-Up:
Whether you're ready to export large 4K videos/photos from your iPhone for additional storage space, or you're tired of paying for extra iCloud storage on a regular basis, WinX MediaTrans is the only software that understands your cross-platform media backup needs.
Here is the list of features and advantages of WinX MediaTrans:
Transfer Data Without Erasing It:
Data loss is expected when you remove and sync files on your PC using iTunes. They are also removed from the related iOS device. WinX MediaTrans allows you to backup and sync media files between iPhone/iPad and PC in bulk or selectively, with no data lost.
Eliminate File Leaks Using Encryption:
Password protect your photographs and videos with unbreakable encryptions, incl. 256-bit AES, 1024-bit RSA, PBKDF2, Argon2, and others.
Encrypt local photographs and movies on a hard disk in bulk or selectively.

Prevent brute-force password cracking attempts.

Encrypt the photo and video files sent from iOS to PC.
Transfer Photos from iPhone to PC in Quick Succession:
No iTunes, no iCloud, no Wi-Fi required.

Complete functionality for transferring/converting HEIC files.

World's fastest picture transfer software.
Other Predominant Benefits:
Two-way transfer of songs between Windows and iPhone.

Create a unique music playlist, auto convert music to MP3/AAC, and make iPhone ringtones.

Transfer videos between iDevices and Windows with the auto conversion of the video format

Compress the video size for iPhone.

Backup iPhone photos to PC at a breakneck speed and convert HEIC photos automatically. 

Transfer eBooks/audiobooks and convert EPUB to PDF, TXT for iPhone, Windows.

Save Words, PDF, Excel files, App, and others in your iPhone with encryption.

Sync and manage iPhone files without iTunes limits. No iTunes freeze error, easy to operate.

Conclusion:
WinX MediaTrans is one of the best software for transferring photos from an iPhone to a PC. It offers a user-friendly interface with practical functionality. Not only that, but it also has a slew of additional features that are ideal for consumers who want more control over their music, films, eBooks, and other content on their iOS devices. The software allows you to encrypt data if necessary. It can also automatically convert HEIC images and HEVC videos on your iPhone to suitable formats, allowing them to be readily viewed on your computer and other devices.
So, why are you holding out? Get your copy of WinX MediaTranswith special discounts to enjoy faster file and media transfers between your iOS devices and your PC.