Red hair wigs are taking the world by storm!
If you've always wanted to dye your hair, red hair wigs are the best way to go. You can have red wigs in lengths long and short and textures straight or curly! It is the easiest way to change your entire look! 
Women choose to go for red hair wigs from top brands like Especially Yours as it is an absolute winner everywhere you go. From radiant reds to golden blondes, they offer a wide variety of colors to match your personal style. 
However, you also need to know how to take care of your red wigs. Read on to learn more about tips and secrets for maintaining red hair.
1.Invest in Sulfate free shampoo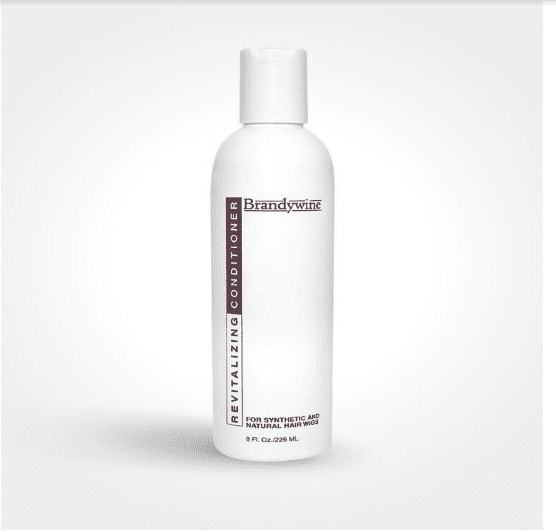 Wig conditioner by Brandywine
You will need to use a sulfate-free clarifying wig shampoo to keep the color and shine of your red hair wig. It would be best to avoid shampoos containing sodium lauryl sulfate, sodium laureth sulfate, and sodium chloride. 
Choosing a color care conditioner with protein, moisture, and color-protecting ingredients prolongs your wig until your next salon visit.
In this case, we recommend a wig conditioner by Brandywine that revitalizes colored hair, leaving it softer, shinier, and easier to manage.
2. Use hair masks regularly.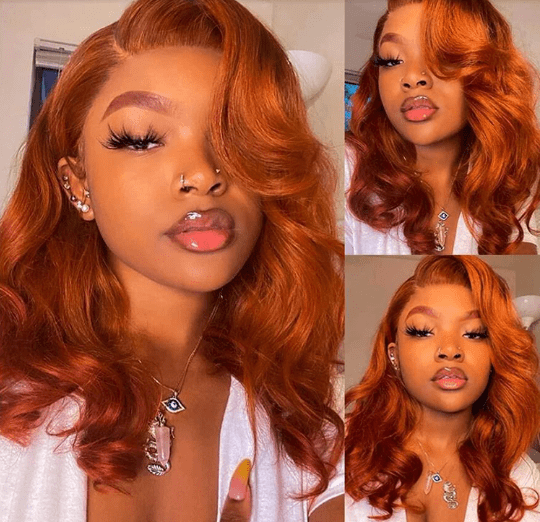 Instant shine for your red hair wig with hair masks.
Moisturizing your red hair wig regularly can help you maintain a deep, rich red hair color tone. For this, hair masks are one of the best options.
They will help add that little extra shine and moisture to your hair wig. It's the easiest way to use and help you get the most out of your color-treated wigs.
Depending on the wig's hair condition, you can try to use a hair mask at least twice a week. You can use a hair mask whenever you want to add instant shine to your colored wig.
3. Fix brassy hairs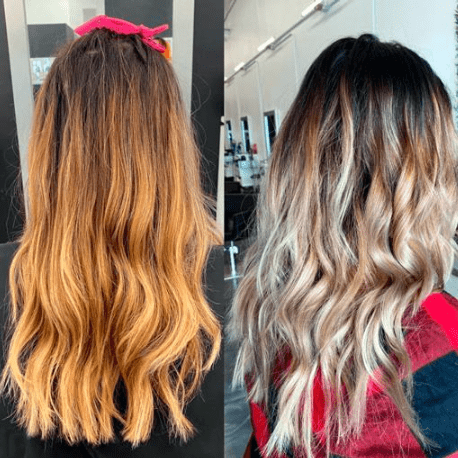 Fix your brassy hair
Brassy tones are typically yellow or copper in appearance, turning cool red hair wigs into warmer hues. But don't fret! You can easily remove the brassy colors and revamp your vibrant red wig to its former glory.
A helpful tip to prevent brassy hair from taking over your excellent red color is to use a blue color-balancing shampoo & conditioner regularly. 
Formulated with purple, blue, and other pigmented formulas, these shampoos help cancel out brassy tones. It will help remove the brassy hair color while cleansing and strengthening your red wig so you can continue enjoying your red wig to the fullest!
4. Stay out of the sun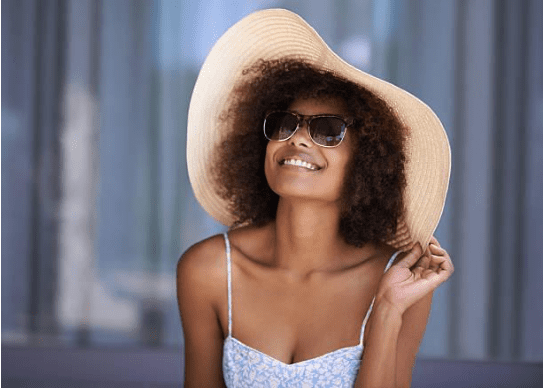 Pop a stylish hat to protect your red hair wig from UV rays.
Your red hair wigs are an investment; it's essential to treat them as one! An important step often forgotten about is protecting the hair from the sun. You must ensure they stay beautiful throughout their intended lifespan.
Apply hair care products before going out, or wear a stylish hat to maintain the eye-catching red wig color. 
5. Rethink your shampoo regime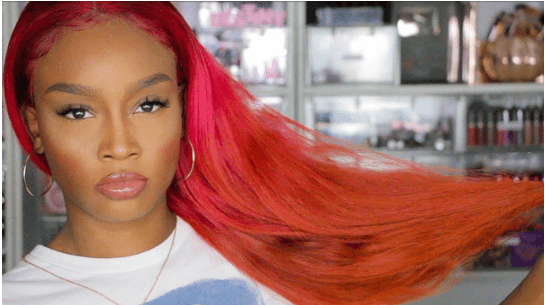 Reconsider your shampoo routine
Regularly shampooing your colored wig can cause the hair color to fade prematurely. This is especially true if you have red hair wigs, which feature substantial dye molecules – which means it's time. to rethink your shampoo regimen!
Shampooing your red hair wigs after 7 wears is usually enough to preserve the bright red color of your wig for as long as possible while also removing any product build-ups. 
You can also use a dry shampoo in between shampooing to keep your hair wig looking and feeling fresh. 
6. Rinse with cool water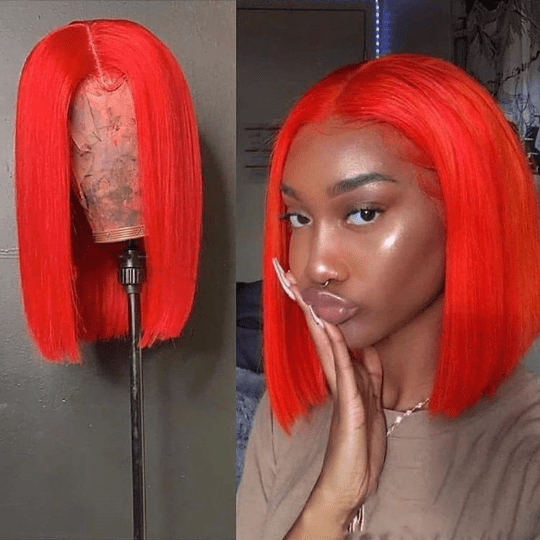 Rinse your red hair wig in cold water
Washing your red hair wig with hot water will cause the hair fibers to frizz and expand. On the other hand,  washing with cold water makes it look shinier as well as preserves the color.
The cold water will seal your hair cuticles, preventing the dye from escaping through your hair fiber.
7. Prioritize on shine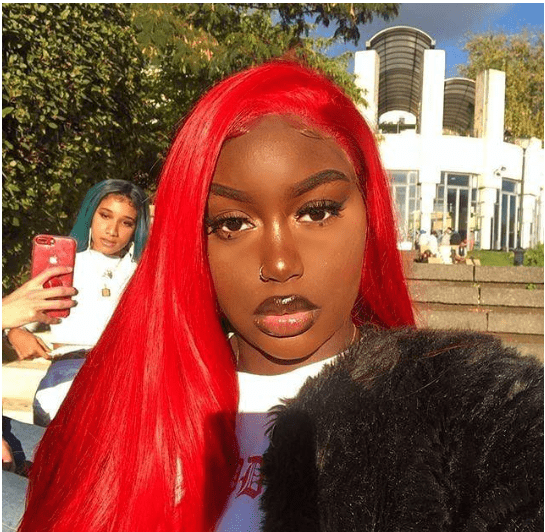 Shiny red hair wigs
Your red wig will look more vibrant and alive when they are shiny. Among many hair dyes, a red hair wig is the most prone to high shine enhancement, so it is important to maintain a shiny and glowing look by investing in hair serums. 
Thanks to their all-around benefits, hair serums are a great collection on your shelf. They help reduce frizz, add shine, and protect your hair from harsh environments like heat, dust, and pollution.
They are easy to use and typically applied after washing and before styling the hair.
Red wigs at Especially Yours
Especially Yours is one of the leading hair brands that sell quality red hair wigs at the best price! They offer a full spectrum of stylish red wigs for black women so that you look confident and sultry all day!
Let's look at some of the best red wigs from the Especially Yours collection:
1. Debut Human Hair Wig
This flattering 100% human red hair wig makes for ultimate comfort and versatility. You can choose to wear it straight, full-blown, or curly. The extended neck provides more coverage for the nape of the neck, allowing you to tuck any stray hairs underneath with ease.
2.Mary J. Wig
Mary J. Wig's ultra-smooth, ultra-sleek celebrity-inspired wig will garner compliments wherever you go. She's a beautiful short bob with beautiful bangs made from yaki texture. Its easy-care synthetic fiber remains gorgeous with little maintenance – truly a no-fuss style.
3.Valerie Wig by Diahann Carroll
Valerie Wig is a beautiful red hair wig with a wealth of dimension and texture that's sure to please. She has an abundance of volume-rich layers full of soft, airy waves. The feathery, sweeping, wavy bangs make her look like a million bucks. 
Final Words
All women who want to change their style will consider wearing colorful wigs to experiment with vibrant colored wigs like red colored wigs. We are confident that with our wig caring tips for red hair wigs, you can enjoy stylish and rich-colored wigs every day!
Want to extend our wig life? Check out Especially Yours' amazing collections of wig care products that will keep it fresh the first time you wear them.